« Saturday Gardening Thread: February 9 [KT]
|
Main
|
Chess Thread 02-09-2019 »
February 09, 2019
Ace of Spades Pet Thread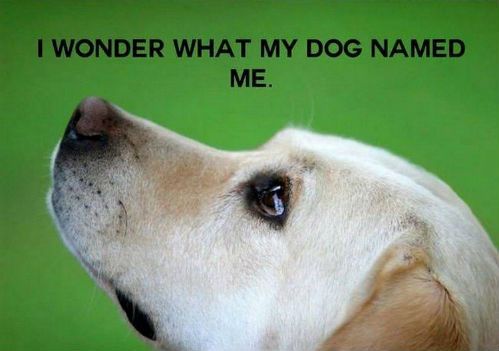 ***

Welcome to the almost world famous Ace of Spades Pet Thread. Curl up with your device and enjoy the world of pets.
***
A Little of This. A Little of That.

Every man one should have a dog.
An amazing cat and a remarkable story.
When I was in the show world wish I would have had this dryer.
Meet The PetMorons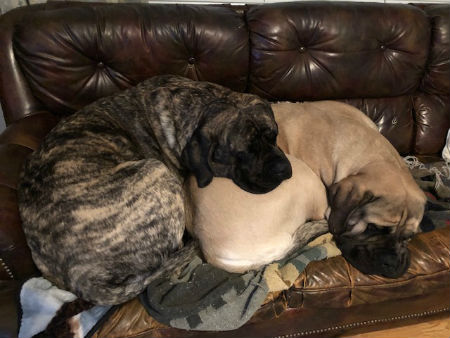 We have two beautiful English Mastiffs, Elsa and Stella. They are 17 months old. Having two has been quite challenging at times, but, it is nice they have each other to play with. We sure do love these girls!

Our 150# lap dog Stella

If we're not available, Stella lays on her sister Elsa! Love those squishy faces!-Erin
Thanks Erin. Good luck with those huge beauties!
***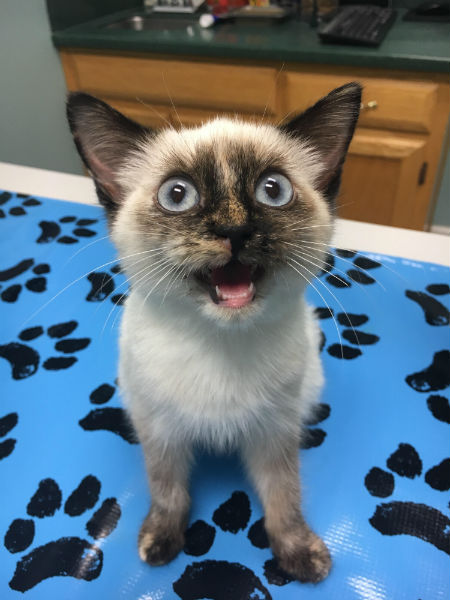 &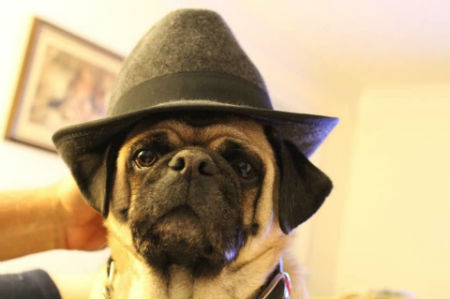 (Lurker Leicester's Mom)
You have kindly posted a few of my fosters. I have yet another one. This is Jackie-O-Lantern. She was rescued Oct 31, hence the name. She was just a few weeks old and had several deep puncture wounds on her back, vertebrae fractures, Toxoplasmosis in her lungs and a huge hernia. She's finally stable enough for surgery for the hernia and should be ready for adoption soon. If you are so inclined, support your local rescue, financially or by volunteering or fostering. It's literally saved this sweet kittens life.

This is my foster fail (foster we adopted) Sammy. We just had his DNA done.
What an angel you are Lurker Leicester. My guess is that Sammy didn't think you failed at all. Hope the little kitten, Jackie gets a forever home soon. Thank you for all your work and your submission this weekend.
***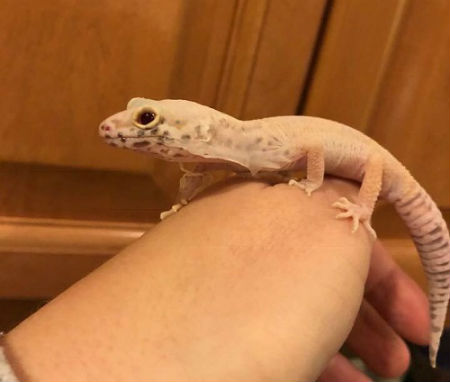 This is an albino enigma gecko named Dilly . Can't be sold because he is a rare species. Our correspondent, the wife of a veterinarian, notes that Dilly was looking pale and was not eating his worms. She was worried. Then it became clear that Dilly was shedding. Took the skin off his hands like gloves.

Ate his skin. Looks like a new lizard. - KT
I think many of us learned a new thing today, albino geckos. Who knew? Quite an interesting pet. Thanks for the submission KT.
***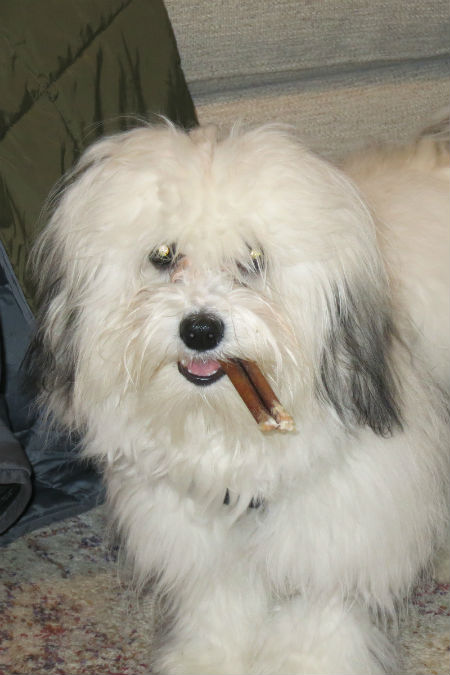 I've been a lurker on the site for years and love the AoS Pet Thread. We retired, lost our minds, and got a puppy last summer after a 6 year hiatus from having a dog. (We actually chose a breed this time b/c we have 3 young grandsons and wanted a dog that is friendly to kids, other pets, and people in general.) Henry LOVES kids, especially boys. He is a rowdy, sturdy guy in frou-frou fur (excuse me, 'hair"). Don't be fooled - he is down with mud, wrasslin', playing chase, keep away, etc. He has been great therapy for us, and our neighbors all know Henry. They don't know our names and often did not stop to speak in the past, but now they do! Can't recommend enough how having this pup has enlarged our circle of friends :) Here is Henry channeling his inner Churchill and enjoying a "cigar": Cheers! - Kay
I'm not sure who is spoiled more, the grandkids or Henry. Love the expression in his eyes, looks like he knows mischief. Thanks Kay!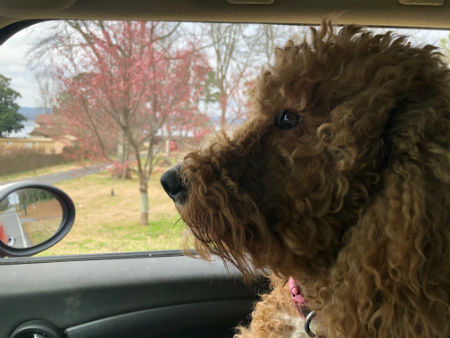 This is Molly Golightly. She is a six-year-old standard poodle. She wants me to hurry up and get home so she can race down to the lake and bark at the geese.
They will in turn form up and hiss at her.
Both sides will then retire from the field with their honor intact. - Le Garde Vieux
Molly looks quite at home in the front seat headed home. Sounds like she plays nice and honorably with the geese. We appreciate you sharing this with us.
***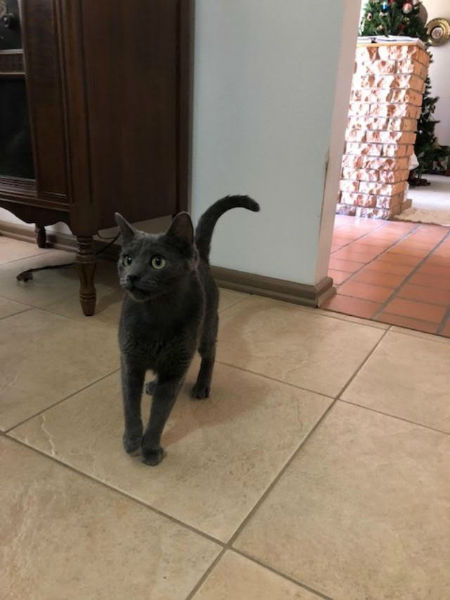 Howdy!
I'm a long time lurker.
I wanted to share the story of this beautiful cat, named Ghost

Ghost was part of a litter of three that were being raised under my son's house. Mom and two of the siblings were successfully caught and adopted, but Ghost was always able to avoid being trapped, and would never allow anyone to approach her. My son continued to provide food and water for her, even after the rest of her family had been removed.

When she was a year old, she was hit by a car. We assumed that she had been killed, there was so much blood on the street. Two days later, however, she reappeared, horribly injured. It took a week after her accident, but we were finally able to lure her into a trap and whisked her off to the vet. Her injuries were substantial: dehydrated, starved, concussion, broken jaw, split pallet, terrible sinus infection, injured eye, cracked cheekbone, and she had lost perhaps 1/3 of her blood. She was in the hospital for a full week, and was housed in my library, isolated from my four other cats, for six more weeks of care while she healed. It has been over three months since her accident, and as you can see she has made an amazing recovery. In spite of her initial skittishness, she was very quick to adapt to her people and all the other cats, and is now a valued member of the family.

I don't know how many of her nine lives she used up, but apparently she has a few left over! - Tony
Horde members have the biggest hearts!! What an awesome story with such a happy ending. Thanks so much for sharing Tony. Here's hoping she has many lives yet to come.
***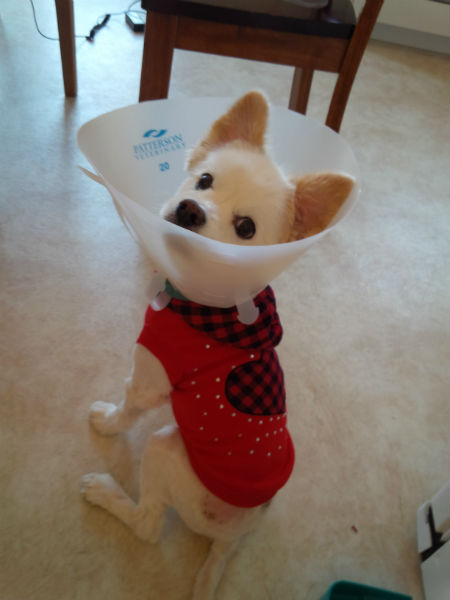 Hi, Mis.Hum.,

I've been sitting on this for a long time, but I am procrastinating on a work project, so, why not now?

This is my absolute favorite picture of El Toro, my 14-year-old Pomeranian/American Eskimo/??? mix. He's wearing the cone of shame because he can't tolerate flea bites; he'll chew off all his fur and several layers of skin (mostly covered by the sweater). His fur grows like crazy, so I have to be diligent to shave him and stymie the fleas.

We wanted a ridiculously tough name for a little dog, so we named him "The Bull" in Spanish. In hindsight this was a dumb thing to do, because he's about the most stubborn thing ever. (I've already decided my next dog will be named "Obedient.") But he's also really darn cute, so he always finds his way back into our good graces. It's a good thing, too, because in addition to being hard-headed, he ranks pretty low on measures of doggy intelligence. Don't think he'd last a day in the wild.

Toro is super-lovable when he's not barking his head off at people, dogs, leaves, earthworms, and butterflies. He wants nothing more than to be by my side every breathing second of the day. We tried to crate him at nights when he was a puppy, and he'd cry all night (and/or pee all over our kitchen). I'd just gotten my second baby to sleep through the night, and it was maddening. Finally one night we were getting ready for bed, and I didn't feel like going through the work of setting up his pen. "Are you going to let us be if we let you stay in here?" I asked him. He just climbed under our bed--and slept through the night. He's been there ever since and thinks he owns the place.


Thanks,
CCC (mostly lurker)

I always want to name my next dog Dammit, Mrs. MH always says no, so maybe the idea of naming the critter Obedient as you are going to do will work. Are you sure that cute looking dog is that stubborn? We appreciate the story and photo. Thanks.
***

Well, that's a wrap PetMorons. Great looking crew!!! Thank you pet owners for taking the time out of your schedule to share your stories with us here today.
If you wish to submit something to the Pet Thread, reach out to us at petmorons at gmail dot com.
Have a great week!!

posted by Misanthropic Humanitarian at
03:01 PM
|
Access Comments