« Food Thread: Pizza-->Calzone: The Best Laid Plans Of Mice And Men...
|
Main
|
Sunday Overnight Open Thread (9/23/18 ) »
September 23, 2018
Gun Thread: To Clean or Not to Clean [Weasel]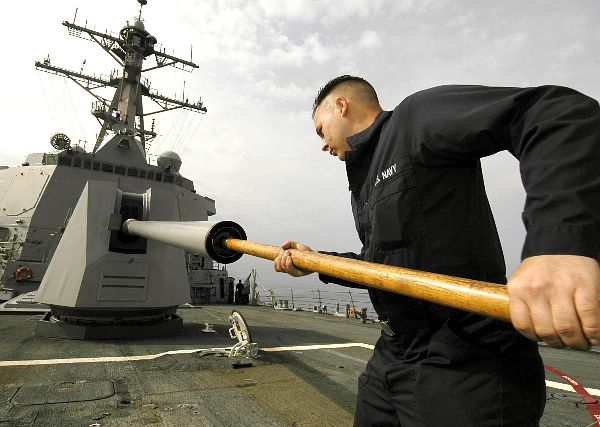 So what is the very first thing you do when you come home from the range? What's the very most important thing in the whole wide world? The most important thing above all other things? Well for me it sure as hell isn't cleaning guns. When I get home from shooting I generally like to make a sammich, or take a nap, or take the dog for a walk.
Cleaning Ritual
Let's just say that my priorities have changed over time. Where I once spent as much time cleaning guns as I did shooting them, laziness, sloth, a bad attitude, and frankly other interests have changed my post shooting ritual. OK - I'm clearly trying to start a debate, so have at it... but there really isn't a completely right or wrong answer. If you want to extend your "gun time" after shooting, then by all means, get out the Q-Tips, dental picks, and have fun! If you're ready to do something else for the day, then give it a quick wipe down with one of the oily rags you keep by the furnace, and put it away for next time. As long as you are protecting from moisture and rust, and under most normal operating conditions, it's gonna be ok! Some notable exceptions would be a carry gun which should be inspected weekly and cleaned or lubricated as necessary, whenever you're using black powder or corrosive ammunition, and finally in competition guns which are generally cleaned at the end of each match day.
All of my guns are shooters, and generally fall into one of two categories; those that I shoot a lot, and those I don't. The ones in the current rotation get a couple drops of oil or a little grease and a wipe down before and after each time out. The regular shooters might easily go many hundreds of rounds before I perform anything close to a thorough cleaning. The ones I don't shoot very often get a little more attention and a pass with a barrel brush plus a light coat of oil inside and out before I put them away. I almost never perform a cleaning at the molecular level anymore and don't think I have even come close to having any firearm malfunction as a result.
Again, if your dad, or you granddad, or a friendly drill instructor in the Army or Marines taught you a certain procedure or frequency that you are now accustomed to, then keep doing what makes you happy. And for the super-advanced level lazy people who never, ever clean their guns, that probably isn't a great idea either. So in summary, something between *never* and *all the time* is probably about the right cleaning frequency.

Cleaning Products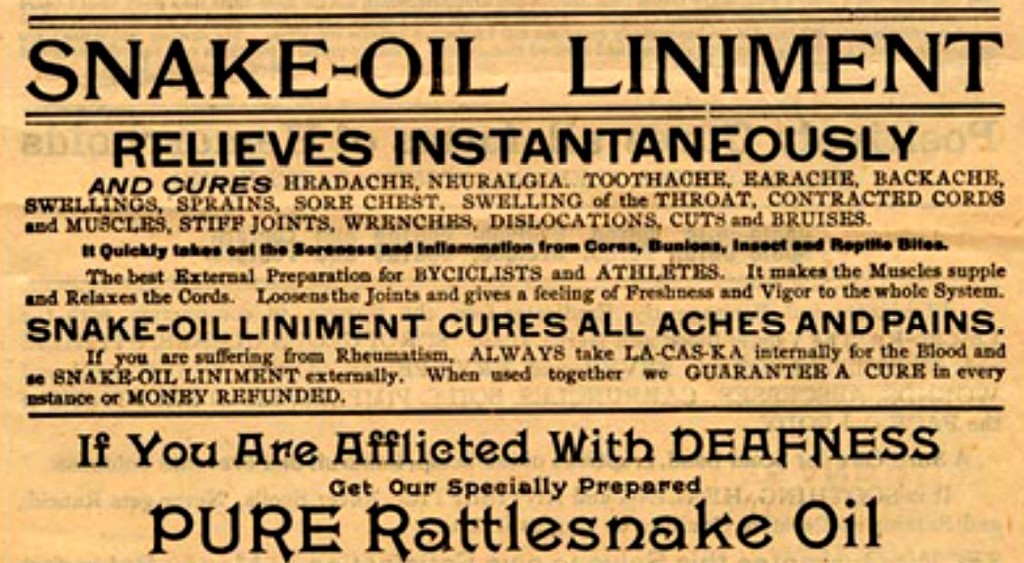 Which gun care products to use is just as subjective as how often to use them. Whatever the reason, everyone has their favorite and swears by it. As with any other hobby (fishing, boating and golf come to mind) the minute you identify a particular application for anything the price goes up about 12 times. I really, really like saving money by finding alternative products that work just as well as the specialized products you simply can't live without according to the manufacturer.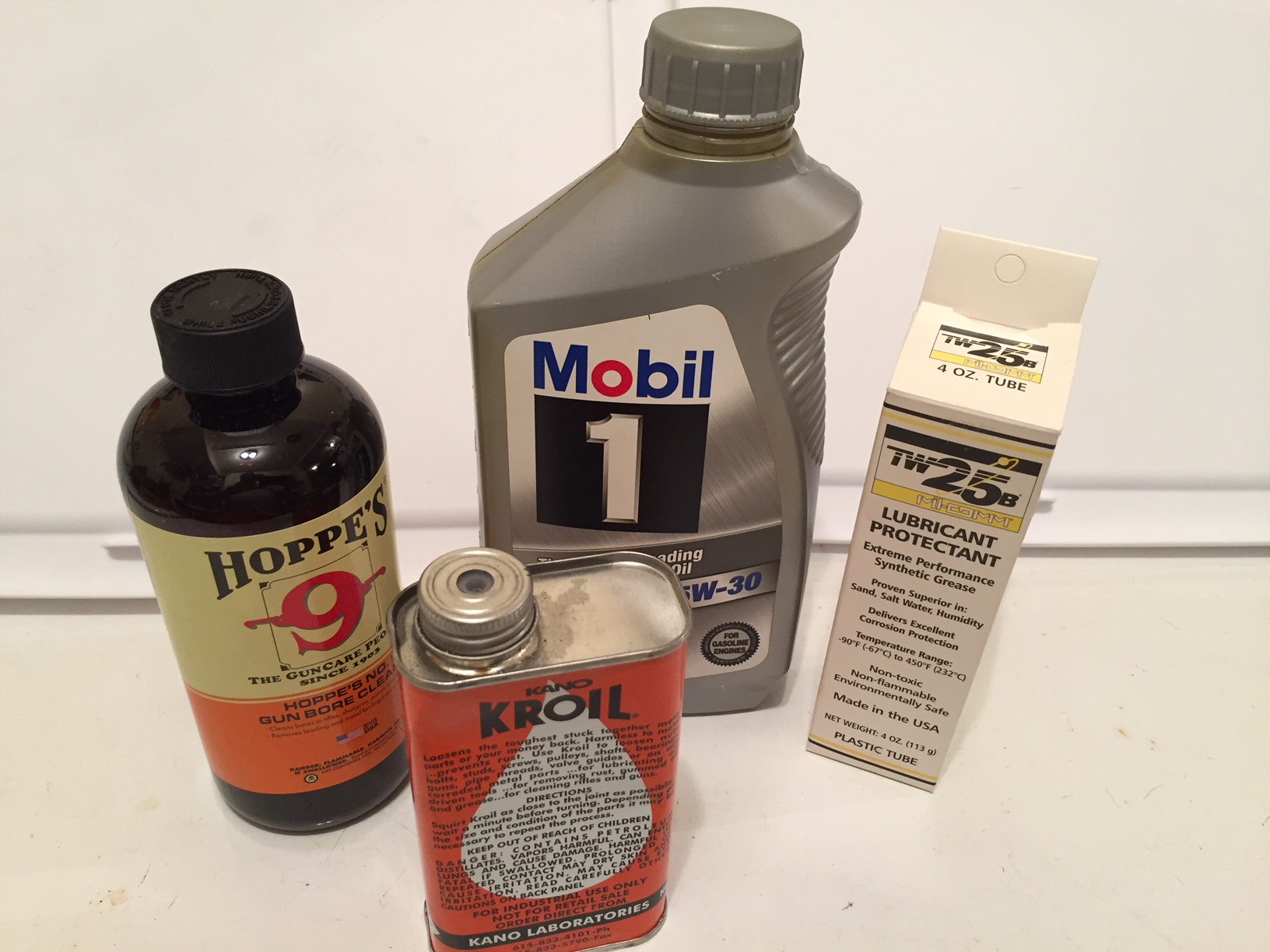 Here is some of what I use
I like the way Hoppes 9 smells and it does a great job cleaning. Synthetic 5W-30 motor oil protects my car's engine so I suspect it will do the same for guns. A quart of oil is a lifetime supply, costs less than $10, and it's what my gunsmith uses. Kroil is another favorite used when I'm going to put a gun away for some time. TW25B synthetic grease has always worked well for me and comes in either a syringe or tube for precise application to slide rails and bolt locking lugs. I use a slightly thicker grease on my Garands. Not pictured is Ballistol a just all around great product with countless uses. Seriously, if you aren't familiar with Ballistol, check it out.
The general rule I follow is: If it turns, oil it. If it slides, grease it.
One note on the link - while poking around for links to use in this thread, I couldn't find much that seemed even remotely objective. Understanding that machines and firearms often have different requirements, this article at least offers the reader an examination of the potential pro and cons of each. Have a look and decide for yourself!
***This Old Gun***
U.S. Army Air Service Commemorative Savage .32
Now how cool is this?
This week's Old Gun comes to us from retropox. A WWI commemorative for a pilot, engraved and gold filled; "AEF 1918" and "Flying Captain J. A. E" on slide, and 'Calamity' on the rear strap of the frame. The lanyard, silver oil bottle, and collar insignia are all 1918 vintage, while the ammo is modern. A truly remarkable and lovingly assembled collection - thanks for sharing retropox!
*******
If you care to share the story of your favorite firearm, send a picture with your nic and tell us what you sadly lost in the tragic canoe accident. If you would like to remain completely anonymous, just say so. Lurkers are welcome! Email: guns at happyplacearsenal dot com
That's it for this week - have you been to the range?

posted by Open Blogger at
07:15 PM
|
Access Comments