« All Aboard The Good Ship KristolPop
|
Main
|
Gun Thread: To Clean or Not to Clean [Weasel] »
September 23, 2018
Food Thread: Pizza-->Calzone: The Best Laid Plans Of Mice And Men...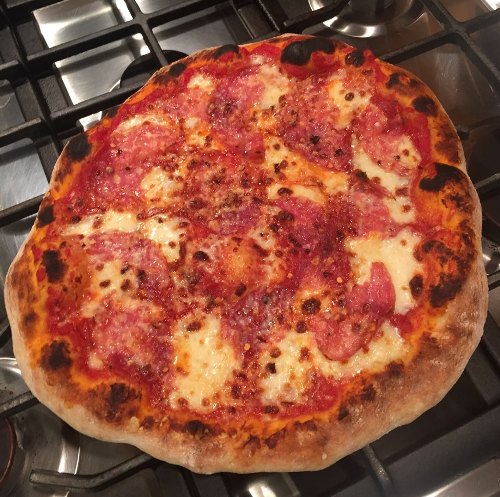 That's what it was supposed to look like, and it was a good plan. Divide my usual pizza dough recipe into three rather than four portions, so I could make a larger pie. Why? No idea. I just felt like it. But that larger pie was slightly more difficult to slide off the peel and onto the steel (used to be a stone, but I upgraded after the stone cracked). There are a few reasons for the almost spectacular failure and resulting mess, but it boils down to my insufficient skill at stretching the dough into an even thickness, and the slight increase in time from stretching to baking, which gives the wet ingredients more time to soak through the dough.
But I recovered fairly well, and was able to fold the pizza over into a sort-of-calzone thing. It tasted okay, although the broccoli rabe I used was too bitter and astringent, so it was, ultimately, a failure. But at least I didn't dump the entire thing onto the bottom of the oven and make a huge smoking mess, so really, it was a resounding success.
The next time I made a thicker pie, so the issue of inconsistent thickness wasn't really an issue. And I liked it very much! The crust was chewy and crispy and quite nice, and it was trivially easy to stretch and top. I also put the stone under the broiler while preheating, because I wanted to see whether it got hot enough at the top of the oven, far away from the burners. It did, and I turned the broiler on for the last half of the bake to get the top nice and toasty. it worked like a charm, so all's right in Chez Dildo, at least from the pizza perspective.
Oh, that is raw sauce, topped with dry mozzarella, sweet soppressata, a sprinkle of fresh-grated Pecorino Romano and a bit of crushed red pepper.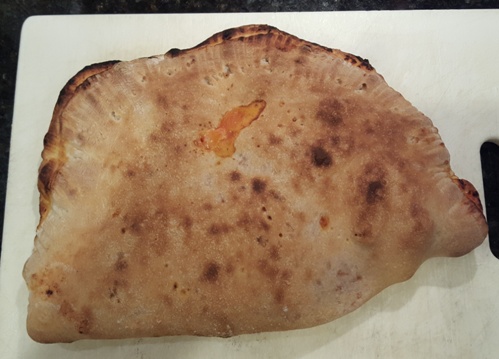 ******
The Food Lab: The Reverse Sear Is the Best Way to Cook a Steak, Period
No. It isn't. Although it is quite good and certainly produces a marvelous steak. I am put off by these pronouncements from food writers, no matter how skilled they are, and Serious Eats is a solid source for food information. But I have tried many different ways to cook steak, and executed well, most of them are great. Sure, that English technique of boiling then frying wasn't the best, but there are lots of different ways to cook steak that are stylistically different but wonderful nonetheless.

******
These look and sound pretty damned good, and it is a surprisingly easy recipe.
Triple Layer Peanut Butter Crunch Brownies
I appreciate her modifying the typical peanut butter filling...many of them are cloyingly sweet, but she doesn't use any sugar in it. I would push that even farther and use bittersweet chocolate for the top. I think the combination of peanut butter and dark chocolate is marvelous, and why you will see me hunched over the sink shoving dark-chocolate Reese's into my mouth whenever they show up in my kitchen.
******
At a very popular hipster restaurant in London I had a cocktail that was absolutely spectacular. it really was the capper to a perfectly disappointing evening, because the food was great, which confounded my hopes and expectations. I hate popular places. I really hate hip and popular places. So this place totally ruined my "get off my lawn" hopes.
Bumblebee


50ml Beefeater Gin

20ml Lemon juice

20ml Honey-ginger syrup

25ml Dry Curacao

2 dashes orange bitters
I left it as the bartender wrote it, so play around with the proportions to suit your taste. For the honey-ginger syrup I decided on a warm water extraction of one part grated ginger in two parts water. I pressed it dry and filtered it, then mixed it with an equal volume of honey. The dry curacao is really just a brand of triple sec, so use what you can find (try to buy the 40 proof stuff...it isn't as sweet).
******
What to Drink Next: Trust These Names in Wine
Whenever I see these lists my reflex is to scoff and mock and poke with a sharp stick. But this list...isn't bad. these are, for the most part, solid and respected producers, so if you aren't familiar with what is available wherever you may be (restaurant, liquor store...), you could do a lot worse than these wines.
And...I have a soft spot in my heart for Yalumba. I visited a town east of Sydney called Katoomba a long time ago, and stayed in a small hotel that must have been converted from a whorehouse. I confuse the names all the time.
[I never claimed to be smart]

******
Food and cooking tips, Haggis, Henry Big Boys in .357, Scotch Eggs, thick and fluffy pita and good tomatoes that aren't square, pale pink and covered with Mestizo E.coli:
cbd dot aoshq at gmail dot com
. Any advocacy of French Toast with syrup will result in disciplinary action up to and including being
nuked from orbit.
&topic=world_news">

posted by CBD at
04:00 PM
|
Access Comments