« Saturday Gardening Thread [KT]
|
Main
|
Chess Thread 09-15-2018 »
September 15, 2018
Ace of Spades Pet Thread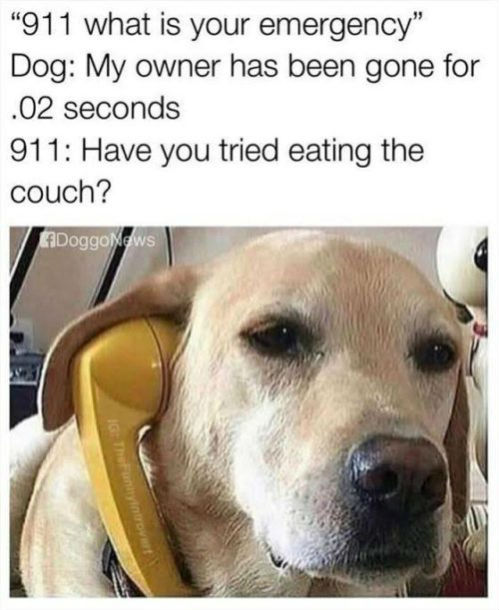 Welcome to the almost world famous AoSHQ Pet Thread. Before we get into the meat and potatoes of the thread, A BIG THANK YOU TO KT for filling in. Here's hoping Ace lowers her dental deductible to under 4 figures.

Here's hoping our fine feathered and furry PetMorons and their humans are safe and sound along the eastern seaboard.
***
A Little Of This. A Little Of That.

As I mentioned earlier, KT did a wonderful job while your humble Cob was away. The wonderful Mrs. Mis. Hum. and the K-9s pulled off a big move, three hours from our old home. Two of the three doggehs are 12 years old. They both had some health issues before moving. But, man oh man have the issues worsened.
Do any of you have experience in this area? We also need to find a new vet. Do any of you have experience with this? Fortunately for us we have some friends in the area who have pets and have recommended their vets to us.
***
From our friend Hank Curmudgeon, h/t about New Lethal Feline Virus
***

Here is what a secure house looks like. h/t Hrothgar
***
So. It just isn't our dogs. h/t Hank Curmudgeon
***
Usually, the AoS Pet Thread doesn't mourn politicians. Until now.
Meet The PetMorons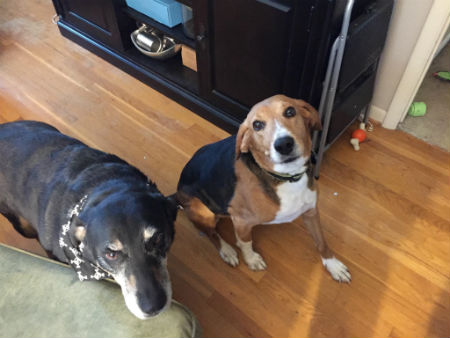 Long time lurker, never a poster, until now. My brother's dogs, Gus (left) and Wrigley. VERY good boys. Gus is a mix who's just over 7, but no one is quite sure what mix he is. For sure he is a very, very good pup who loves people and tearing stuff up; he generally can't be bothered about other dogs. Wrigley, the exception to this selectively-antisocial streak in Gus, is a coon hound who is somewhere between 6 and 7. These two guys go into delirium around the family, whom they adore. Gus is a particular favorite: sweet as sugar and dumber than a bag of hammers. - chicagopablo2

Sorry that it has taken so long to get these pups their 15 minutes of fame. Thanks for the submission.
*****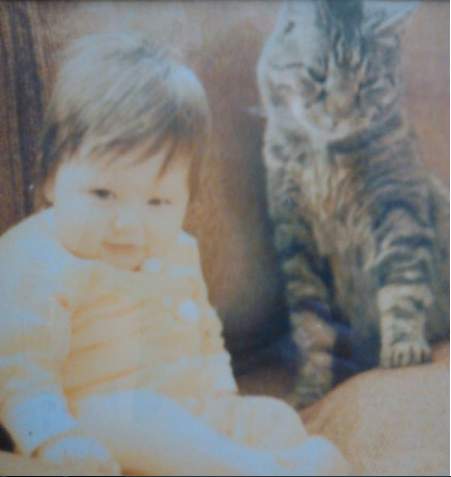 This is Pinkle Purr and daughter #1. They were best buddies.
He was probably one of the meanest cats I ever saw. In his prime Pinkle weighted 26 lbs and he would regularly take hunks of flesh out people he didn't like. But I can remember daughter #1 sitting on and bouncing on Pinkle while pulling his tail. He would just loudly squall and put up with it until someone came and rescued him. Anyone else he would have taken their hand off, literally.
Pinkle is long gone, he was one of a kind. Daughter #1 is now 48 years old and is also one of a kind. - Christopher
That cat must have been a big part of your life to share a photo some "29" years later with the Horde. Thanks.
***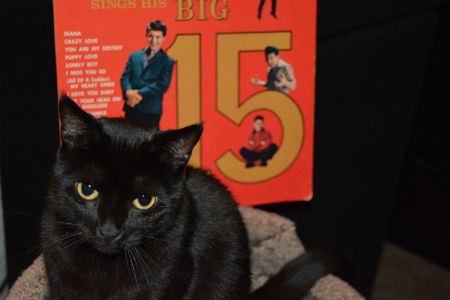 Antisocial justice beatnik, here.

Given the recent birthday of the great Paul Anka, I figured that It'd be appropriate to submit this photo I had posted a few years back to The Yahoo Group of Talia expressing her apparent displeasure of Anka's "best of" collection. As the saying goes, "There's no accounting for taste."

Talk about a black cat. Hope Talia has brought you nothing but luck there AJB.
***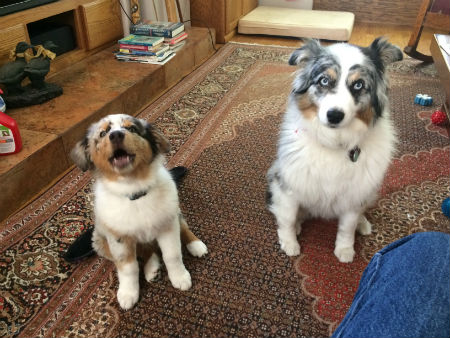 I'm a longtime lurker of AoSHQ, and am answering the call for pet pictures this week.

Belle and Bilbo are Australian Shepherds. Belle is 9 years old and is enjoying training her new friend Bilbo (4 months old). - S&S

How many treats did you use to get the Good Doggehs to sit still for this photo? Wonderful expressions. Thanks for sharing.
***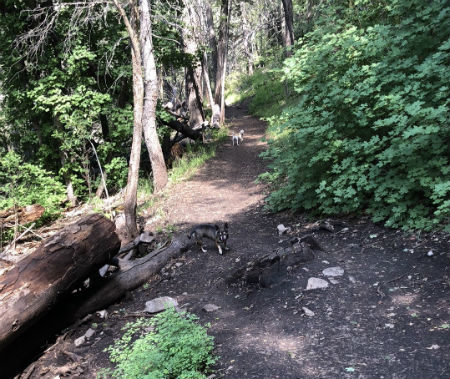 Taco and Lola looking back as they hunt bears or anything smelling interesting. Both are rescue adoptions with Taco (the blond) overcoming neglect. Love the pet moron blog and the other AceHQ contributors. Keep up the great effort. - Mike
Lions, and tigers and bears, oh my!!!! Be safe out there Taco & Lola. Nice photo. We appreciate your submission.
***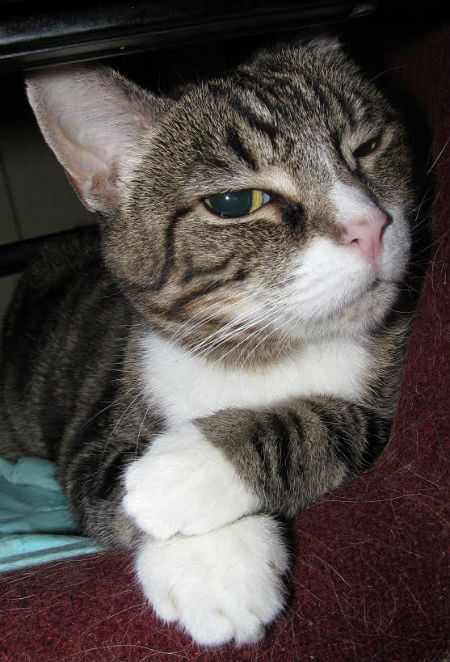 Hi from gp!

Here's my Mitten. As usual, she snorted up the ENTIRE 8-ball, and didn't leave ANY for me. Then she sits and gives me the hairy eyeball.

Nothing says Party Animal like a cute kitteh.
***

Over the past month you folks have been submitting lots and lots of photos. Don't worry, we will get to them. We appreciate your patience.
Have a great week!!!


posted by Misanthropic Humanitarian at
03:00 PM
|
Access Comments