« Saturday Gardening Thread: Labor Day Weekend [KT]
|
Main
|
Chess Thread 09-01-2018 »
September 01, 2018
AoSHQ Pet Thread [KT]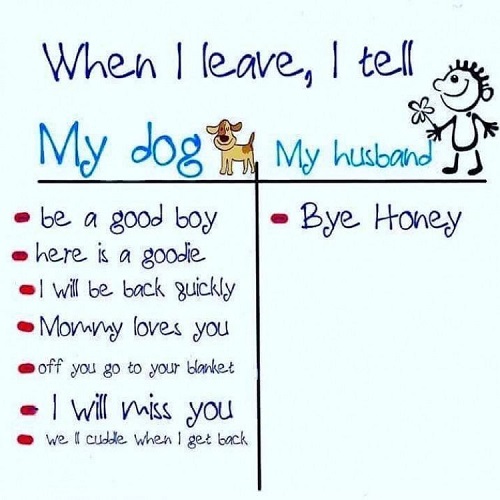 Thanks to
Hank Curmudgeon
for the graphic.
Good Afternoon! Take a break and relax for a while in the world of animals. This isn't the almost world famous Ace of Spades Pet Thread, but you can't have everything. I will be here for another week, then Misanthropic Humanitarian will be taking back the leashes for this thread. At least that's the plan. So, if you have photos or stories for next week, send 'em on in. Address is below. We got some nice photos this week. Plus some other interesting content.
Traveling with Pets
Our Swiss dog friend Rocky usually stays in a dog resort when his people travel, but this time, they stayed in-country, going to the delightful Italian section of Switzerland. Rocky got to go along. Here he is on a boat tour of Lago di Lugano. Happy dog.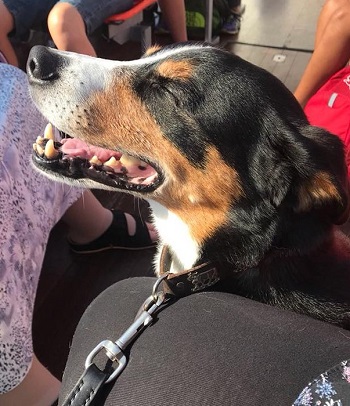 His bed at the hotel wasn't quite big enough, but they gave him lots of treats. Still a happy dog.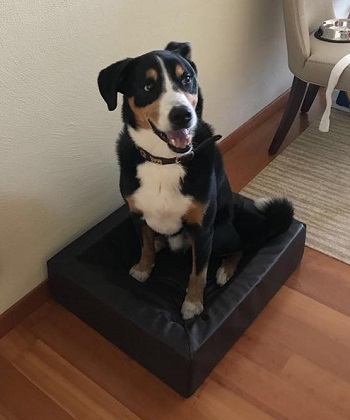 Here are some tips to keep in mind for traveling safely with pets.
My own experiences traveling with pets have been pretty much limited to vet trips, moving and dog outings. Anybody have tips or stories to share? In my experience, there are some cats that have a really hard time traveling.
Domestic Animal, Icon or Pet?
Not sure if Rocky saw this, but the movement of cows to summer pasture in the Alps is part of Swiss culture. And they often wear bells or flowers to mark the occasion. This is how a cow goes to the vet if injured during summer pasture season: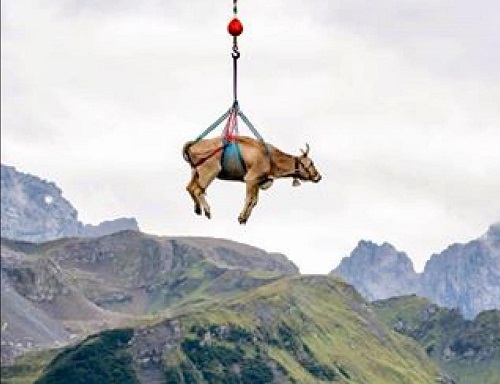 Meanwhile, in Scotland, a man proposed to his girlfriend by writing on the side of her favorite cow.
Flying Dogs
If you read the Gardening Thread, you may remember a great photo of The Invisible Hand's dog Kaz in mid-air. Well, now Bluebell has found some similar ones by a professional photographer!. Lotsa fun if you have a few minutes.
PetMorons
At the Gardening Thread link above, we met Tom W's fig-loving bulldog Jimmy B. He also has a tiny poodle. (Don't comment on old threads).
When I asked how he got such different dogs, he replied:
i like poodles, girl friend likes bulldogs. i have survived 2 GSDs, ,2 Great Danes, 2 French bulldogs. And most recently lost my American bulldog.. Have switched to smaller dogs.to reduce heartache.
Well, here are the Great Danes. I think it was about Irish Setters that someone said that the reason that they don't live long is that we would become too attached to them and that we couldn't bear their loss otherwise. Glad that we have photos and memories of the big dogs.
This is Picard: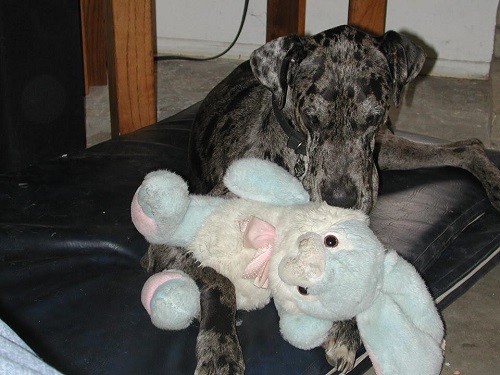 And this is Geordie: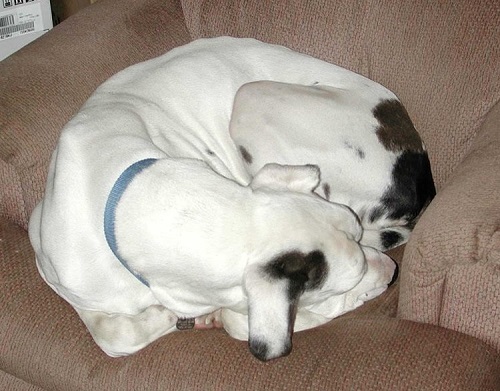 Geordie is a Star Trek black character who was blind and had high tech eyes. Already had a very proper grey and black Dane name Picard so the name was obvious to me.
From Sally Wilfong:
This my cat Rex. He's pretty chill until another male cat breaches the perimeter. Then he turns into a maniac. He will not bother any female cats that wander into the yard. I love the Pet Thread. Thanks.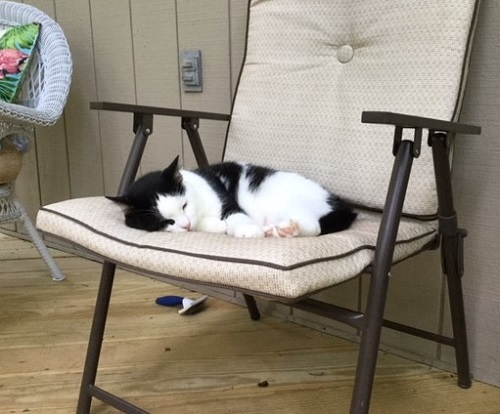 From Vitigator:
I'm a long-time lurker and very occasional poster. This is Maggie May, my 8-month-old black lab. She is hell on wheels, loves swimming in her pool... AND Gardening. Lol. She became part of our little pack in February.
From Pug Mahon, four days ago.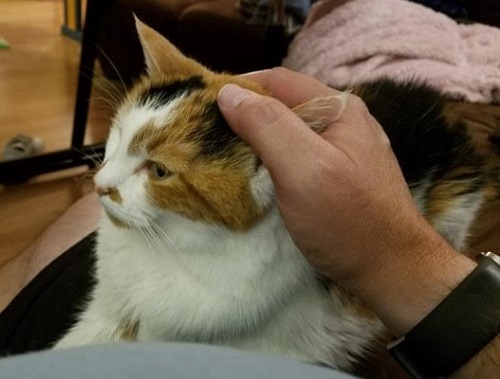 This morning we had to say goodbye to our beloved calico, Bug. She was 17, and up till just the past year, was in good health. Turns out she had a tumor in her mouth, which we learned just last night when we saw the blood.

She was a treasure. One of the sweetest little kitteh souls you'd ever meet.

I forget who said it, or if I am even quoting it accurately, but,

"When we bring home a pet we acquire a small tragedy."

Who's gonna say good morning to me and help me tie my shoes in the morning?
I had a similar experience just yesterday. Still processing. I'll post a photo and a few words about our oldest kitty, Darla, next week. Still have one photo of a lively kitty in the wings, too . . . . Beautiful cat.
If you would like to send information and/or photos for the Pet Thread while Misanthropic Humanitarian is away, the address is:
ktinthegarden
at g mail dot com
No need to send photos if you sent them to Misanthropic Humanitarian in early August. He'll be posting those photos upon his return.
Have a great weekend. Give your pets a special pet from us.

posted by Open Blogger at
03:16 PM
|
Access Comments