« Food Thread: Independence Day Carnivores...Front And Center!
|
Main
|
Sunday Overnight Open Thread (7/1/18 ) »
July 01, 2018
Weekend Gun Thread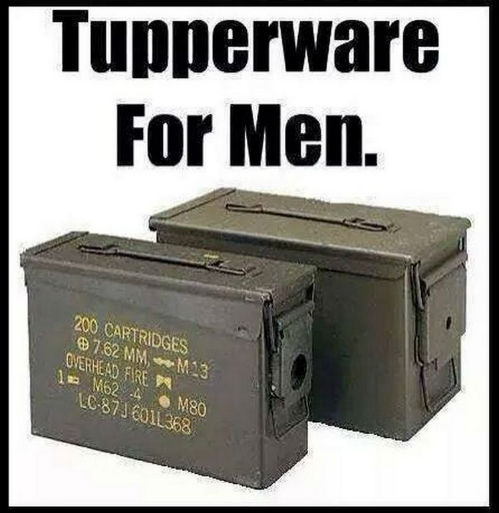 >
***
Hypothetically speaking. If you have a hypothetical friend with a hypothetical Ruger GP-100 .357 who wants to shoot hypothetical .38 Special rounds, what would you recommend if you hypothetically shot this particular round? Hypothetically asking for a hypothetical friend.
***
Shhhhhhhh.....Don't let Sen. Diane Feinstein or Sen. Chubby Cheeks of NY about these scary looking gun thingys.

The new non-NFA pump-action 12 gauge includes a 15-inch barrel and 10-shell detachable box magazine as standard options.

Announced Tuesday, the latest addition to Mossberg's constantly growing Shockwave line is the 590M, blending the standard Raptor-gripped platform and its 27.5-inch overall length, with the company's new series of detachable double-stack magazine offerings. While a single 10-shot magazine comes with the heavy-walled firearm, optional five, 10, 15 and 20-round capacity mags are sold as accessories.
20 round mag? How effing cool is that?
***
I believe that many gun owners and 2nd Amendment supporters have been discouraged at times by the SCOTUS. Since the Heller decision they have avoided 2nd Amendment cases fairly regularly. With Justice Kennedy's retirement that may change. And the left is all worked up.

The news that Justice Anthony Kennedy has retired from the Supreme Court is sending liberals and progressives into a panic. Kennedy has of course been the key swing vote in abortion and gay rights cases. Whether those cases will withstand a new Supreme Court with five core conservatives is a serious question. But there is another area of Supreme Court jurisprudence that may also be dramatically affected by Kennedy's retirement: the Second Amendment.

The Supreme Court has only ruled in favor of an individual right to own guns in two decisions, and in neither one did Kennedy write his own opinion. He did, however, make up one of the five votes in both 2008's D.C. v. Heller, and 2010's McDonald v. City of Chicago. Both cases invalidated complete bans on possessing handguns in each city. The Supreme Court has not, however, returned to the Second Amendment since McDonald was decided, despite thousands of lower court cases wrestling with the balance between the right to keep and bear arms and public safety.
***

Speaking of fake experts...........
***

When purchasing a firearm, has this ever happened to you? Nah, didn't think so.....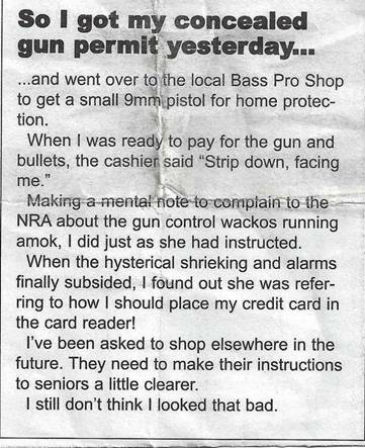 ***

Loaded for bear, both black and brown.

As Bob told me when preparing for the hunt, there is a big difference between killing a bear and stopping a bear, and in the thick willow and alder jungle of coastal Alaska, you may very easily have a brown bear rear up out of the brush inside of twenty yards, or have one appear at your bear station seemingly out of thin air. "They make very little noise when they circle a bait station, and while the common .30 calibers have been used to hunt them, I personally prefer something a bit bigger," Jewett related, and I personally agree with him. As you'll see, I'm not alone in my choice of caliber, as well as the setup of the rifle. Let's begin with the guide's rifles, and move onto the client's.
***
How handy!!! The AR-15 chainsaw bayonet.
***
Men's Tupperware, .38Special ammo, tidbits and useful information to petmorons at gmail dot com.

posted by Misanthropic Humanitarian at
06:58 PM
|
Access Comments