« Sunday Morning Book Thread 07-01-2018
|
Main
|
Weekend Gun Thread »
July 01, 2018
Food Thread: Independence Day Carnivores...Front And Center!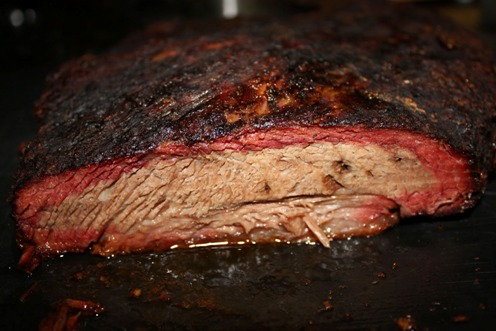 I am all for grilling stuff for Independence Day. There is nothing quite like standing around the grill with a few friends, sipping a good beer or cocktail or a G&T (with muddled lime you savages!), flipping steaks or burgers or sausages and solving the ills of the world or leering at the new neighbor in her bikini marveling at how wonderful our wives are. And it is certainly easy! Prepping food for the grill rarely entails anything more than salting the meat or, if you are a real fancy-pants, putting a dry rub on a few hours before cooking.
But sometimes life intrudes with bad weather or too many guests or any of the complexities of life, and that food needs to be prepared ahead of time.
And what better way to prepare ahead than to smoke meat? Sure, it can be a real pain in the ass. Getting up at 3:00am to put the brisket on the smoker is not my idea of a good time, and for good results that smoker temperature needs to be monitored. But the payoff is wonderful food that is not time sensitive. You can hold most smoked meats in the oven, wrapped in foil, for a long time. That makes them incredibly convenient!
******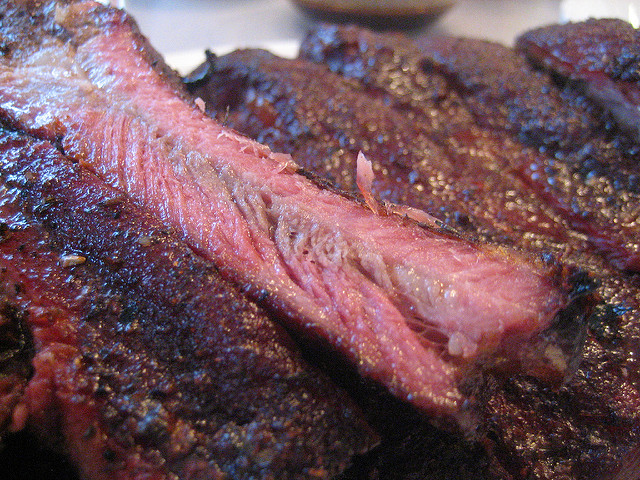 Pork ribs are the easiest stuff in the world to smoke. They are tough to overcook (although I have managed a few times!), they handle a wide variety of rubs and sauces, and they are easy to prepare and serve. And best of all, in a pinch they can be made in the oven! Yup...I do it now and again. I have St. Louis style ribs in my freezer, already prepared with my signature dry rub. If I want ribs, I just stick them in a medium oven and take a peek every hour or so, spritzing with something or covering them if they look like they are drying out. If I feel energetic I will finish them on the grill, but even under the broiler they turn out really well.

******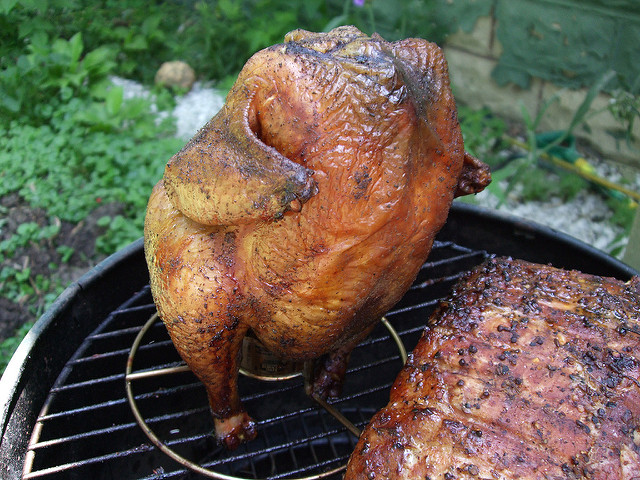 Smoked chicken is great, but all too often it is dried out and over-smoked. What I do is spatchcock the chicken so it gets a healthy, evenly distributed dose of smoke, then finish it on indirect heat on the grill if I have other stuff smoking, or simply don't put any more smoking wood into the coals. That way the chicken keeps cooking but not smoking. Just be careful not to overcook it and dry it out.

******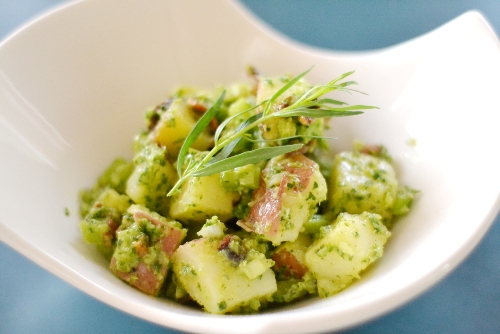 About the only kind of potato salad I don't like is the gloppy commercial stuff with way too much mayo. I find it faintly disgusting, although not quite on par with syrup on French Toast.
But there are tons of great recipes for potato salad that use all sorts of stuff for flavor. Let's face it, anything similar to salad dressing will be a good start.

******
Here's my favorite potato salad recipe. I began with a Bobby Flay recipe and then modified it beyond all recognition...simply following the dictates of my palate.
Chipotle Potato Salad


1/2 cup prepared mayonnaise

1/4 cup Dijon mustard

2 tablespoons fresh lime juice

2 tablespoons chipotle pepper puree

1/3 cup chopped cilantro leaves

1/2 medium red onion, thinly sliced

2 cloves garlic, finely chopped

Salt and freshly ground black pepper

4 lbs. Yukon Gold potatoes, cut into ¾" chunks.
Preheat oven to 425°
Toss potatoes with corn oil and Kosher salt and roast for 25 minutes until golden brown but firm.
Combine all the ingredients, except the potatoes, in a medium bowl and season with salt and pepper, to taste. Place warm potatoes in a large bowl and pour some of the mixture over potatoes and mix well. Season again with salt and pepper, to taste, and add more dressing if you feel like it.

******
Food and cooking tips, tender meatballs, really good jelly beans that aren't just cloyingly sweet, gefilte fish replacements, thick and fluffy pita and good tomatoes that aren't square, pale pink and covered with Mestizo E.coli:
cbd dot aoshq at gmail dot com
. Any advocacy of French Toast with syrup will result in disciplinary action up to and including being
nuked from orbit.
&topic=world_news">

posted by CBD at
03:23 PM
|
Access Comments