« EMT 07/01/18
|
Main
|
Food Thread: Independence Day Carnivores...Front And Center! »
July 01, 2018
Sunday Morning Book Thread 07-01-2018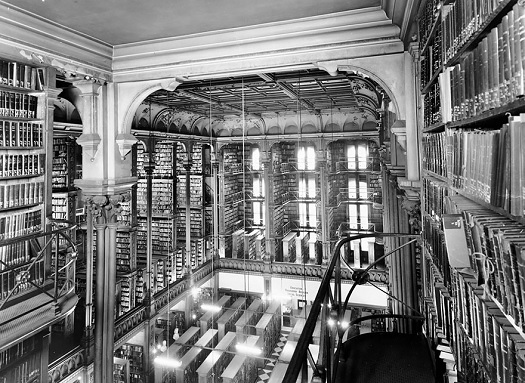 Cincinnati Public Library, c. 1926

Good morning to all you 'rons, 'ettes, lurkers, and lurkettes. Oh, and we've got a new category of readers, escaped oafs and oafettes ('escaped oafs' is an anagram of 'Ace of Spades'). Welcome once again to the stately, prestigious, internationally acclaimed and high-class Sunday Morning Book Thread, a weekly compendium of reviews, observations, and a continuing conversation on books, reading, and publishing by people who follow words with their fingers and whose lips move as they read. Unlike other AoSHQ comment threads, the Sunday Morning Book Thread is so hoity-toity, pants are required. Even if it's these pants, which makes me weep for America and wonder if our country's women will ever start demanding their men back.

It Pays To Increase Your Word Power®
TITUBANCY is unsteadiness or wobbliness.
Usage: The titubant GOPe lurched into the November election like an ocean liner piloted by the 3 Stooges.


When Books Were Bad For You: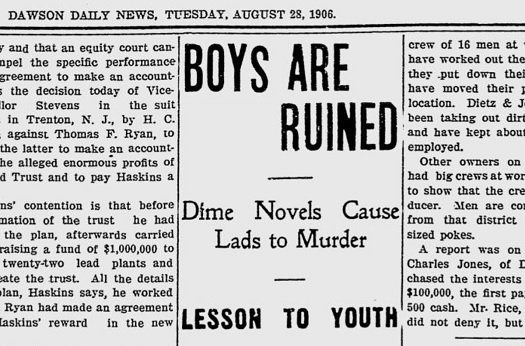 In the days of *my* youth, it was Dungeons & Dragons that they were saying these sorts of things about.
(h/t Pessimists Archive Podcast)

Call For Submissions
'Ette author Elisabeth Wolfe sends me this call for submissions for a space Western anthology that she believes "our Horde authors, especially the likes of Sabrina Chase, would be interested in":
"The Rough", a Witty Word Press anthology:

Less than a decade after the American government launches its space force branch of the military, it makes its first publicized journey into space. The nation is at once skeptical and enthralled. Many scientists are anxious to explore space for its seemingly infinite potential, but the administrations of the US government are mostly interested in strategic military control of the space immediately surrounding Earth.

Private corporations begin drawing disgruntled ex-government scientists to their companies, promising them space exploration. As administrations change, the government becomes hostile to private competition--especially after the tragic crash of the private starship Ringo into the government-run space station orbiting Jupiter. The media goes wild, and most people are saying that this would never have happened if private companies weren't allowed to go into space.

The PSB or Private Space Ban goes into effect officially in 2035. Of course, there are some ships already out there--ships who can never come home.

50 years later, the government of the United States has collapsed almost entirely. The nation is in a sort of anarchy, with different sections of the country being run by separate and distinct groups. The New States (TNS) have varied interests in space travel. Certain areas have access to abandoned military equipment, including space monitoring equipment and ships. A large group of mid-western and southern ranchers, along with some scientists and engineers, disgusted with the recent state of Earth, decide to journey into space in search of a better life.

20 years later, most contact with Earth has been lost. It has become a wasteland with scatters oases of productive life. The pioneers from Earth have scattered--mostly on a few planets just outside the Milky Way. They are on their own, as no assistance from Earth can be expected, and the few alien races they've encountered are not as technologically advanced as they.

These rugged descendants of Earth have learned to survive on their instincts, strength, and their tight-knit communities. Threats are everywhere--plagues, famines, natives, even groups of bandits (descendants of those pre-PSB travelers).

*Stories for this anthology will be 9-12 thousand words.

*I will take six authors for this.

**PLEASE submit a paragraph about what you think your story will be about. EMAIL this to me at 2cutesocks@gmail.com

*I will announce the authors for this in one week.

*Deadline will be July 2019.
The Anarchist Cookbook
Back in the early 70s, a young radical named William Powell compiled a bunch of information about how to blow stuff up, make psychoactive drugs, and cause general mayhem and published it as The Anarchist Cookbook. It actually was a big seller.
Later on, though, Powell became a Christian and disavowed his earlier beliefs. He got married, raised a family, and devoted his life to various teaching projects in 3rd-World countries.
He asked that the publishing company stop publishing his book, but they rejected his request.
And then he it was revealed that he died about a year ago. This L.A. Times obit is pretty good.
I thought this was interesting:
In a foreword, Powell advised that he hadn't written the book for fringe militant groups of the era like the Weathermen or Minutemen, but for the "silent majority" in America, those he said needed to learn the tools for survival in an uncertain time. Powell himself was worried about being drafted and was an outspoken critic of the Vietnam War and President Nixon.
I guess it all depends on who's actually in the "silent majority".

Moron Recommendations
169 Book recommendation: Barbican by Phil Valentine, Nashville-based conservative talk show host. It's a spy novel, $4.99 on Kindle or read free with Kindle Unlimited. The main character reads like he's been lifted from the Moron Horde, and as a long-time listener of Phil, I'd be surprised if he hasn't lurked here a time or three.

Posted by: Rarity at June 10, 2018 09:56 AM (5WxYJ)
As of today (Thurs.), the Kindle price for Barbican: A Sterling McQueen Spy Story is down to $2.99. The Amazon brag-sheet/blurb says
Let's face it, most books in the spy genre these days rely far too much on gadgetry and over-the-top stunts that only happen in the movies. Isn't it time someone returned to the vintage spy novel? Barbican is a political thriller written in the mold of the old spy classics. Our hero, Sterling McQueen, shuns modern technology in favor of the more reliable standbys of human intelligence and his own keen power of deduction. This is a mystery/thriller filled with intrigue, layered with nuance, and peppered with more twists and turns than an Alpine highway.
Sounds like a good risk for $2.99
___________
A bunch of you morons have recommended the WWII memoir The Jungle is Neutral: A Soldier's Two-Year Escape from the Japanese Army by F. Spencer Chapman, and after reading the Amazon blurb, I can see why:
THE JUNGLE IS NEUTRAL makes The Bridge Over the River Kwai look like a tussle in a schoolyard.

F. SPENCER CHAPMAN, the book's unflappable author, narrates with typical British aplomb an amazing tale of four years spent as a guerrilla in the jungle, haranguing the Japanese in occupied Malaysia.

Traveling sometimes by bicycle and motorcycle, rarely by truck, and mainly in dugouts, on foot, and often on his belly through the jungle muck, Chapman recruits sympathetic Chinese, Malays, Tamils, and Sakai tribesman into an irregular corps of jungle fighters. Their mission: to harass the Japanese in any way possible. In riveting scenes, they blow up bridges, cut communication lines, and affix plasticine to troop-filled trucks idling by the road...

It is a war story without rival.
From the way it appears on its Amazon page, I don't think this book is still in print. New copies are insanely expensive, and there are many used copies. Abebook has used copies that are quite inexpensive.

___________
270 I have lately been reading James Ellroy's works. Most of them are noir books about crime(s) in '40s-'50s Los Angeles. Two of his books have been made into motion pictures -- The Black Dahlia and LA Confidential. The former adaptation is better than some critics believe, while the latter enjoyed critical and commercial success...

Posted by: Niall Brennan at June 24, 2018 11:28 AM (HcNNC)
James Ellroy's Amazon page lists many book. I'm interested in reading the two books Niall mentions, The Black Dahlia, and L.A. Confidential

Books By Morons
Moron 'Dr_No' is a new author who has published his first book, Living On New Orleans Time: Passing Moments As Seen From Life's Bayou, which is a collection of personal reminiscences of living and growing up in New Orleans.
They represent times and places that will always be in memory for me, and now that they're in print, you can enjoy them, too. Life, it's said, is either too short or too long. That, I imagine, depends on where we are at any given time. Some times are better - or worse - than others. We tend to remember only the better ones. If we're clever, tho', we can examine the ones that were the least enjoyable and find something worth learning from those experiences...... if you have the right mindset, it's 'New Orleans Time' no matter where you live. Allons!

___________
Don't forget the AoSHQ reading group on Goodreads. It's meant to support horde writers and to talk about the great books that come up on the book thread. It's called AoSHQ Moron Horde and the link to it is here: https://www.goodreads.com/group/show/175335-aoshq-moron-horde.
___________
So that's all for this week. As always, book thread tips, suggestions, bribes, rumors, threats, and insults may be sent to OregonMuse, Proprietor, AoSHQ Book Thread, at the book thread e-mail address: aoshqbookthread, followed by the 'at' sign, and then 'G' mail, and then dot cee oh emm.
What have you all been reading this week? Hopefully something good, because, as you all know, life is too short to be reading lousy books.


posted by OregonMuse at
09:21 AM
|
Access Comments