« Saturday Gardening Thread: Landscapes and Plant Portraits [KT]
|
Main
|
Chess Thread 06-09-2018 »
June 09, 2018
Ace of Spades Pet Thread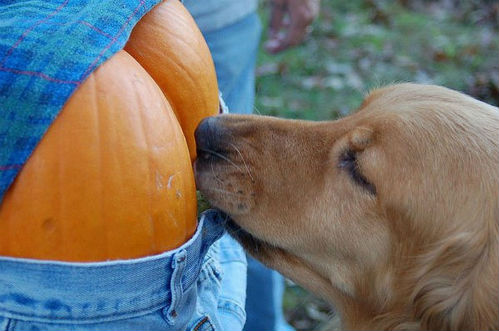 ***
Welcome to the almost world famous Ace of Spades Pet Thread. I'm not sure what that goofy Golden Retriever is up to.
Why don't you sit back and take life easy for a couple of hours?
*****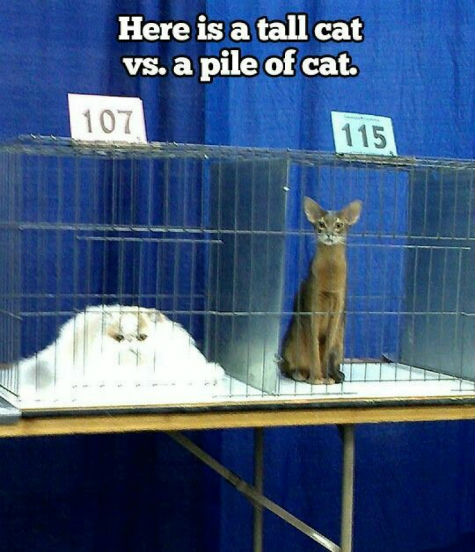 h/t Hank Curmudgeon
*****
A Little of This. A Little of That.

From our friend Hrothgar If these don't make you smile, probably nothing will. Thanks Hrothgar!!
***

My dogs know when I'm pleased with them. They also know when I'm pissed. I talk to them as if I were talking to you. But a study says I'm wrong and I need to talk to them in my baby voice. h/t Anonosaurus Wrecks.

It's a well-known quirk of human nature that adults tend to talk to babies in an over-the-top, cartoony tone of voice. Science calls it "infant-directed speech," and it's thought to actually aid infants in picking up on language cues. You might also have noticed that people tend to talk to their pets in a similar manner, but since dogs obviously aren't on the verge of learning how to speak in a human tongue a team of researchers in the UK wanted to see if there was any real benefit to this strange habit.

As it turns out, humans who engage in "dog-directed speech" (DDS) aren't just doing it to be cute. Dogs actually seem to prefer it over a more level tone of voice when it is used to say certain dog-relevant words. A new study published in Animal Cognition explains how it all works.
So what do you say Horde?
***

If you're a good human, your love for your pet is forever. If you get a tattoo it is forever. One would think that some research would go into taking on a pet and obtaining a tattoo.

Most of us would do anything for our dogs, going to great lengths to show love to our 4-legged friends. But some are willing to do more than others, and Texas resident Chris Mendiola is here to show us how it's done.

The 26-year-old decided to show his love and solidarity by getting the same tattoo as his dog, Bear. When Chris adopted Bear back in 2010, he noticed a small tattoo on his underbelly which sickened the man, knowing that Bear had bounced from home to home and someone had done this to him.

So last year, he decided to get a matching tattoo and shared the post on Facebook, where everyone quickly pointed out something that Chris appeared to have missed. The tattoo on Bear's stomach was an indicator that he was neutered and not a sign of animal abuse, as Chris had first thought. According to the Association of Shelter Veterinarians, it's a standard procedure to mark neutered pets in shelters, so that no one unnecessarily operates on the dogs again.
***
I believe we have all heard of feral cats and feral dogs. But feral peacocks? That's a new on me.

You've likely heard of Vancouver, British Columbia. Surrey? Maybe not: it's a city in its own right and a part of the Greater Vancouver Regional District. Surrey's got an unfortunate reputation for crime due largely to occasional targeted daytime gang hits and the omnipresent narcotics trade. I lived across the bridge from Surrey for close to a decade. I always felt safe there and enjoyed the food, culture and good times that Surrey had to offer.

But now that I know that it's infested with feral peacocks, I may not be back.

According to the CBC, Surrey city officials believe that Surrey residents living between 150 Street and 62 Avenue are being forced to cope with the presence of between 40 and 150 feral peacocks roaming the streets
***
Meet The PetMorons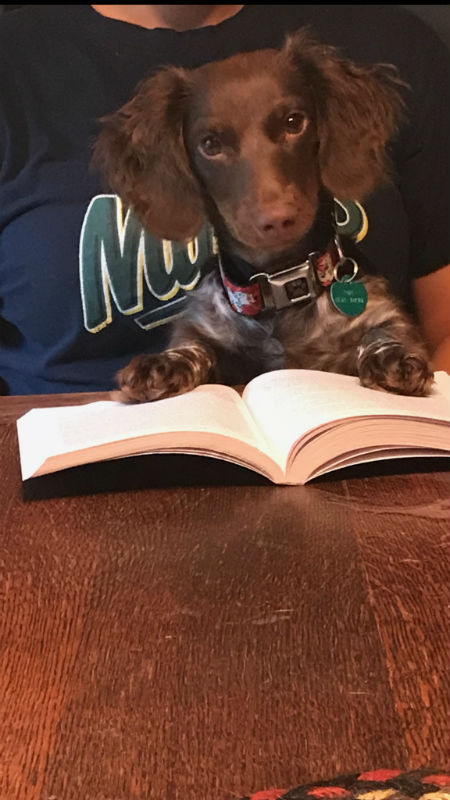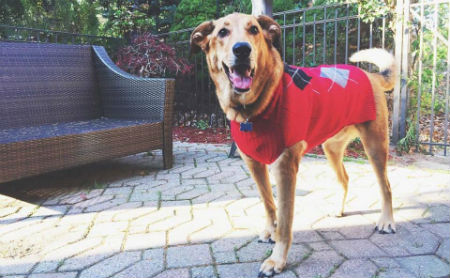 Longtime constant reader and occasional commenter Octopus here, with a Pet-Moron update.

Our main dog George made it to the prestigious Pet Thread awhile ago, and now he's got a younger brother, thanks to our younger daughter making a love connection a few months back. His name is Henry. We tried to resist, but we were powerless. He's in. Look at his smug face.

Our new auxiliary dog, theoretically owned by my younger daughter but being mostly raised by my wife and me, is studying for his LSAT. We think he's going to make a fine lawyer, with his dogged determination and German flair for detail.

George is not convinced, citing his younger brother's propensity for pooping in the dining room.

"Have some class," he growled.

"Get over yourself, Slick," Henry shot back. "Nice sweater."

This could take awhile.
Ahh puppies, so darn cute and so much work. Sounds like an interesting situation you have there Octopus. Thanks for sharing with us.
***
This video came in from our friend Joe.Here is what he had to say about Maisy.

Maisy has trouble with corners and tight spaces. Sometimes she can't bear to look at where she's about to go.
She looks like a super cutie.
***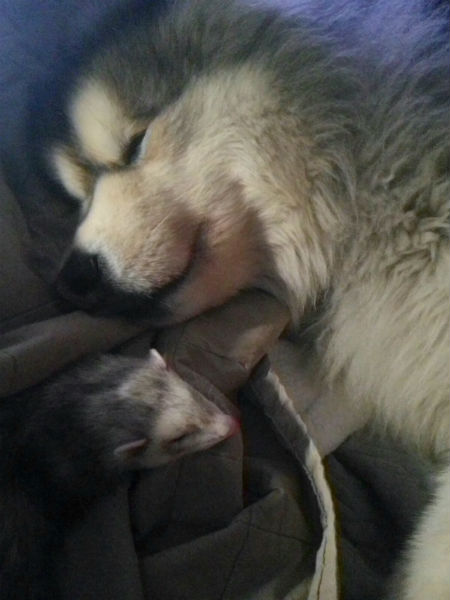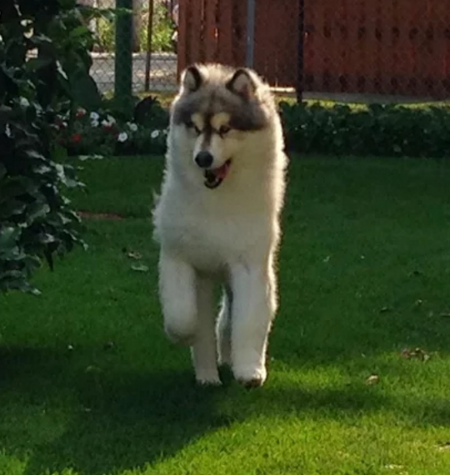 The first photo is of Jake the malamute enjoying a snooze with Bobbaloo the ferret. Bobbaloo was found roaming around the backyard early one morning by Jake. He was almost breakfast. After an uneasy warming-up period they became friends, stolen Milk-Bones notwithstanding. The second photo is of Jake and Caro (who - believe it or not - was another runaway!) Caro was found by a friend on a farm in North Carolina in the middle of nowhere and after a long road trip she became part of the gang. She is mischievous and excitable and loves to play chase with Bobs and Jake. She is also generous with her milk. I'm also including a photo of Jake in the yard one beautiful spring morning. He's a rescue who's successfully overcome his original circumstances, but will revert back to separation anxiety in a big way if left overnight at an unfamiliar place. The pet thread is our favorite weekend post. Thanks for keeping it rolling!
First of all, thank you for the very kind words. Greatly appreciated. Secondly don't lurk come on in, the water is fine. And lastly, what a great looking group of pets. Amazing that a wandering ferret and a dog would become such friends.
***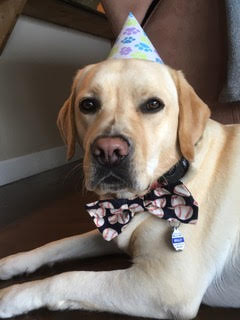 Hello!
My Yellow Lab Wrigley celebrated his second birthday last week….he's a dapper one isn't he?!! We're big Cub fans and he is such a good boy that he's earned the hashtag #whosmygoodboy?! on many FB posts. I hope he makes the cut in your Pet Thread, we love checking it out!!
Cheers!!
Andy D
Well, Happy Birthday Wrigley. He doesn't look like he's a party animal at the moment though Andy. Thank you for the submission.
***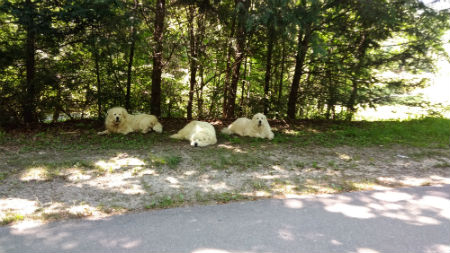 These guys/gals aren't mine, but I kind of wish they were. They belong to someone who lives about a mile up the mountain. They come down to our neighborhood from time to time and just hang. They are always together, never bother anyone, and will amble away if you try to pet them.

I was driving home yesterday, and they were lording over the roadway, so I had to stop and get this picture.

I think I would call them Past, Present, and Yet to Come but I wouldn't be able to tell them apart. - Dave.
That's a pretty cool thing to see Dave. Thanks for thinking of us here at Pet Thread with the photo.
***
Thank you to all who submitted photos. Our goal is to post every pet and its story. We just ask that you be patient as we get to them.
Do you have a pet photo you wish to share? Or do you have some interesting story or a video? Please send them to petmorons at gmail dot com.
Have a great week!!


posted by Misanthropic Humanitarian at
03:00 PM
|
Access Comments