« Thread before the Gardening Thread: California Report [KT]
|
Main
|
Ace of Spades Pet Thread »
June 09, 2018
Saturday Gardening Thread: Landscapes and Plant Portraits [KT]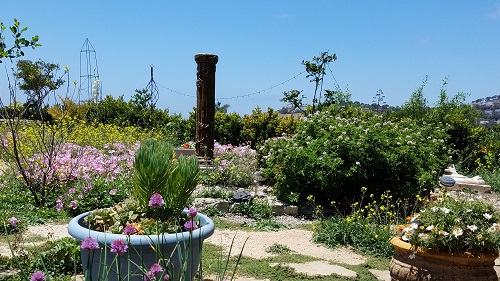 The Invisible Hand sent in some great photos for us, including the one above, taken from his back door. We get quite a few nice plant photos here at the Satorday Gardening Thread, but not so many members of The Horde seem to think of taking landscape photos. I was really taken by the photo above. Well, I like the others, too.
You may or may not be able to see lights strung from some of the garden scupture and trees. So this scene looks good at dusk and at night, too, I would imagine.

The Invisible Hand and his wife "who does all the work" live in San Clemente, California. Catalina is "on far right in haze" in this photo. Wow.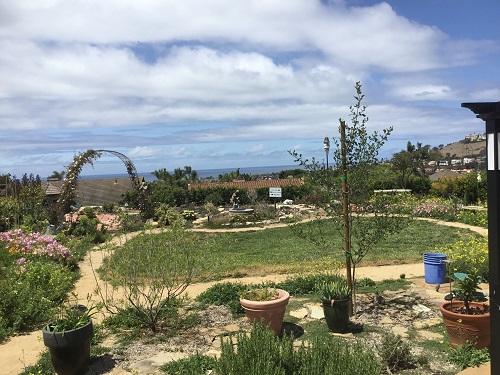 Kaz is our cockalier 11 year old pup.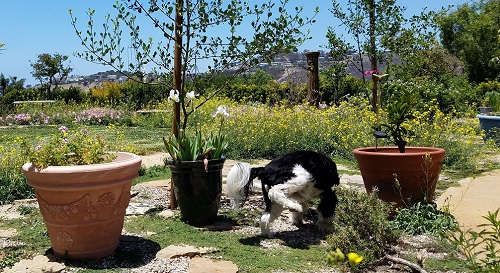 Kaz' silky tail sets off that lovely white Bearded Iris in its dark pot. Even the pets do their best (ahem) to enhance the garden scene chez The Invisible Hand.
The larger original photo shows the purple markings on the scented geraniums (pelargoniums) in the pot to the left. Good climate for scented geraniums.
No table in the greenhouse creates more excitement than the one that contains scented-leaf geraniums. These pelargoniums have leaves with tempting aromas of lemons, apples, roses, oranges, even coconuts. The most common question about these remarkable plants is: "How'd they get that way?"
Meanwhile, their other pup, Darla, brings some calming earth tones to the scene below. A nice contrast to the exuberant chartreuse shades of the Euphorbias and whatever plant is behind them on the right. Don't you just want to be her friend?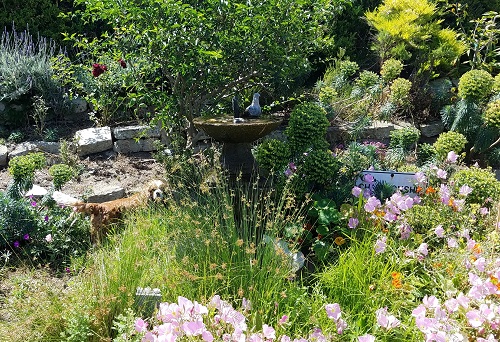 Darla does not seem to me like one of those dogs that chews on strange plants. But if you have one of those dogs, keep it from chewing on Euphorbias, including Poinsettias. You may also want to wear gloves while working with them. At least wash your hands afterwards. Don't get the latex in your eyes. Some species are more toxic than others.
We have more photos from this garden for later. Fun.
Carnivorous Plants
For some people, gardening is all about the plants. This is especially true for people who become interested enough in a certain class of plants to become experts. I was happy to get the following from our own carnivorous plant specialist. I have done a little formatting and editing, but I think I got the information pretty much straight.
My name is Tony Litwin and last year I sent you some pics of Carnivorous Plants I grow. Well my plants have come back up from a very cold winter ( which they need ), and I thought I'd like to share some of them with everyone. Right now I probably have over 500 plants if you count up the growth points (they divide like crazy) but I picked some of my best ones to show. There are several things I like about these plants, two of which are their beauty, and the fact that I have no bugs to bother me. Anyway, I hope people enjoy them as much as I do, and thanks for showing them.
I asked Tony for a few details in case anyone else was interesting in trying to grow some of these plants.
I keep the plants in my backyard. The ones I have now consist of:

Pitcherplants/Sarracenias - all 9 species plus hybrids
Butterworts/Pinguicula's - all 6 southeastern species
Sundews/Drosera's-all 5 southeastern species
Bladderworts/Utricularia's -only the 3 terrestrial southeastern species
the monotypic species Dionea or as it's known, the Venus Flytrap.

I grow the plants in a mix of pure Sphagnum Peat and Perlite mixed and I set the pots in tubs of rainwater since the plants need a constantly moist to wet medium. The only time I allow the water to evaporate alot is during the winter when the plants are asleep, otherwise the tubs are kept constantly full to the drain hole I make in the side of the tub to allow excess water to drain out.
A and B are Pitcher Plants with A being Sarracenia Leucophylla Green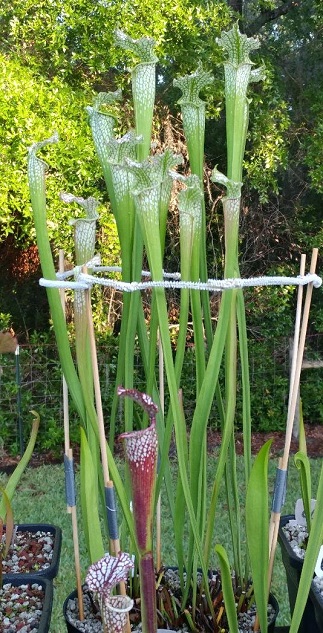 B is Sarracenia Flava Rugelli. Both A and B top out at 36 inches tall and will get taller.
You can see why people would be interested in hybridizing these plants. They really have some beautiful markings, plant forms and other features.
C is a Butterwort: Pinguicula Planifolia.

The Butterworts are found worldwide from near the Arctic Circle to the bottom of South America, they like wet places as well, although there are a few that grow amongst cactus in the deserts of Mexico. In the USA, they can be found from Coast to Coast. Here in Florida where I live, there are 6 species of Butterworts, one of which is considered one of the rarest plants found in the US, Pinguicula Inonantha. They are very unimposing plants that have a star shape, lay flat on the ground and eat small flying and crawling insects. Back in the Middle Ages, folks used to use them in Europe to curdle Milk to make Cheese.

Bladderworts are in another genus in the same family, Lentibularia, are really the most unassuming of the group with many that grow in water and also underground and the only time you know they are around is when they flower.
So, Butterworts were used to make cheese. Have you ever wondered what cheese tasted like in the Middle Ages?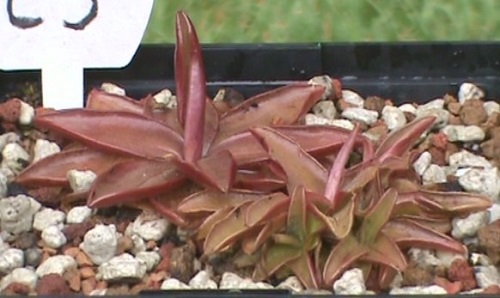 D is a Sundew: Drosera Cunifolia.

Sundews are another group of mostly unassuming carnivorous plants that also have large members of the family like D. Filiformis Tracyii, which can grow almost 2 feet tall and D. Regia which can grow almost 3 feet tall. Then there are the pygmy Sundews from Australia that grow smaller than a dime with some of them the smallest flowering plants on the planet.
I always liked the look of Sundews.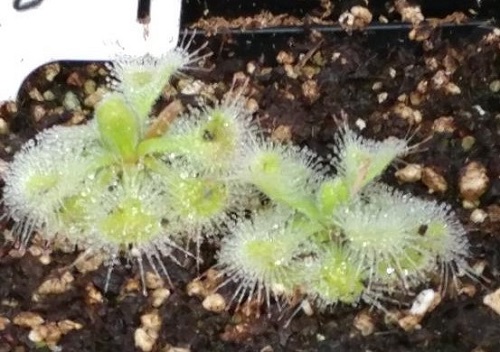 I asked Tony about the possibility of growing a carnivorous Bromeliad indoors. Like some other Bromeliads. Maybe not:
E is a Carnivorous Bromeliad: Brocchinia Reducta.

As for the Bromeliads, only two count as being carnivorous, B. Reducta and one that grows here in southern Florida. B. Reducta by the way is found in parts of South America and both Reducta and the South Florida one are rare in collections. As for growing them indoors, unless you grow them under lights, the best place to grown these plants is in full sun ( at least 6 to 8 hours ) a day so they attain full size and coloration, and they feed themselves.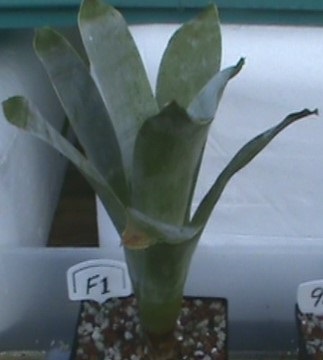 F is a pot full of Venus Flytraps: Dionea Muscipula.
Have you ever bought one of these? How long did you keep it alive? Bet it didn't look as good as Tony's.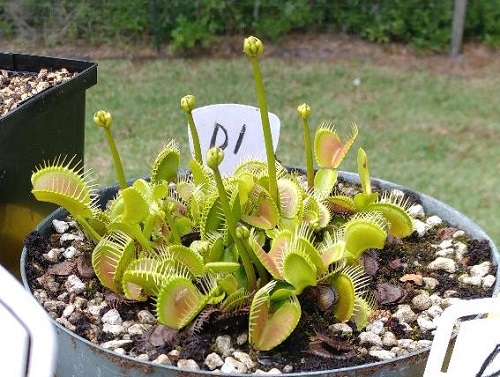 I hope I have answered your questions about these interesting plants, and I wish I could show you all the diversity these plants exhibit. Aside from their propensity to enact revenge on the insect world for all the plants bugs eat, I love their coloration and shapes and sizes as well as the plain fact that they are amazing to watch especially when they are about to eat a wasp or grasshopper ( although I have some that can and do eat lizards and tree frogs).

In a lot of places where these were once found, their habitat is being destroyed to make golf courses and the like, and they need all the help they can get from people trying to keep their genetic diversity alive for the future, including possible replanting efforts in suitable habitat. Especially here in the US, ultimately, some will only be found in either collections like mine or in Arboretums like the one in Atlanta.
Thanks for keeping them alive and letting us see them, Tony.
Garden Pests
Speaking of "carnivorous, there are carnivorous hammerhead flatworms invading France. They eat our friends, the earthworms. Some of them are pretty dang big. There's a blue-green one in one of the territories that may be an new species.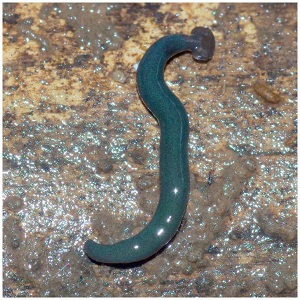 The Edible Garden
Hank Curmudgeon says about a greenhouse that grows oranges in the snow in Nebraska:
Crude implementation of a great idea. I could see these being sold as complete kits.
Might want to get going on this one if you want to finish it before winter.
Gardens of The Horde
Bonecrusher says this flower "thrives on neglect". It's one of those newer designer daylilies. Probably stays open longer in a day than some of the older ones. Incidentally, if you are looking for a hobby that's less demanding than growing carnivorous plants, breeding your own daylily might be one.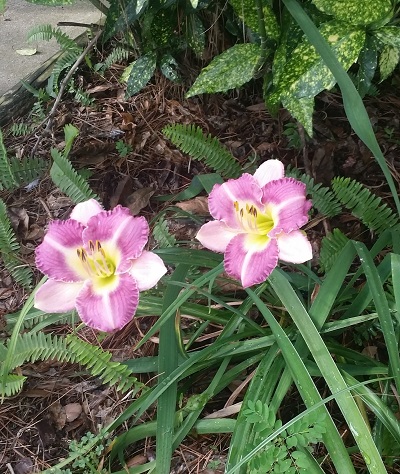 Weasel has an idea:
Here's a suggestion for Garden Thread content sometime - interesting fauna observed in the garden. I spent a couple of days at WA just hanging out and continue to be amazed by the diversity of wildlife there. I identified several species of birds (Cornell U. has a great app) and two different kinds of lizards just sitting quietly and enjoying the outdoors. That's in addition to all the trees and plants and bugs and small mammals.
Sounds like a nice feature any time to me. What do you think?
If you would like to send information and/or photos for the Saturday Gardening Thread, the address is:
ktinthegarden
at g mail dot com
Include your nic unless you just want to be a lurker.

posted by Open Blogger at
12:44 PM
|
Access Comments