« Just Some Observations
|
Main
|
Weekend Gun Thread »
April 29, 2018
Food Thread: Porcine Pulchritude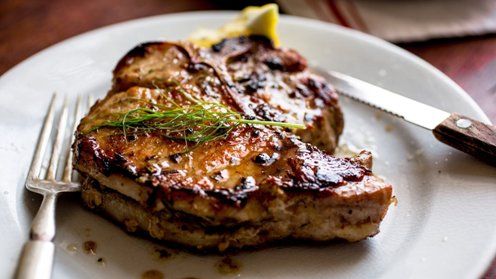 As the few of you who read the content may have noticed, I am a big fan of pork chops. American pork producers seem to have gone through a renaissance, and are providing us with some very good stuff. 20 years ago most mass-market pork was awfully lean and bland, but now? Nice and fatty and flavorful.
That's not news, and it isn't a new topic in these august pages. I rant and rave about pork all the time, especially those glorious chops cut from high up near the shoulder. But recently I have tried the classic chop cut from behind the shoulder...the one with the bit of tenderloin on the other side of the bone. I used to avoid it because the tenderloin is tender, but quite lean, and it dries out pretty quickly. But I have discovered that a thicker cut chop will provide enough protection so that it doesn't dry out, and it remains tender and juicy. Just don't trim any of the fat away, because that's just silly.
Speaking of pork, are any of you lunatics fans of fruit and pork? I think it's a weird combination, but there are so many classic dishes that call for it that I am clearly missing something.
I mean, it's not as bad as syrup on French Toast, but then, nothing is.
******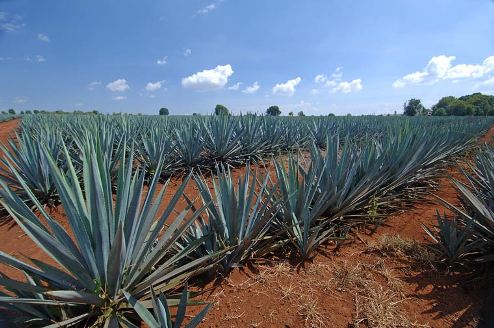 I seem to have lost my taste for Margaritas, and I'm not sure why. Even my homemade ones seem a bit cloying, although that is my palate speaking, since my guests finish off the pitchers we make in short order.
But I have been drinking straight tequila and enjoying it immensely. Not the mediocre stuff, but some pretty good bottles that I received as gifts. These aren't outrageously expensive, just a few dollars more than the mass-market stuff that most people buy to make margaritas. The one I tried last night is called Carrera, and I drank the reposado. It's about $25/bottle, and damned delicious!

******
Well this is wonderful news.
Reality research: Norovirus in restaurant bathrooms
Chain restaurants had significantly more positive samples than non-chains (p = 0.0273). Unisex bathrooms had significantly more positive samples than female bathrooms (p = 0.0163). Bathrooms with bar soap had significantly more positive samples than liquid soap bathroom (p = 0.0056) and foam soap bathrooms (p = 0.0147), but note that only 3 bathrooms out of 751 actually used bar soap. Bathrooms containing a trash can attached to the paper towel dispenser had significantly more positive samples than bathrooms with a free-standing trash can (p = 0.0004).
I'm not sure what the takeaway is...don't use the bathrooms in chain restaurants? Don't wash your hands? Never eat out?
******
I'm intrigued. I think one of you should make these and send me a few.
chocolate peanut butter cup cookies
. Actually, after rereading the recipe it sounds like a lot of fun to make, so I think I will give it a shot.
******
From Serious Eats comes
Salumi 101: Your Guide to Italy's Finest Cured Meats
. I'm not sure how useful it is, because I can't recall not enjoying whatever weird and new cured meat I picked up from the deli counter. Seriously, I mostly just grunt and point at what looks good, and don't pay much attention to the names. It's like cheese. There are far too many different kinds, and most of them are good, so I just grab what looks yummy, content in the knowledge that I will rapidly and effortlessly forget the name, and will eat it again only by coincidence.
******
Food and cooking tips, good mustard, Oakland style BBQ sauce, gefilte fish replacements, thick and fluffy pita and other goodies with impressive girth:
cbd dot aoshq at gmail dot com
. Recipes for low-carb Pop-Tarts will be deleted with extreme prejudice.
&topic=world_news">

posted by CBD at
04:00 PM
|
Access Comments