« The Night And Day Difference Between The US And The UK
|
Main
|
Weekend Gun Thread »
April 08, 2018
Food Thread: I'm Having A Halibut Time Using All The Matzoh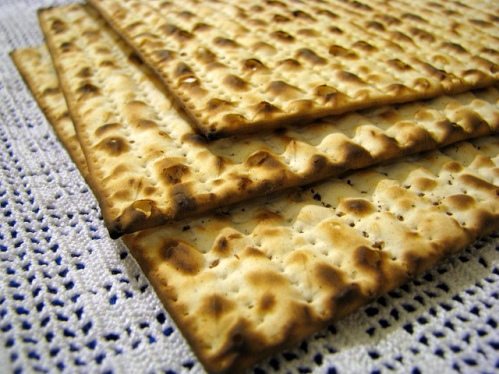 Ah...what to do with the four boxes of matzo left over from the Seder! My usual is something called "Matzo Brei," which is simply broken-up matzo, egg, salt, pepper, onion powder and garlic powder. I wet the matzo a bit, then toss in whipped eggs and the spices. Depending on how much egg I use, it's moist or...um...not moist. I like it either way. Anyway, gently formed into patties and then fried in some butter and oil over medium-low heat, they take about 10 minutes to cook, and go well with Crème fraîche or cream cheese or sour cream.
Some deeply troubled and ignorant people treat this dish as a sweet, rather than savory breakfast food. They are wrong. Almost as wrong as the people who eat French Toast with (shudder) syrup instead of salt and butter.
******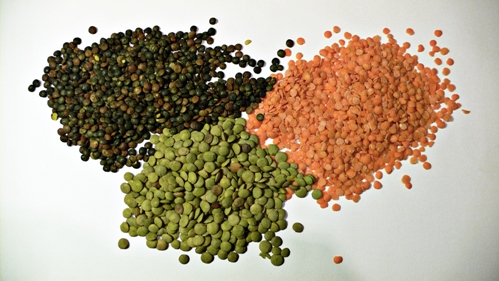 I was poking around for a side dish to go along with sautéd halibut and remembered a recipe from the Balthazar Cookbook for lentils with thyme. I had made a long time ago and was pleased, though I recall thinking that there was too much thyme. And when I looked at the recipe I was correct! Wow...something like four sprigs of thyme for one cup of lentils. Yeah, I like thyme, but not that much.
Anyway, it's a simple dish; just sauté small-diced onion, carrot and celery with the thyme, then add the rinsed lentils and some water, and cook for a bit until they are tender. Good stuff, and a bit different than the usual potatoes or rice or pasta sides that I default to because I am small-minded.
Speaking of halibut...damn! it has gotten pricey. it's one of my favorite fish, but for the same price I can get lots of prime steak, and as much as I like piscean pleasures, I'll usually take a good steak.

******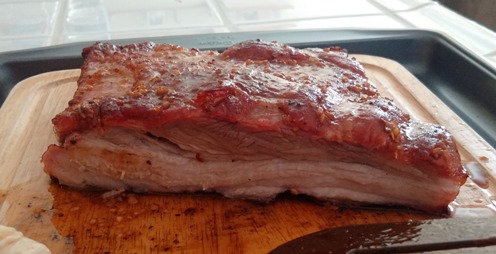 Commenter "Blake" is on a roll. Pork Belly, smoked for a couple of hours, then finished over direct heat for about half an hour. It looks great, and is a testament to the glory that is pork fat.

******
My first thought when I saw this link was, "Cool! Hot chicks who happen to make wine!" But no,
15 Women in Wine to Watch
is a celebration of the entry of SJW bullshit into winemaking. Personally, I don't give a rat's ass who makes my wine, as long as it tastes good and is reasonably priced for the quality in the bottle. But apparently I am far behind the times, and now I must pay attention to the genitalia of the winemaker as well as xer skill. What's next...tranny wine?
******
I was unable to find a recipe in my files that piqued my interest or that I could vouch for, but I did find this, and I am intrigued!
How to Make Fluffy Yeast-Raised Angel Biscuits is a radical departure from what we all know about biscuits. I am going to give it a shot. But in the meantime, does anyone have any experience with this sort of thing? Is it even legal to use yeast in biscuits?

******
Food and cooking tips, flourless chocolate cake, Oakland style BBQ sauce, gefilte fish replacements and other goodies with impressive girth:
cbd dot aoshq at gmail dot com
. Recipes for low-carb Pop-Tarts will be deleted with extreme prejudice.
&topic=world_news">

posted by CBD at
04:00 PM
|
Access Comments