« Food Thread: I'm Having A Halibut Time Using All The Matzoh
|
Main
|
Sunday Overnight Open Thread (4/8/18 ) »
April 08, 2018
Weekend Gun Thread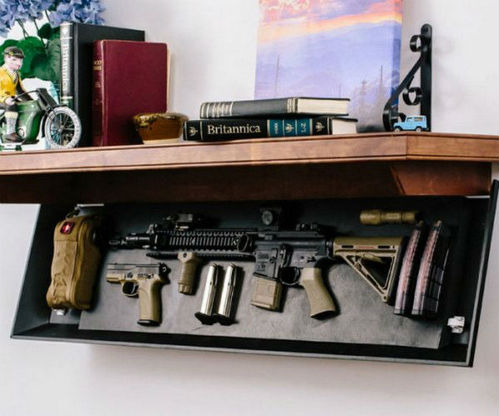 ***

Meet Josh Kantrow, a new NRA member who is not a gun owner.

I am a 53-year-old lawyer who lives in a trendy neighborhood in a large diverse city with my wife and three kids. I have never owned a gun. In fact, even though I grew up in Louisiana ("Sportsman's Paradise"), I have never even pulled the trigger of any weapon except a BB gun.

Yet, last week, I became a proud member of the NRA for the first time. I did so because the anti-gun hysteria that I've witnessed is dangerous, alarming, and ignores the facts. I've joined the NRA to stand up for them when they are viciously attacked, since the organization is a convenient scapegoat, not a cause of what happened in Florida.
***

There are a fair number of you who are not gun owners, yet. The Weekend Gun thread is asking that you think about joining the NRA. It is fairly inexpensive and very good resource besides fighting for your 2nd Amendment rights.
***

We knew it was coming, it was only a mattter of time. Remington files for bankruptcy.
***

Ruger offers new chamberings for its No. 1 rifle series.

Ruger's No. 1 rifle series is getting a caliber upgrade, with the company adding in a few new cartridges to the rifle's already robust lineup.

Joining the series is the .308 Win and .450 Marlin in addition to new Lipsey's Distributor Exclusive models chambered in 30-30 Win and 357 Rob. The cartridges join the No. 1 rifle inventory which already boasts .450 Bushmaster, .243 Win, 44 Rem. Mag., 35 Whelen, 204 Ruger and 6.5 Creedmoor.
***
A new caliber available for reloaders. The .455 Webley.
*****
Last week's Weekend Gun Thread comment section had quite a bit of chatter about home defense shot guns. Personally, I just have an old Winchester Model 12 locked and loaded and ready to go. 2 3/4" mags with #4 shot, my eyes aren't what they used to be. And to be honest with you I don't trust my aim if I had to wake up in the middle of the night, grab my specs and use one of my handguns. Now my Model 12. No problem.
There are a number of fine shotguns out there. And if you have a Remington 870 or Mossberg 500 you might be interested in the Bullpup unlimited shotgun conversion kit.

So if you get a home defense shotgun, what is the best ammo for home defense? According to this story not my #4s.

My guess is that before the next thread comes around there will be plenty of good discussion.
***
Just starting out with a pistol? Fundamentals for beginners.
***

It has been shown several times this week. It needs to be shown again. And I'm so jealous of Mr. Robinson and his speech. We are the majority.
***

More gun control? How about we punish those who use guns in the commission of a crime? Or how about we throw the book at felons in possession of a firearm and bomb.
***
Spare 12 gauge 2 3/4" #1 shells, clay pigeons and tips to petmorons at gmail dot com.

[Update]There has been some discussion about the mail one could receive from the NRA if you were to join. I've never had this problem but some Morons have had different results. From our friend Jim in Galveston.
One simply phones the NRA Membership Desk, and requests (insists, if need be) that their membership be coded "NO PROMOTIONS".
It is vital to use that exact language, no other phrase will produce the desired effect.
Please CODE my membership as NO PROMOTIONS.

Pro-Tip. Phone the Membership Desk a week later, and have them verify that the change of status as requested is found in your membership profile.
It'll take 30 to 45 days for the mail and fundraising phone calls to stop, but stop they will!


posted by Misanthropic Humanitarian at
07:33 PM
|
Access Comments