« What The Hell Is Going On?
|
Main
|
Weekend Gun Thread »
March 18, 2018
Food Thread: Pizza? Tomato Pie? You Be The Judge
[Just joking. This is definitely a pizza. The Chicago version is clearly tomato pie. Fun to eat, but don't call it pizza.]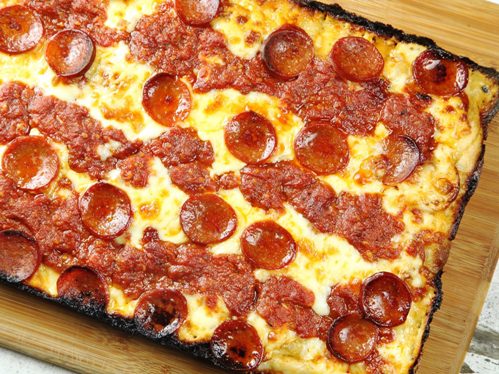 photo courtesy of Serious Eats
Until a few months ago I had no idea that there was a particular, much-loved style of pizza indigenous to Detroit. Perhaps that is because I haven't been in Detroit since I was a kid, except for a flight there before I went to Toledo. Yup...I live an exciting life!
The photos remind me of the classic Sicilian pizza that is common around NY, but with a few nice twists. Putting the sauce on top just means that more of it will land on my clothing, but edge-to-edge cheese means the opportunity for crispy, browned, crunchy cheese on the perimeter of this pizza, and that is a very good thing.
I found a bunch of recipes, one of which is at the Serious Eats link below the photo. Another nice looking one is at the King Arthur Flour website, but it is sort of irritating; in addition to specifying their flour (which is fine), it calls for two separate spice mixes that they sell. One is for the flour, and it's just powdered cheese garlic, onion and yeast. The other is for the sauce, and is exactly what you would think: onion, garlic, basil, oregano, red pepper flakes, and salt.
Their flour really is great, but I doubt very much that their spice mixtures are worth the huge mark-up, and I find it disingenuous of them to try to sell me that crap.
******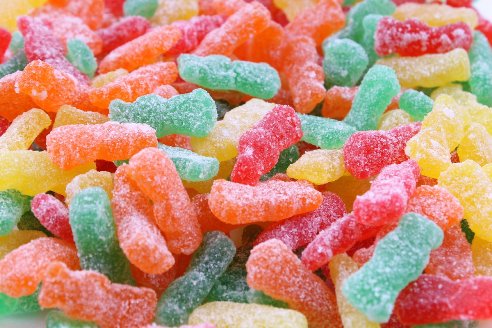 I have an uncontrollable sweet-tooth, and this is exactly the kind of crap I will eat until I am nauseous. I am just barely smart enough not to buy it in industrial quantities, so I still have my own teeth, but woe to the unattended bowl of this kind of stuff if I walk past.

******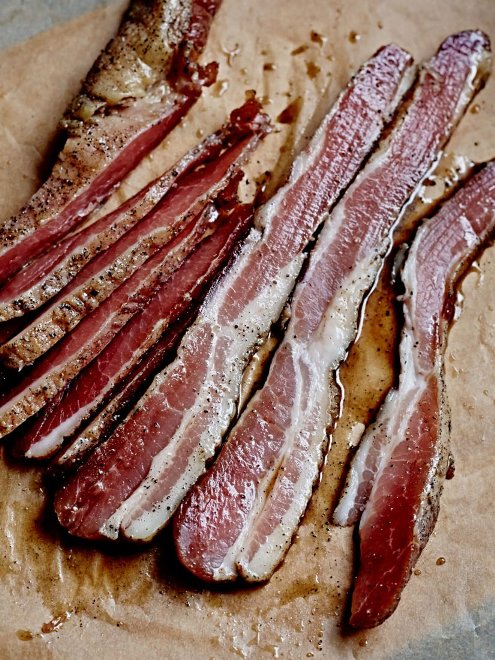 I'm not sure that there is anything particularly complicated about keeping bacon fat. I pour it through a fine strainer into a six-ounce glass ramekin, let it cool, then cover it and put it in the refrigerator. I guess keeping it on the counter or under the sink keeps it soft, but is that a big deal? The Care and Keeping of Bacon Grease. Honestly, the only reason I linked to the article was as an excuse to post a photo of bacon.

******
Homesick Texan is a fine writer and a fine, unpretentious cook. Here is her
biscuit recipe
, which is a bit different than the usual. She works the dough a bit, but the end result is excellent. After my Thanksgiving catastrophe I returned to biscuit sanity with her, and I have been quite pleased with the results.
By the way, she is a very pleasant woman. I had a short correspondence with her a long time ago about some food topic, and it was a pleasure.

******
This is from the NY Times cooking section, which is edited by Sam Sifton, who seems to be able to keep politics out of his recipes and commentary. The comments are a different matter, but you don't have to read them. It amazes me how the pinch-faced scolds on the left can't resist dragging their angry world-view into every topic. It's a fvcking recipe you asshat, just shut up for five minutes and leave us alone with your shit.
Anyway, I made this recently and it is a very easy-to-handle dough, which is important, especially if you are not an expert. The measurements are in grams, which is nice, but temperature and humidity are big variables in bread making, so don't be surprised if you have to add a bit of flour or water (I did).
Roberta's Pizza Dough
INGREDIENTS


153 grams 00 flour (1 cup plus 1 tablespoon)

153 grams all-purpose flour (1 cup plus 1 tablespoon and 2 teaspoons)

8 grams fine sea salt (1 teaspoon)

2 grams active dry yeast (3/4 teaspoon)

4 grams extra-virgin olive oil (1 teaspoon)
PREPARATION
Step 1
In a large mixing bowl, combine flours and salt.
Step 2
In a small mixing bowl, stir together 200 grams (a little less than 1 cup) lukewarm tap water, the yeast and the olive oil, then pour it into flour mixture. Knead with your hands until well combined,
approximately 3 minutes, then let the mixture rest for 15 minutes.
Step 3
Knead rested dough for 3 minutes. Cut into 2 equal pieces and shape each into a ball. Place on a heavily floured surface, cover with dampened cloth, and let rest and rise for 3 to 4 hours at room temperature or for 8 to 24 hours in the refrigerator. (If you refrigerate the dough, remove it 30 to 45 minutes before you begin to shape it for pizza.)
******
Food and cooking tips, flourless chocolate cake, Oakland style BBQ sauce, crispy roasted potatoes and other goodies with impressive girth:
cbd dot aoshq at gmail dot com
&topic=world_news">

posted by CBD at
04:00 PM
|
Access Comments