« Sara A. Carter: Sources Say McCabe Will Likely Be Fired Before He's Eligible for His Pension
|
Main
|
The Morning Report 3/16/18 »
March 15, 2018
Thursday Overnight Open Thread (3/15/18 )
(The ONT, colder than a well digger's knee?)
*****
The Quotes of The Day

Quote I

"[She's] so bitter, you could make an Old-Fashioned out of her tears," Greg Gutfeld

Quote II

In my study of communist societies, I came to the conclusion that the purpose of communist propaganda was not to persuade or convince, not to inform, but to humiliate; and therefore, the less it corresponded to reality the better. When people are forced to remain silent when they are being told the most obvious lies, or even worse when they are forced to repeat the lies themselves, they lose once and for all their sense of probity. To assent to obvious lies is...in some small way to become evil oneself. One's standing to resist anything is thus eroded, and even destroyed. A society of emasculated liars is easy to control. I think if you examine political correctness, it has the same effect and is intended to." Anthony Malcolm Daniels (Theodore Dalrymple)

Quote III

"Wherever there is a jackboot stomping on a human face there will be a well-heeled Western liberal to explain that the face does, after all, enjoy free health care and 100 percent literacy." John Derbyshire
*****

The evolution of Bill Burr NFSW-Language
*****

We talk about how bad television is. What is worse 1989 or 2018? You Morons decide.
*****

The Winter Olympics recently wrapped up. Curling was a big hit. Curling "outside of the box"
*****
There is no truth that Hillary Clinton or John Podesta ever worked for a power company. U.S. power company fined $2.7 million for security flaws.

An American power company has reached a settlement to pay an unprecedented $2.7 million penalty over significant security oversights that could have allowed hackers to gain remote access to the power provider's systems.

According to an electronic filing, power regulators reached a settlement with an unidentified power company after a security researcher discovered more than 30,000 company records online unprotected by even a password. Regulators did not disclose the name of the company, which neither admitted nor denied the violations.
*****

First his soul is burning in hell. Now his corpse is going to burn.

I wouldn't feed Charles Manson's corpse to my dog, let alone fight over it. Not everyone's of the same mind: after a whole lotta legal jibba-jabba, the courts have finally decided on who gets possession of his remains. According to Jezebel, Manson's grandson, Jason Freeman, has won the dead cult-leader lottery, having been awarded the right to take possession of his murderous progenitor's remains:

Manson died on November 19th after more than 40 years behind bars, but in all that time it was never agreed upon who would win the rights to his corpse once he finally kicked the bucket. If you thought he'd be quietly cremated and deposited in a dumpster behind a seafood restaurant like he probably deserved, well, you were wrong. It turns out an entire gaggle of people were after the cult leader's ice-packed remains, including Freeman, longtime pen pal Michael Channels, a musician named Matt Lentz who claims to be his son, and another dude named Michael Brunner who also claims to be his son.
*****

Tom Barrett, former democratic U.S. House of Representative, failed WI gubernatorial candidate and Mayor of Wisconsin's largest city, Milwaukee. Outstanding public leadership. Clap the disease that made Milwaukee famous.

MILWAUKEE -- City leaders on Tuesday, March 13 held a news conference to respond to the recent discovery of an HIV and STD cluster in Milwaukee. It is believed at least 125 people have contracted HIV and syphilis, and they're connected in some way. Additionally, Milwaukee leads the nation, with more than 4,000 cases of gonorrhea in 2017. There are now plans to reach out to young people on social media, and put more funding into testing and treatment.
*****
The ONT Musical Interlude
March 15, 1972, DJ Robert W. Morgan played the Donny Osmond version of 'Puppy Love' for 90 minutes on the radio station KHJ in Los Angeles. LAPD mistakenly raided the station studios after receiving numerous calls from listeners, confused, the officers left without making any arrests. via thisdayinmusic.com
Talk about Swatting.
***
March 15, 1941, Born on this day, Mike Love, American singer, songwriter, and musician who co-founded The Beach Boys. Love collaborated with Brian Wilson and was a lyricist on singles including 'Fun, Fun, Fun' (1964), 'California Girls' (1965), and 'Good Vibrations. (1966). The Beach Boys released the 1966 classic album Pet Sounds. via thisdayinmusic.com
***
March 15, 1947, Born on this day, Ry Cooder, guitarist, member of Captain Beefheart's Magic Band, worked with Gordon Lightfoot, The Rolling Stones, Eric Clapton, Randy Newman, John Lee Hooker. Solo, 1979 album 'Bop Till You Drop', and 1985 film soundtrack album 'Paris Texas'. Cooder produced the Buena Vista Social Club album (1997), which became a worldwide hit. via thisdayinmusic.com
*****

They aren't in the lead for Parents of The Year Award. But they are for Genius Award Winners.


CRESTVIEW — Deputies with the Okaloosa County Sheriff's Office found a man and woman passed out in a truck at a gas pump in Crestview Monday night, while a 3-year-old child had syringes, methamphetamine, and oxycodone within easy reach.

According to a press release from OCSO, a member of the OCSO Street Crimes Unit was on patrol in the Crestview area when they spotted a white pickup truck with Mississippi tags that had been the subject of an earlier "Attempt to Identify" bulletin in reference to a theft around 10:30 p.m.
*****

Some parents have done a good job. A 6 year old is Tonight's Feel Good Story of The Day.
An Indiana boy who raised nearly $7,000 for fallen Deputy Jacob Pickett's family was captured in a touching photo saluting the officer's memorial on Sunday.

Malachi Fronczak, 6, of Kokomo, spent Friday and Saturday selling hot cocoa and lemonade to help the family of Pickett, who was shot and killed in early March while attempting to apprehend a suspect. Pickett was the first officer killed in the line of duty from the Boone County Sheriff's Office since 1935.
*****

Tonight's ONT has been brought to you by Back Yard Entertainment.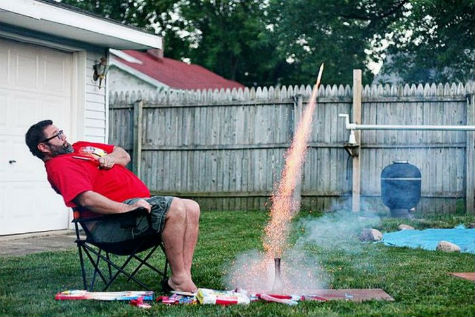 Notice: Posted with permission by AceCorp, LLC. As long as there are no shelving jokes consumption of Valu-Rite is allowed.

posted by Misanthropic Humanitarian at
10:10 PM
|
Access Comments