« Mini Chess Thread 02-10-2018
|
Main
|
Overnight Open Thread
(02-10-2018 )
»
February 10, 2018
Saturday Evening Movie Thread 02-10-2018 [Hosted By: TheJamesMadison]
Duck Soup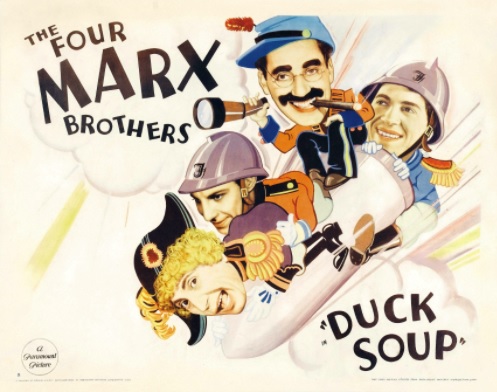 A few weeks ago, I wrote a post about The Passion of Joan of Arc as the first in an irregularly scheduled series on my own person top ten best movies of all time. Tonight, I continue that effort with the next movie in the list chronologically which is the Marx Brothers' madcap comedy from 1933, Duck Soup.
I've seen this movie a few times, and I laugh consistently through the entire thing every time. And yet, I've never loved another Marx Brothers movie nearly as much as this one. I really do enjoy Monkey Business and the others, but none of them get nearly as much of a reaction from me as Duck Soup. I've often wondered why, and taken this post as an excuse to figure it out.


Juxtaposition
One thing that makes comedy tic is juxtaposition when we expect one thing and get something else. This is the woman who looks crippled suddenly standing up and doing a silly dance. We wouldn't expect the woman to move, but less do something so out of character, and that difference between expectations and reality can be a source of laughter.
Duck Soup has that in spades. Read the below summary:
In an imagined country called Freedonia (probably European), the government is dealing with a massive financial crisis and has been relying on a sole benefactor to prop up its government in such trying times. That benefactor will only give more money if they follow through on her desire to put a specific man in power as president. The country's elites agree and this man proceeds to get the country into a war with it neighbor Sylvania for petty reasons.
That story seems to have the makings of a political thriller, or a grand sweeping drama.
Instead, it's used to provide a setting for antics like this:
The number itself is good, but I think it's really enhanced by the fact that it's about something so serious as war. This silly display has no place when talking about taking a nation to war, but here are the anarchic Marx Brothers doing just that. (Another great example of this sort of thing is "Springtime for Hitler" in Mel Brooks' original The Producers and its treatment of Nazis).

Outrageousness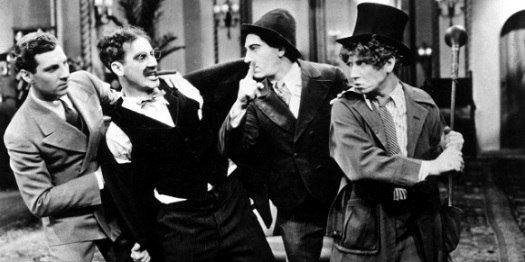 Is the humor from the Marx Brothers' outrageous? Sure, Groucho's one liners can get a bit raunchy at times (the Motion Picture Production Code didn't start enforcing censorship until the next year, 1934), but nothing, out of context, should send people to fainting couches. However, I would say that considering the subject matter of the film's story, the humor itself is outrageous in the best of ways.
This is being told by scolds what one might or might not say about what should and should not be respected or insulted, thumbing your nose at them, and doing it anyway with glee. "You can't make fun while people are dying with horrible weapons of war!" one might say a decade and a half after the greatest and most destructive loss of human life the world had ever seen. "Corruption in government is a serious matter and cannot be made light of!" scolds another.
Groucho, Harpo, and Chico look at the speakers, stick out their tongues and just keep on with the anarchy (Zeppo is off to the side trying to start a romance no one cares about with one of the hecklers).
It's the very fact that this humor is being done at the expense of serious subjects that it works so well, better than any of their other movies, I think. Below is an early number from the movie that, I believe, helps illuminate the disparity even further:
On the surface, it's just a silly musical number about very little as Groucho mugs about in his own fashion, but if you actually listen to what he's singing, it's borderline horrifying. Here are the opening lyrics:
These are the laws of my administration
No one's allowed to smoke
Or tell a dirty jokeAnd whistling is forbidden
That's the first thing Rufus T. Firefly (Groucho's character) says he's going to do: oppress speech and actions that he himself enjoys (much like Kim Jong Un). Here's the rest of the song:
Rufus:

If chewing gum is chewed
The chewer is pursued
And in the hoosegow hidden

Chorus:
If we choose to chew we'll be pursued

Rufus:
If any form of pleasure is exhibited
Report to me and it will be prohibited
I'll put my foot down, so shall it be
This is the land of the free

The last man nearly ruined this place
He didn't know what to do with it
If you think this country's bad off now,
Just wait 'til I get through with it

The country's taxes must be fixed
And I know what to do with it
If you think you're paying too much now
Just wait till I get through with it

*Whistle*

I will not stand for anything that's crooked or unfair
I'm strictly on the up-and-up, so everyone beware
If any man's caught taking graft, and I don't get my share
We stand him up against the wall and pop! Goes the weasel

Chorus:
So everyone beware, you're stricken or unfair
-------unless he gets his share

Rufus:
If any man should come between a husband and his bride
We'll find out which one she prefers by letting her decide
If she prefers the other man, the husband steps outside
We stand him up against the wall and pop! Goes the weasel

Chorus:
The husband steps outside, relinquishes his bride
They stand him up against the wall and take him for a ride.
He's singing about oppression, murder, punishing the people of the country through heavy taxation, and that he's going to be the most corrupt person in the country. I don't think that the Marx Brothers were trying to "say anything" with this movie, but if they were, then I think this number is the strongest example of what they might have been doing. Put a song and dance on terrible policy, and people will just sing and dance along.
Take that out of context, and it's horrifying. Throw it into a literal song and dance number while everyone cheers on, and it becomes hilarious.

War, Marx Brothers Style
One final note before this lovefest is over. The final ten minutes or so of this 70 minute film (it really is that short) is the war between Freedonia and Sylvania. There are no good clips online except this one:
Again, you see the conflict between the seriousness of the surrounding action (an actual battle) with Groucho's priorities. He wants help, but if he can't get that, send women.
The sequence goes on with further absurdity as Groucho ends up changing outfits (completely inexplicably) several times, showing off an impressive array of audacious military outfits, often with large feathers.
Perhaps the movie works so well for me because of the limited run time of 70 minutes (apparently Zeppo did have a romantic subplot which got cut, thankfully as they always drag down Marx Brothers films). It doesn't overstay its welcome. It has its anarchic fun and bows off the stage like a good vaudevillian act should do. No matter what, though, I love this movie completely and love to revisit it pretty frequently.
If you haven't seen it, you should really check it out.

Movies of Today
Opening in Theaters:
Fifty Shades Freed
The 15:17 to Paris
Peter Rabbit
Next in my Netflix Queue:
Fiddler on the Roof
Movies I Saw This Week:
Queen Margot (Netflix Rating 3/5 | Quality Rating 2/4) Poster blurb: "Lurid and handsomely trashy, the movie ultimately fails because it demands genuine emotional involvement that it makes no effort to earn seriously." [Netflix DVD]
Wish Upon (Netflix Rating 3/5 | Quality Rating 1/4) "Its ineptness is actually quite charming." [Amazon Prime]
Ingrid Goes West (Netflix Rating 4/5 | Quality Rating 3/4) "Darkly comic and borderline horror film, the movie strikes the right balance between the two elements." [Amazon Prime]

Contact
Email any suggestions or questions to thejamesmadison.aos at symbol gmail dot com.
I've also archived all the old posts here, by request. I'll add new posts a week after they originally post at the HQ.


posted by OregonMuse at
07:10 PM
|
Access Comments