« In Banlieu Near Paris, Police Car Overturned and Smashed and Female Cop Beaten Down by Mob
|
Main
|
The Morning Report 1/3/18 »
January 02, 2018
Tuesday Overnight Open Thread (1/2/18) Back To Normal Routine Edition
(The ONT will warm you up)
*****
Quotes of The Day

Quote I

"All of us in leadership have to find ways in which we can recreate a common space on the internet. One of the dangers of the internet is that people can have entirely different realities. They can be cocooned in information that reinforces their current biases."The JEF
Quote II

"President @realDonaldTrump tweet on Pakistan's duplicitous position over the past 15 years is vindication that the war on terror is not in bombing Afghan villages and homes but in the sanctuaries beyond Afghanistan. I welcome today's clarity in President Trump's remarks and propose a joint US - regional coalition to pressurize the Pakistan military establishment to bring peace to not just Afghanistan but the entire region." Hamid Karzai, the former president of Afghanistan
Quote III

"As it happens every year, there were some disorders: 1,031 cars were burnt … The figure is lower than in 2012 and 2013 – 1,193 and 1,067 [respectively] but a bit higher than last year's [figure] – 932," French Interior Ministry
*****

NSFWWalking around half naked. For every action there is a reaction.

Topless woman who attacked a man after he 'groped her' at a music festival defends her revealing outfit - and says nobody has a right to touch you without permission
Woman filmed attacking man who groped her at a music festival has spoken out
Madeline Anello-Kitzmiller, 20, slapped a fellow reveller for touching her breast
American-born woman wore only glitter on her chest at the New Zealand event
She said her glittery outfit caused a barrage of abuse from both women and men
*****
The Nanny State, Alive and Well.

The 10 Worst Helicopter Parenting Moments of 2017

It isn't just parents. Cops, schools, reporters, bureaucrats and busybodies got in on the action this year.
*****
If your significant other was a sexbot would you be concerned about it being hacked?

If you've been keeping up with technology news this year you'll be aware that people are a bit concerned about artificial intelligence.

Elon Musk is convinced that it is going to kill everyone and a Google AI managed to create its own AI which was more powerful than any version a human has ever built.

Yeah, it isn't looking good and we wouldn't bet against Judgment Day from the Terminator movies happening anytime soon.
*****
When one travels to England as a tourist what are some of the top tourist destinations? Tower of London? Windsor Castle? Big Ben? The Vagina Museum?

BIRMINGHAM, England — Nine months after announcing that she is creating the world's first vagina museum, Florence Schechter is confident that she has heard every joke on the subject.

Schechter, a Jewish comedian and communications professional in her 20s, is preparing to open the museum in Brighton, 50 miles south of London. When the news broke in the spring, it caught the attention of Conan O'Brien, who quipped: It will be "the first museum where you enter through the gift shop."
Just because some Dick opened up a penis museum..........
[Update: The original link is no longer available. Here is the museum's site]
*****

True, we have entered 2018 but it never hurts to look back at a few awards for 2017.
*****

The ONT thinks that there might be a little tension between our Muldoon and Chris Strolin. Who is Chris Strolin you ask?

One man's joke has become his mission: to give each word a rhyming definition.

Chris Strolin was teasing English buffs in an online forum years ago when he said the dictionary should be rewritten in the singsong rhyme scheme of limericks. He ended up embracing the absurd bravado of his own wisecrack and decided to try it for real.

He started with the word "a″ —"It's used with a noun to convey/ A singular notion/ Like 'a duck' or 'a potion'" — and kept going. More than 1,000 contributors have joined him, off and on, over the years.
*****

Nothing says "White Privilege" like getting paid to pretend and having money to attend New York Ranger games. Actress Debra Messing messes up her kid.

Debra Messing is proud of her son for not being proud of his country.

The "Will & Grace" star prompted online outraged after posting a photo of her son protesting the national anthem at a hockey game.

Messing took to Instagram last Wednesday to show emotional support for her son after he asked for permission to protest the national anthem for the New York Rangers game at Madison Square Garden.

The post reads:

"'Please stand for the Star Spangled Banner.'

Son: 'Mom, I want to sit down in protest. Can we do that?'

Me: 'Yes, honey. We can do that.'
*****
A serious question: What is art? Is sticking a crucifix in a jar of urine art? Is creating a one of a kind cake art?

The United States of America is supposed to be a land of liberty, where individuals are free to live as they want as long as they don't harm others around them.

Sadly, it looks like that ideal is slowly being twisted into state-enforced conformity: Either you do what others demand, or pay the price.

For Aaron and Melissa Klein, that price was steep — $135,000 to be exact. That's the penalty they were ordered to pay after they declined at their bakery in Oregon to make a custom cake for a lesbian wedding.
*****
The ONT Musical Interlude
1936, Born on this day, Roger Miller singer, guitarist and TV star. (1965 UK No.1 & US No.4 single 'King Of The Road'). He won four Grammy awards in 1965 including Best Country & Western Album. Roger died of lung cancer on October 25th 1991, aged 56. Scottish duo The Proclaimers had the 1990 UK No.9 hit with their version of 'King Of The Road.' via thisdayinmusic.com
***
January 2, 1979, Sex Pistols bassist Sid Vicious went on trial in New York accused of murdering his girlfriend Nancy Spungen three months earlier, when he claimed to have awoken from a drugged stupor to find Spungen dead on the bathroom floor of their room in the Hotel Chelsea in Manhattan, New York. via thisdayinmusic.com
*****
Vince McMahon, quite the showman and entrepreneur challenging the NFL.
*****

Ever have a bad day? Was it is as bad as this? Yikes. h/t fastfreefall
*****
Why people spout off on Face Book is beyond me especially when it can prove you are a Genius Award Winner.

A restaurant has been flooded with one-star reviews after its chef appeared to boast about spiking a vegan group with meat. Laura Goodman, the chef and co-owner of Carlini in Shifnal, Shropshire, posted in a Facebook group about a 'pious, judgmental vegan' who had booked to eat at the restaurant on Friday night.

'Pious, judgmental vegan (who I spent all day cooking for) has gone to bed, still believing she's a vegan,' Goodman wrote in the early hours of Saturday morning.
*****
Defending our country as a Seal and saving a life as a civilian. Tonight's Feel Good Story of The Day.

A 35-year-old mother of three from Colorado was dying from a genetic disease that was destroying her liver.

Desperate to find a match, Melinda Ray posted a plea for a donor on Facebook. Her message spread to relatives and friends and eventually a complete stranger - who ultimately became her match.
*****
Tonight's ONT has been brought to you by Helpful Suggestions.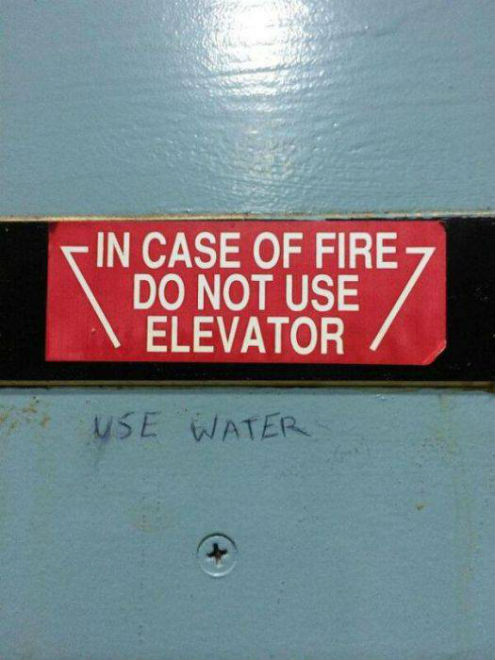 Notice: Posted with permission by AceCorp, LLC. The views expressed here are views expressed by Morons.

posted by Misanthropic Humanitarian at
10:01 PM
|
Access Comments