« Food Thread: Our Long National Nightmare Has Just Begun: The Moron Cookbook Is Here!
|
Main
|
Sunday Overnight Thread (12/10/17) The Weekend Is Gone Edition »
December 10, 2017
The Weekend Gun Thread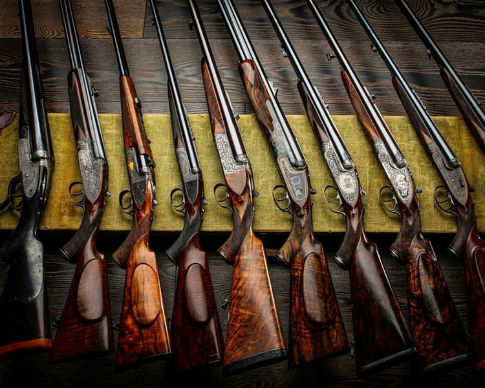 *****

Beautiful pieces of art.
Do you want a new 1911? Is money no object? If you are that Moron here is the gun for you. The Big Bang Pistol set.

Long before man discovered the metallurgical innovations that ushered in the Iron Age, iron weapons were forged, carved and shaped from crashed iron-meteorite. They were implements unlike anything available here on earth. Mankind's innate desire for protection leads him to seek out the best in strength, workability, and longevity. Of this storied recounting of the past, a present has emerged and a future is guaranteed. Now, revealed to the world is a modern meteorite weapon – the Cabot Guns' Big Bang Pistol Set.
h/t Jim (Sunk New Dawn) TX.
*****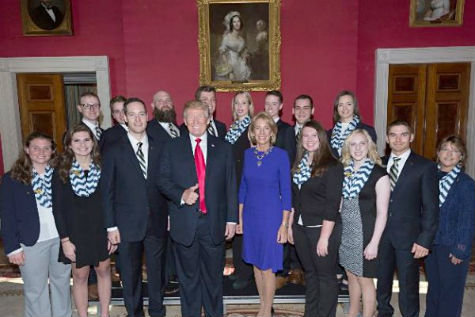 President Trump and a group of young people. Who are those young people and what are they doing with our President? "The record-setting championship West Virginia rifle team visited the White House Friday and met President Donald Trump. They visited as part of the Collegiate National Champions of 2016 and 2017 event."
h/t hillbillyking
*****
Trying to live up to the reputation of a smart military blog.
Rare color gun camera films show AAF fighters engaging Japanese aircraft and targets on the ground near the end of World War II in the Pacific. The film is silent; actual air-cooled .50-caliber machine gun sounds and additional audio were added. Some viewers liked the audio, some muted it, and a few complained about it. We have a hard time figuring out the fuss -- if you want it the way it originally was, simply mute it and enjoy it your way. And we get it that some of you don't like this audio. It was what we had available back when this was produced, but we are looking at other options for future productions. And to answer other questions that crop up -- yes, this is color, and no, they did not always use black-and-white film in gun camera magazines. If you have seen any of this footage elsewhere in black-and-white, that is because after the original was shot in color, it could be used in other black-and-white productions of the era; it was much easier to copy and process black and white than color film. We have noticed this as we research archival film holdings. Some color footage shows up elsewhere in black and white. And yes, this is Pacific footage; no, you don't see German aircraft in here even if you think some of the airframes resemble them. And yes, Japan is verdant and green like this, and AAF P-51s were making ground attacks on Japan proper in the summer of 1945.

h/t Jim (Sunk New Dawn) TX.
*****
As a child cowboys and indians and cops and robbers were a mainstay games to be played. 10 things you didn't know about the Ruger Blackhawk.
*****

If you have something you like to share with us petmorons at gmail

posted by Misanthropic Humanitarian at
06:54 PM
|
Access Comments