« Not Just A River In Egypt
|
Main
|
The Weekend Gun Thread »
December 10, 2017
Food Thread: Our Long National Nightmare Has Just Begun: The Moron Cookbook Is Here!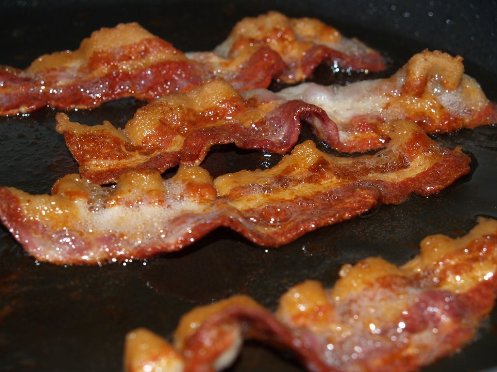 [Why bacon? Why the hell not?]
I got my copy yesterday, and it far exceeded my expectations! I was hoping for a fun, amateur cookbook with some clever Horde memes worked into it. But it is a thoroughly professional effort that is a pleasure to read. It is laid out well, it is humorous, some of the recipes look fantastic and the rest are fun to read and certainly worth a try, and definitely a chuckle.
The net proceeds will be donated to Toys for Tots and Fisher House, both highly rated charities according to "Charity Navigator."
Below the fold is a note from Bluebell and Weasel, but before you click to the rest of the post, head over to the sidebar and buy a few dozen copies of the cookbook. Or at least one...it really is a hoot.
******
Horde, we did it! We, the Moron Horde of Ace of Spades HQ, are published authors! Congratulations, and many, many thanks to ALL OF YOU who sent in recipes. The cookbook is a wonderful sample of Moron cuisine from all over our country and even around the world. We loved reading the stories of how you all came to have these recipes, and feel honored that you shared the best of your kitchen with us.

Besides the contributors, we also wish to thank the following people by name (well, nic): Bandersnatch, for all the artwork, including that awesome cover; Muldoon, for his limericks sprinkled throughout the book; our proofreaders – JTB and Mrs. JTB, moki, Miley the Duchess, westminsterdogshow, cfo mom, and booknlass; and RedMindBlueState, who gave us some valuable advice early on in this endeavor. THANK YOU!! Thank you also to everyone who encouraged us from the very start, including our early cookbook committee!

Very special thanks goes to CBD, without whom this project would never have gotten off the ground (CBD, you'd better not change one word of this). He went to Ace for us and requested and received permission to go forward with this project, posted the submission website for us on the sidebar for three weeks, gave us much-appreciated counsel behind the scenes, devoted lots of space in the food thread to this effort, whenever we asked him to and even when we didn't, and did so much more. We couldn't have done it without him, and that is the truth.

And of course, our heartfelt thanks to Ace, who let us dream up this audacious project and see it through to completion right here on the blog. At his request, the net proceeds will all go to charity. We will split the money 50/50 between Toys for Tots and Fisher House.

And finally, because I (bluebell) am writing this, I wish to thank Weasel, for proposing this project, bringing me into it, and doing all the hard work, and no, I'm not kidding. He did a ton of research, talked to countless publishers on the phone, submitted applications and paperwork for all sorts of things, handled all the communication with our publisher, and did all the technical work with CreateSpace, Kindle Direct Publishing, and Amazon. And, AND, was very supportive and patient with his plodding co-editor. If it were not for Weasel, there would be no Moron cookbook. Weasel, you're the best.
******
Why yes, I am a bit compulsive. Why do you ask?
As avocados ripen they seem to compress and deform, so what better way to prevent that than to use a foam holder? Yes folks, it's the new, patent-pending 'Cado-CuddlerTM! Available soon from Dildo Manufacturing Corporation.
By the way, that anemic and dried-out looking lime is a direct result of a conspicuous lack of tonic water. I bought the lime, gleefully skipped home, and discovered that some idiot hadn't bought fresh tonic! Speaking of which, why does it go flat so quickly? It's probably a plot, carefully orchestrated by Big Tonic.

******
From commenter "Emmie," a video I have never seen....it's great!
******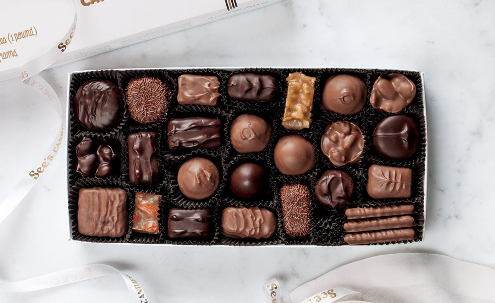 If you want to have a good time, head over to the See's Candy website and build yourself a box of chocolates. It's just like going to one of their stores, although you don't get a sample from the nice lady behind the counter.
I used to wander over to the See's store in Berkeley every now and then, back before it was bought by Warren Buffett, and back before they took anything other than cash. The chocolates were great then, and they are great now. They are not expensive either, so it's not like buying fancy Belgian or Swiss chocolates or truffles for $50/lb.

******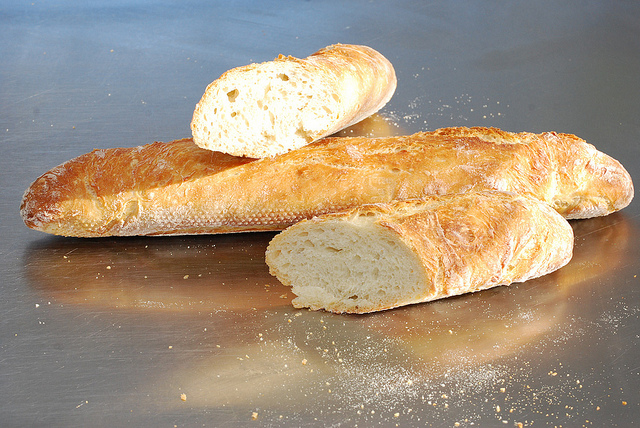 I took a short detour on Friday and miraculously ended up in the parking lot of Balthazar Bakery, one of the better bakeries in the NY metro area, and the bread source for its eponymous restaurant in lower Manhattan. Wonderful fresh breads and beautiful pastries, and an efficient and friendly staff. Great place.
But...what to do with all of that bread? Another detour, this time to a local market, where I bought far too much cheese. If that is possible.
Good cheese on good bread is one of those things that is always good, and last night was no exception. Hell, even a chunk of plain old cheddar on a piece of their sourdough is fantastic.

******
Here's a Christmas cookie recipe that sounds like fun.
(Annotated slightly by Bluebell)
Neapolitan Cookies
(from Southern Living Christmas Cookies cookbook)
• 1 cup butter, softened
• 1 ½ cups sugar
• 1 egg
• 1 teaspoon vanilla
• 2 ½ cups flour
• 1 ½ teaspoons baking powder
• ½ teaspoon salt
• ½ teaspoon almond extract
• red food coloring
• ½ cup chopped pecans or walnuts
• 1 1-oz. square unsweetened chocolate, melted
Line bottom and sides of a 9 x 5 x 3 inch loafpan with waxed paper.
Cream butter in a large mixing bowl; gradually add sugar, beating until light and fluffy. Add egg; beat well. Stir in vanilla.
Combine flour, baking powder, and salt in a medium bowl; add to creamed mixture, beating just until blended.
Divide dough into thirds. Add almond extract and 5 drops red food coloring to one portion; spread mixture evenly in prepared pan. (You'll have to pat it in there.) Add pecans to second portion; spread mixture evenly over dough in pan. Add melted chocolate to remaining portion; spread mixture evenly over dough in pan. Cover pan with plastic wrap and refrigerate overnight.
Turn dough out of pan, and remove waxed paper. Cut dough in half length-wise; cut each half crosswise into 1/8-inch slices. Place 1 inch apart on ungreased cookie sheets. Bake at 350 degrees for 10 to 12 minutes. Remove to wire racks to cool. Store in airtight container.
Yield: 5 dozen (although I must slice them a little thinner; I usually get at about 6 dozen).

******
ADDENDUM
Oh hell, I completely forgot to tell you maniacs that there will be three cookbooks given away during this thread. Hopefully Weasel will explain, but in the meantime, there are three random numbers that have been chosen, and the authors of comments that correspond to those numbers will receive a free cookbook! All you have to do is supply a mailing address to Weasel, obviously off the blog, and you will get your rare, limited edition that is sure to become a much sought after classic of culinary publishing history.
******
Food and cooking tips, real Maraschino cherries, Perfectly marbled prime NY strips, good biscuits (not the crap I made for Thanksgiving) and other goodies with impressive girth:
cbd dot aoshq at gmail dot com
&topic=world_news">

posted by CBD at
04:00 PM
|
Access Comments