ę Weird News Dump
|
Main
|
Saturday Gardening Thread: Post-Thanksgiving Edition [KT] Ľ
November 25, 2017
Thread before the Gardening Thread: Safe Intersections [KT]
Serving your mid-day open thread needs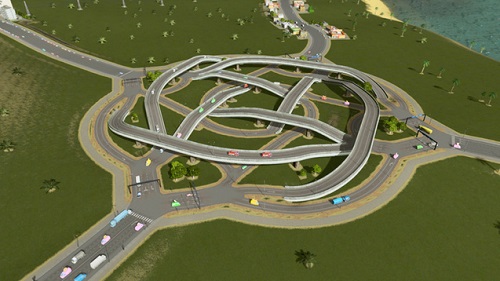 Could a Turbo Roundabout
prevent some Intersectionality collisions?
Happy Saturday. I'm really still in sort of a post-Thanksgiving torpor, but I found a few updates on Intersectionality and Safe Spaces to kick around. I don't think people should think about these subjects very deeply on any day, so perfect topics for today, right?
Replacing highway intersections with roundabouts seems to be popular lately in our area. I wonder if an academic equivalent could be developed to deal with intersectionality?
The scholar who coined the term has received yet another honor.
Crenshaw discussed critical race theory and the emergence of intersectionality, and how to relate these ideas to the risks of post-racialism in Trumpís presidency.
I can hardly wait. Are there really a bunch of industries out there that fulfill their diversity quotas by hiring black men and non-black women, though? I mean, other than Apple? O.K., so they seem to have forced out their black female Chief of Diversity for saying this:
And I've often told people a story- there can be 12 white blue-eyed blonde men in a room and they are going to be diverse too because they're going to bring a different life experience and life perspective to the conversation. The issue is representation and mix and bringing all the voices into the room that can contribute to the outcome of any situation. So I focus on everyone. . .
And they have replaced her with a blonde, blue-eyed woman.
Iím not laughing. Thatís how it sounds when I clear my throat.
We clearly need more papers on Critical Race Theory, Intersectionality and Post-Racialism with regard to Silicon Valley.
Academic News from the Nordic Countries
Intersectionality and Safe Spaces have come to the Nordic Countries. A study finds that students in a public sports school dislike eating in the cafeteria and want to eat in a "safe space".
Students' accounts reveal how eating at school, intersected by the transitional life-phase of youth, is affected by normativity, control and (self)discipline, which shape and constrain their eating habits.
I am looking at some of the words that seem to shape and constrain the writing of academics like these. They still remind me of some kind of school of talking fish who change their vocabularies internationally, all at the same time, as if in response to some unseen cosmic stimulus.
I wonder if this study suggests that Nordic superiority in academic achievement may be on the wane?
Israel
On a darker note, there's a report of a nasty new use of the theory of intersectionality to accuse Israel of intentionally "maiming" the Palestinian population. Every activist can now be an expert on the Middle East. Black Lives Matter = Palestine or something.
Here's part of the description of a book by a Professor of Women's and Gender Studies at Rutger:
Morally coherent people would normally look at Israel's progressive policies towards gays and commend the Jewish state for treating members of the LGBT community humanely and in a manner they are not treated in most of the Muslim world, but not Puar and her fellow pinkwashing theorists. Nothing Israel does, in their minds, is done with good intentions, only motivated by dark impulses meant to deceive, including, according to Puar, the inclination to maim, not kill, Palestinians.

"The Israeli Defense Forces (idf) have [sic] shown a demonstrable pattern over decades of sparing life, of shooting to maim rather than to kill. This is ostensibly a humanitarian practice," she admits, although it results in "leaving many civilians 'permanently disabled' in an occupied territory of destroyed hospitals, rationed medical supplies, and scarce resources." So, while Puar reluctantly admits that Israel purposely limits the lethality of its self-defense through restraint and tactical control, she still accuses it of using violence and injury as a tactical tool of a settler state to maintain control of a vulnerable indigenous population. It is both sadistic and exploitative, she contends, because it maintains a purportedly unjust and illegal occupation and the oppression of a victim people.
News flash: Palestinian terrorists also maim Israelis. And kill them.
Canada
How they indoctrinate kids in Canada:
Back to America
George Will wrote about another year of American absurdity for the New York Post. This will mostly be a trip down memory lane for most readers of AoSHQ. The University of Arizona has instructed its instructors to encourage students to say "ouch" if something said in class hurts their feelings.
Hope you have something nice planned for today. Away from classrooms, preferably.

h/t Maggies Farm for a couple of the links above.


posted by Open Blogger at
11:13 AM
|
Access Comments