« Thread before the Gardening Thread: Safe Intersections [KT]
|
Main
|
Ace of Spades Pet Thread »
November 25, 2017
Saturday Gardening Thread: Post-Thanksgiving Edition [KT]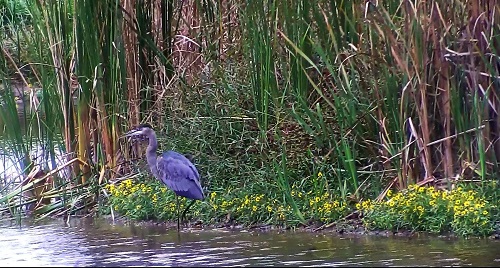 Kind of a light Gardening Thread today. Been under the weather, plus Thanksgiving. Thanks to The Horde for providing some content, like the beautiful photo above, sent a while ago by Illiniwek:
I recently bought a security cam with a nice zoom, so I can observe "my" skittish blue heron, or whatever. He got a mouse right after this, but that was a little blurry. this was today.
And there's this one, too: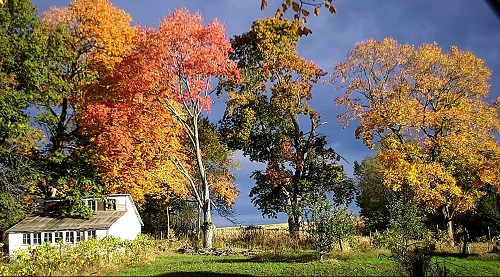 and these are my "hard maples" ... beaten by the winds, but nice. Dark clouds set them off nicely, harvested corn field in back. Frontenac grapes in front of the chicken house.

My woods have very few maples, little color ... I'm guessing maybe the deer eat the maples down as saplings, since they have sweeter sap.
Made any wine yet, Illiniwek?
"Wine" leads me to Kindltot's impressive hand-made juice press: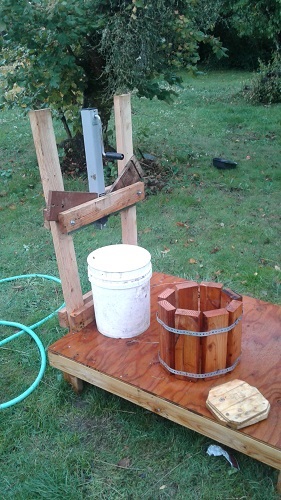 I wanted a press ever since I borrowed one from a friend of the family. I have grapes and apples and I do love drinking juice. (Sadly I don't drink much, and making a gallons of wine or cider would be lost on me, so I water bath can it in quart jars and feel rich every time I look in the pantry).

I had been pricing acme screws and nuts and force bearings and all the things needful to build a standard press, and then I decided I didn't want to spend that sort of money. Year before last, I bought a 3.5 ton tongue jack from Harbor Freight, and had a neighbor weld to it some angle iron that originally came from a bed-frame.

Then I used 2x4s and carriage bolts to fix it to a frame, and mounted the frame on a platform that I had tucked away in the garage. And so I had a press for grapes and apples. It worked fairly well, but I improved it a bit this year by making a pressing basket out of 1 foot 2x4s held together by two strips of plumber's hanging strap. The press foot is made out of plywood screwed to a shaped chunk of 1 x 8 board.

I'm into it for about the same cost as buying that dratted 1" acme screw and nut, and it works, so no matter what I am ahead of the game.

It doesn't press grapes completely, it leaves a lot of juice in the left over skins. In the wine biz that is called the pomace, by the way The industrial hydraulic presses the wineries use leave a pomace that looks like damp bark dust. However, this year I cooked a lot of the pomace down and ran it through a Foley food mill, and made jam and grape chutney out of it.

The design is not optimal, but I am hoping to make it work better by next Spring.

I am mulling over what to do about the apples since they are harder to press. I am thinking about what sort of grinder to get to make apple slurry.
Bird Science

How cardinals and blue jays get their colors
A child with a paintbox will simply dip a paintbrush into the right color and transfer it onto something else. The male northern cardinal does something similar. The important ingredient is a pigment, a molecule that absorbs some colors and reflects others. A red pigment molecule will absorb the blues, greens and yellows so that only the red is reflected back to your eyes. The absorption happens because of the structure of the molecule.

The cardinals use pigments called carotenoids, which are common in many leaves and seeds and tend to be reds, oranges and yellows. I find it fascinating that the birds can't make these pigments--no animal can. But plenty of plants make them, and so animals get the pigments from their diet. A cardinal is a living splash of paint--the bird has just transferred the right pigment into its feathers, and now it's red.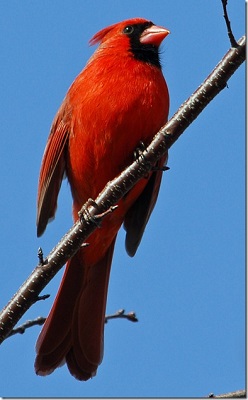 But pigments never turn a bird blue. The color of the blue jay comes from the architecture of the protein (keratin) that its feathers are made from. The outer layer of keratin is full of tiny air pockets, and as light waves flood in, they bounce off the boundaries between air and protein.
Colorful birds to have around the yard.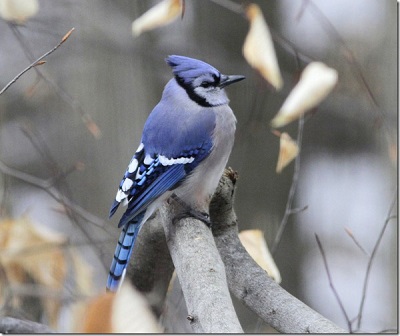 I promised a list of flower seeds for little birds. Maybe next week . . Didn't get to all the photos in the stash, either.
Plant Science
How plants secretly talk to each other.
Plant communication may still be a tiny field, but the people who study it are no longer seen as a lunatic fringe. . . The debate is no longer whether plants can sense one another's biochemical messages -- they can -- but about why and how they do it. Most studies have taken place under controlled lab conditions, so one of the major open questions is to what extent plants use these signals in the wild. The answer could have big implications: Farmers might be able to adapt this chatter, tweaking food plants or agricultural practices so that crops defend themselves better against herbivores.
Hmmmm.
Seed Catalog Season has started
Got my Pinetree catalog before Thanksgiving this year. They seem to be big pon peas this year: colorful snap and snow peas, and a dwarf heirloom shelling pea. This one is Sugar Magnolia Snap Pea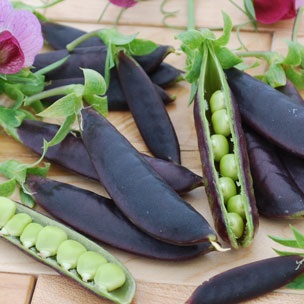 Have you received any catalogs yet?
Gardens of The Horde
Fog season has started here. Anything going on in your garden? Have you put up decorations in your yard?
We have some interesting content waiting in the wings from The Horde, but we can always use more. If you would like to send information and/or photos for the Saturday Gardening Thread, the address is:
ktinthegarden
at g mail dot com
Include your nic unless you want to be a lurker.

posted by Open Blogger at
12:47 PM
|
Access Comments