« Saturday Gardening Thread: Post-Thanksgiving Edition [KT]
|
Main
|
Are The Democrat Cocktail Parties Really That Good? I Guess So, Because These Two Idiots Debase Themsleves For A Couple Of Good Drinks And Some Hot Passed Hors D'oeuvres »
November 25, 2017
Ace of Spades Pet Thread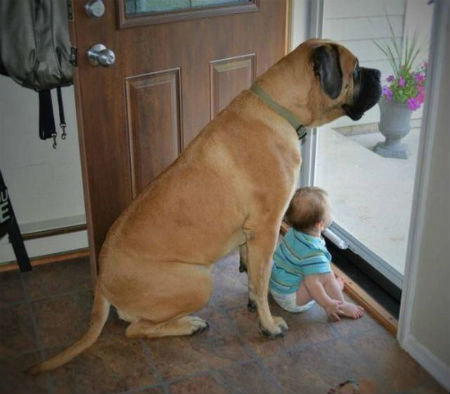 (Anticipation!)
Welcome to the almost world famous Ace of Spades Pet Thread. Hope the pets didn't get your Thanksgiving Dinner.
*****
A Little of This. A Little of That.
Sit. Stay. Down. High Five. But, there is one small problem.

Want to live longer? Get a dog.

The bigger they are the wimpier they are?

If this isn't proof that dogs are man's best friend, nothing is. Kleenex Alert!
*****
Meet The PetMorons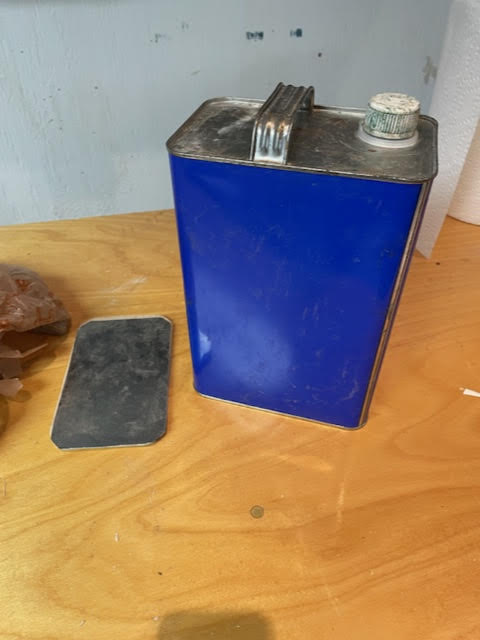 It is with a heavy heart that I offer this picture.

On the right is Sir Logan Lopetrot Icefire, Defender of the Realm, Retriever of Thrown Items. He passed in December 2015.

On the left is Sierra Catchwing Hopfoot. She kept Logan in check, was a proud cat lover, and could catch a dove on the wing. She passed last week, October, 2017.

The were inseparable litter mates, and how they are playing again together.

(I'm not crying. You're crying. Stop crying.) -Jim
What a nice looking pair of dogs. So sorry to hear of your loss. The problem with pets is they don't live long enough.
***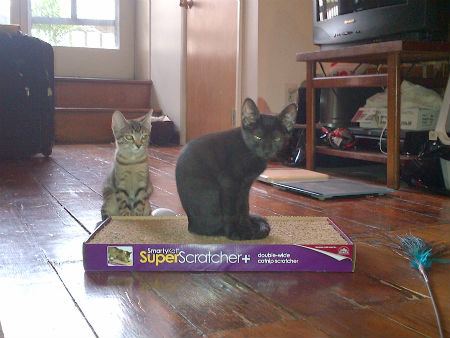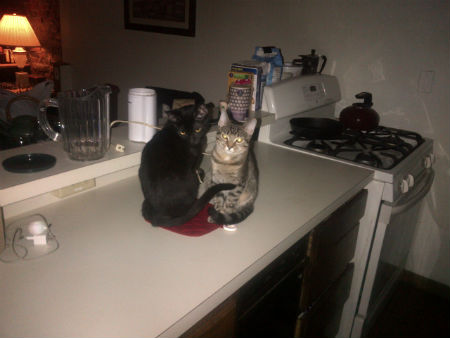 Long-time fan of the site, never posted, but I always enjoy the pet thread and thought I'd finally contribute. These are our 2 Kryptonian super-villains Zod and Ursa. Zod (male, black) and Ursa (female, tabby) are a brother and sister duo adopted by us about 5 years ago. The first pic shows them as they were when we first got them. The second shows them more or less fully grown. (Of course, there was nowhere else in the whole place for either of them to sit except on that potholder.) They live up to their names and we spend much of our time picking up stuff they knock over and attempting to guard our food from being snatched when our heads are turned. Cold weather is their Kryptonite and this time of year it's tough to sit or lie down without one or both of them plopping on top and making us feel guilty for wanting to get up. Thanks. G
Thanks G for lurking all this time. Don't be afraid to jump in, the water is fine. They certainly look like they are well behaved and treated royally.
***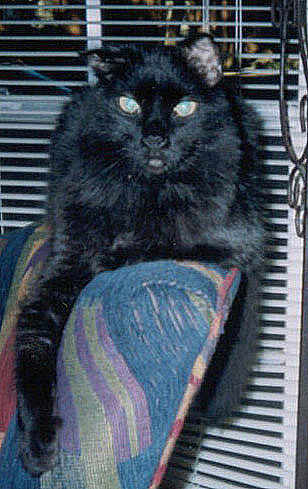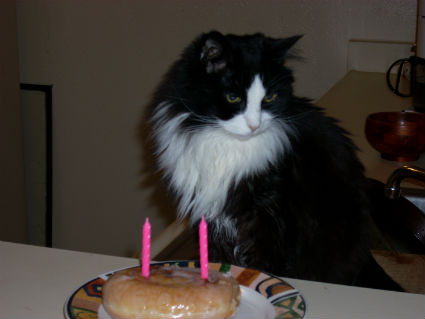 Hey, all,

Wolfus Aurelius here again. Earlier the Pet Thread said we didn't have to limit ourselves to current pets. So, RIPs for the two best-natured cats I've known:

The rather spooky-looking black cat with the apparently glowing eyes was Marie-Antoinette. We were told that her first owner's heirs had turned the woman's animals out onto the street, and that Marie was about to be set on fire by a couple of punks when Linda's classmate rescued her. Marie proved to be the smartest cat I've ever lived with. She knew her name (even if someone said it on TV) or any part of it, loved to walk outside on a harness and lead, and knew how to turn almost any situation to her own advantage. The human equivalent to her life would have been that you are rescued as a baby from a house fire, you're adopted by loving, rich parents, you grow up to look like a supermodel, and you get to travel and have all sorts of exciting but safe adventures. She passed away in '06 at age 13, and no doubt has intrigued to get herself crowned Queen of All Cats in Cat Heaven.

The classic tuxedo cat was known as Oreo. Oreo I adopted at a cat show in 2002; I was told she was 5 years old, but vet inspection indicated she was probably some bit older than that. She came with that name, and it was perfect: She was little and round and sweet, and mostly black with a white filling. A lap cat extraordinaire, she was nobody's genius -- but she utterly lacked that "I'm the Queen! Worship me!" attitude that turns some people off about cats. She lived until 2008; I was there as she went into the Long Sleep.
Thank you for sharing memories of your cats. It is amazing how much impact an animal can have on a human.
***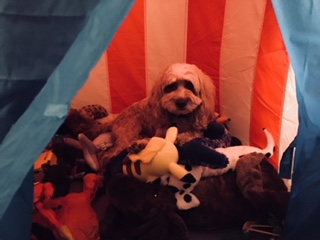 Dear Morons, This is a picture of Marley. She is a friend's grand dog, rescued, brought home by two of the smartest, sweetest boys I know. (That's right, no grandchildren of my own). Marley is a cockapoo, and, a friend's of pet moron Pugs! Had to share the Marley Tent, which of course is in the bedroom of those precious boys. Lurker, annieb
Sounds like a happy ending for Marley. Thanks for sharing annieb.
***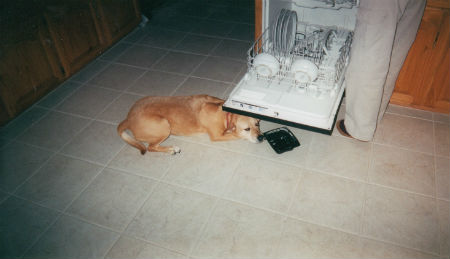 Dottie is a rescue hound from Lewisville Tx. Pic is circa 1998. She died in 2005. She was chasing fettucine alfredo leftovers around floor and ended up under dishwasher door. A Good dog that occasionally did bad things. -Richard
Thanks for sharing. Have you gotten a new pet since then?
***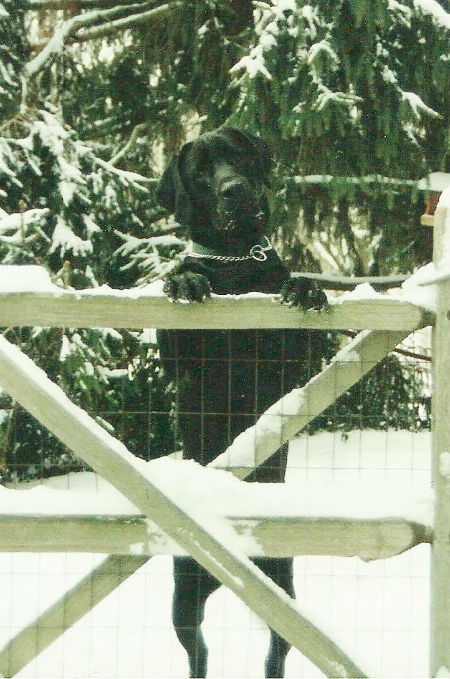 My late "ex-Lab", Jack the Monster Lab. The breeder/trainer had named him "Shaq", as he was huge and black, but knowing my liberal mom would likely blow a gasket over that one, we renamed him "Jack", after the line in The Band's classic song, "The Weight". We got him in '98, at a year old; he weighed 83# and you could see his ribs. He ran about 100#, got along with everyone and everything, was a duck-fetching machine in any weather, barked about once a month (he didn't have to prove anything), and was simply the most gorgeous Lab I've ever seen. I lost him in the divorce but did get to borrow him occasionally, and my kids got to grow up with a great dog. I still miss him. - "Cowboyneal
Sorry to hear about the family break up. Happy to hear that your children got to grow up with Jack. Every kid should have a dog while growing up. Thanks for the submission.
***
What a great group this week!!
Thank you all for making the Pet Thread a success. If you have a photo (jpeg), video (youtube formatted) or a story please submit to petmorons at gmail dot com. Please include your pet's name, a story if you would like and your name that you would like published.
Have a great week!!!


posted by Misanthropic Humanitarian at
03:03 PM
|
Access Comments