« Thread before the Gardening Thread: Counting Carrots [KT]
|
Main
|
Ace of Spades Pet Thread »
September 30, 2017
Saturday Gardening Thread: What's in a name? [KT]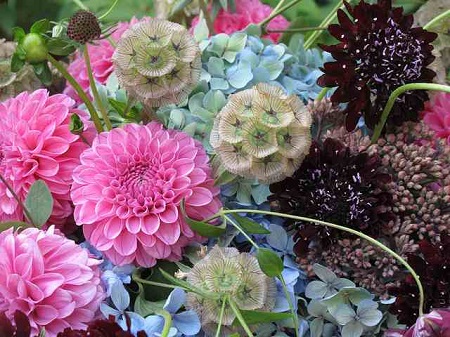 Paper Moons or Star Flowers?
Mourning Brides or Pincushion Flowers? Or Sweet Scabious?
Good afternoon, gardeners and friends of gardeners!
Riffing off today's Thread Before the Gardening Thread, if you were in marketing, which of the common names of the flowers above would you choose? If you were NOT in marketing, which would you choose? Or would you maybe make up a new name?
The cotton season is coming to an end here in the San Joaquin Valley, but okra is still producing. Do you think you could increase okra consumption by re-naming it? There's a challenge for Cornell.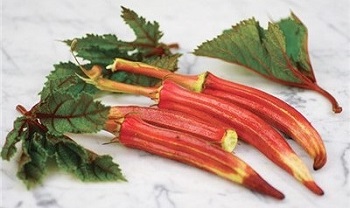 Jing Orange
Paper Moons, Star Flowers
I think the reason for the two common names above for Scabiosia stellata are pretty evident in the photo below.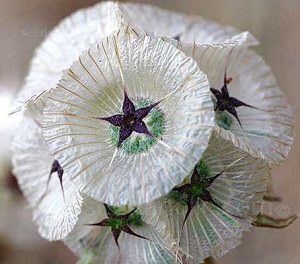 What you see here is the seed head that forms after the blue-white flower fades, before it is fully dried (when it turns brown). S. stellata is also known as Drumsticks or Drumstick Scabious.
Scabiosa is a genus in the family Dipsacaceae, or teasel family. Many of the species have common names that include the word scabious; however some plants commonly known as scabious are currently classified in related genera such as Cephalaria, Knautia and Succisa.

The genus name 'Scabiosa' derives from the word scabies, which comes from the Latin word scabere meaning 'to scratch'. In medieval times species of scabious the plants were believed to relieve the itch of scabies and other afflictions of the skin including sores caused by the Bubonic Plague. In the 17 century Nicholas Culpepper prescribed its root as an ointment for the cure of wounds, swollen throats, snake-bite and the plague.
The most common seed strain is Ping Pong. This plant can be sown early (fall or spring), allowed to mature, then replaced with warm-season annuals.
Note
The really British site linked above also has some interesting information on other Autum-sown flowers. Last week we mentioned cornflowers (bachelor buttons) as a good cut flower for direct sowing, in case you were inspired by Illiniwek's flower border.
I had forgotten that cornflowers are edible. Though they probably make a better garnish than an entire salad. This is Emperor William, an old-fashioned, tall single type.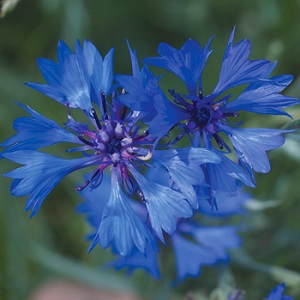 But back to Paper Moons. Here's Ella Fitsgerald:
Mourning Bride, Pincushion Flower, Sweet Scabious
Don't you think Ella's hat in the video looks something like Snowmaiden?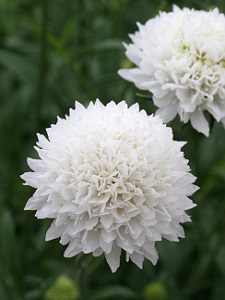 Here are Florist's Blue and Florist's Pink: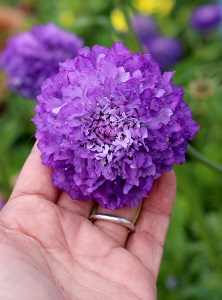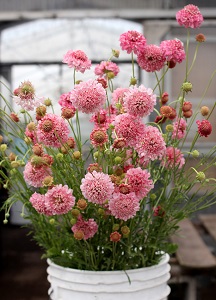 Scabiosia atropurpurea comes in red, pink to salmon, creamy yellow, lavender blue, white and almost black. The dark one in the photo at the top of this post is "Back in Black". This species of Scabiosia is taller than the wonderful perennials you usually see sold everywhere, though there are some shorter cultivars. It is perennial only in the mildest climates, annual elsewhere. It flowers later than S. stellata.
The most common creamy yellow cultivar is Fata Morgana, an interesting name for a flower. A "Fata Morgana" is also a specialized type of mirage, named (in Italian) after King Arthur's Adversary, Morgan le Fay.
I had not known that this this legendary, malevolent sorceress or fairy has been associated with Sicily, sirens, and Etna.
The mirages have been associated with the legend of the Flying Dutchman. Then there were the discoveries of two landmasses that didn't exist:
Croker Mountains
In 1818, Sir John Ross was on a voyage which was an attempt to discover the long-sought-after Northwest Passage. Ross's ship reached Lancaster Sound in Canada. The Northwest Passage was straight ahead, but John Ross did not go in that direction because he saw, or thought he saw, in the distance, a land mass with mountains, which he believed made going any further simply impossible. He named the mountain range of this supposed land mass "Croker Mountains". He gave up and returned to England, despite the protests of several of his officers, including First Mate William Edward Parry and Edward Sabine. The account of his voyage, published a year later, brought to light their disagreement, and the ensuing controversy over the existence of Croker Mountains ruined his reputation. Just a year later William Edward Parry was able to sail further west, through those non-existent mountains. . .
Crocker Land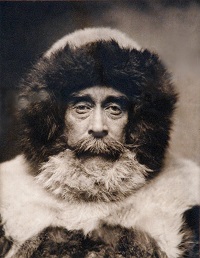 During a 1906 expedition 88 years after Ross's expedition, Robert Peary gave the name Crocker Land to a land mass which he believed he saw in the distance, northwest from the highest point of Cape Thomas Hubbard, which is situated in what is now the northern Canadian territory of Nunavut. Peary named the apparent land mass after the late George Crocker of the Peary Arctic Club. Peary estimated the landmass to be 130 miles away, at about 83 degrees N, longitude 100 degrees W. . .

The Crocker Land Expedition

In 1913, Donald Baxter MacMillan organised the Crocker Land Expedition which set out to reach and explore Crocker Land. On 21 April the members of the expedition saw what appeared to be a huge island on the north-western horizon. As MacMillan later said, "Hills, valleys, snow-capped peaks extending through at least one hundred and twenty degrees of the horizon."

Piugaattoq, a member of the expedition and an Inuit hunter with 20 years of experience of the area, explained that this was just an illusion. He called it "poo-jok", which means mist. However, MacMillan insisted that they press on, even though it was late in the season and the sea ice was breaking up. For five days they went on, following the mirage, until on 27 April, having covered some 125 miles (201 km) of dangerous sea ice, MacMillan was forced to admit that Piugaattoq was right. Crocker Land was in fact a mirage, probably a Fata Morgana.
So this subtly-colored flower is either a fairy, a sorceress, a mirage or a mist.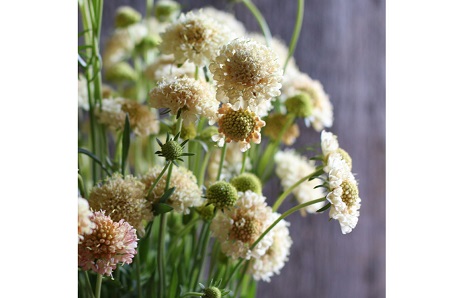 Nigella
Nigella damascena, or Love-in-a-Mist is a good plant to direct-sow with Scabiosia stellata. They are both about 1.5 feet tall. Nigella resents transplanting. They can both be ripped out and replaced after their big performance. Both make excellent, unusual specimens for bouquets, fresh or dried. Nigella is great cut as either a flower or fruit (seed capsule). Flowers of S. stellata are not as good for cutting as other species. It's the seed structures that are the main attraction.
When I first looked up "Nigella" on the intertubes, I didn't get anything about plants. I got a bunch of links about a cooking guru. Interesting flower to name a kid after. If you are thinking about naming one of your offspring "Scabiosia" or "Scabious", maybe we should have a talk.
Anyway, N. Damascena has a number of common names, some more attractive than others.
Love-in-a-Mist

Devil-in-the Bush

Love-in-a-Puzzle

Fennel Flower

Love Entangle

Jack-in-the-Green

Ragged Lady
Why so many nics, do you think?
Here are photos of Miss Jekyll Blue and Persian Red. The blue one was named after Gertrude Jekyll who designed over 400 gardens during her career. The rose that David Austin named after her was named England's Favorite twice.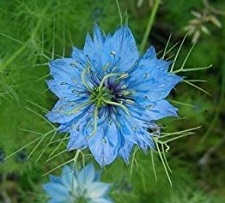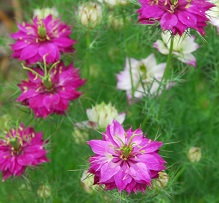 Seeds of this species have been used medicinally and as a condiment over the centuries. Said to somewhat resemble nutmeg in flavor. There are rather non-specific references to toxicity, though. So don't over-do it.
Decorative cultivars have also been developed with different colors of seed capsules. Chiltern's sells Albion Black Pod and Albion Green Pod. Outside Pride combines these and calls them 'Marbles'. Selected Seeds sells Cramer's Plum. Which common name do you think fits this photo?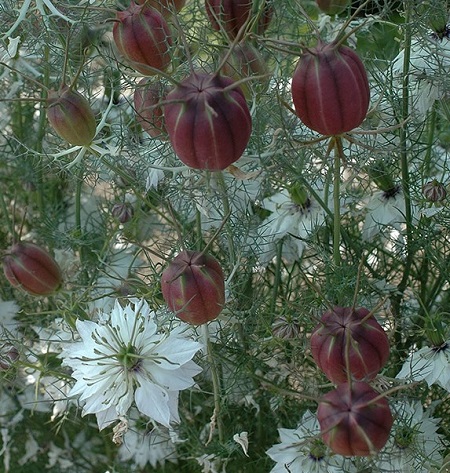 There is also a species of Nigella that produces a seed used in cooking, and a few others used in the garden.
Gardens of The Horde
Just starting on my fall/winter garden here in the San Joaquin Valley. Still picking Sungold Tomatoes.
As you may recall from last week, the "cutting flowers from seed" theme was inspired by Illiniwek's exuberant flower border. He has sent some new photos from the border (plus some others I am saving for later).
Here are some of the flowers that have made it through September in his border. He says that some of the flowers in his border have gotten 7 feet tall, and a few have flopped over. But I think they are still looking pretty good for a free-sown border: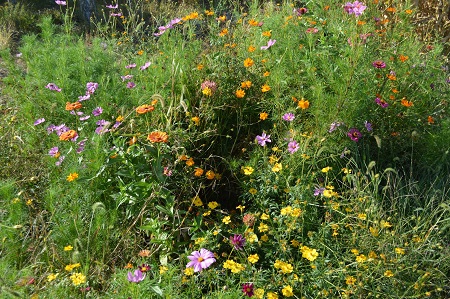 Here's a Monarch butterfly on a Sulfur Cosmos. He's getting lots of Painted Ladies, too (photo later) and bumblebees: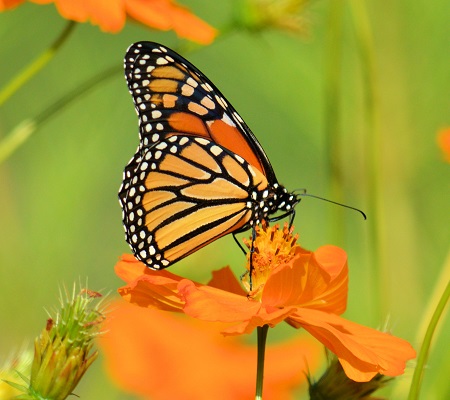 The foliage of Sulfur Cosmos is still looking good in his border, considering its reputation for looking weedy late in the season: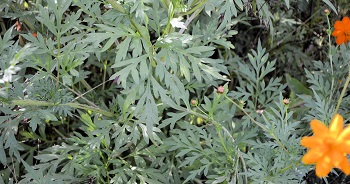 For comparison, this is the foliage of its cousin, Cosmos bipinnatus: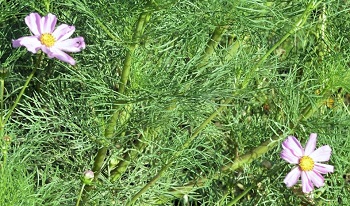 Illiniwek is getting ready to plant a bunch o' snow peas under plastic. Hope to learn more about how that goes.
Anything going on in your garden?
If you would like to send information and/or photos for the Saturday Gardening Thread, the address is:
ktinthegarden
at g mail dot com
Include your nic unless you want to be a lurker.


posted by Open Blogger at
12:20 PM
|
Access Comments