« Thread before the Gardening Thread: Wordplay [KT]
|
Main
|
Ace of Spades Pet Thread »
September 16, 2017
Saturday Gardening Thread: The Harvest Continues [KT]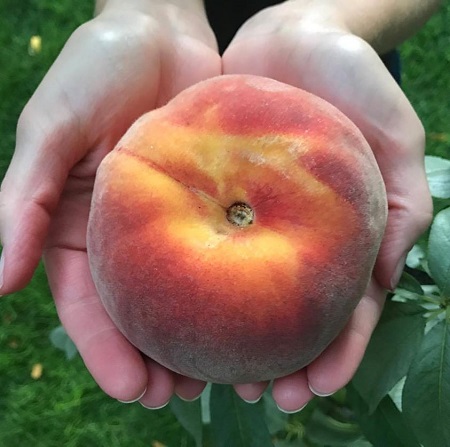 Hello, gardeners and those who would like to make friends with a gardener about now. There are some good things coming out of gardens this time of year. Above, a peach my niece and her husband grew in their yard in Utah.
Meanwhile, in Minnesota, the tomato harvest is so good that they are throwing tomatoes at people.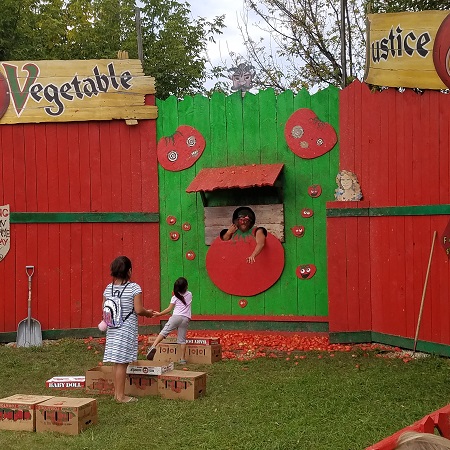 "Vegetable Justice". I am still pondering that. The photo is from the Minnesota Renaissance Fair. Gordon writes in response to my query about the identity of the target:
He's an employee. He insults you as you throw. He was gentle on the insults with the little girl, but he still did it. With adults he is offensive.
I missed seeing a report from Pat* last week. Bet some other people did, too. Here's why:
From Moronette Pat*

My husband occasionally writes for the blog Ricochet. We were invited to their recent gathering in Montana. We attended, which is why I didn't post last week. We didn't harvest for a total of 8 days. I asked four neighbors to go harvest my garden while I was gone.

They didn't.

I photographed the results. In total, we harvested 9 cantaloupes (2 others were rotted), over 7.5 pounds of red raspberries (most just fit for steam juicing), . . .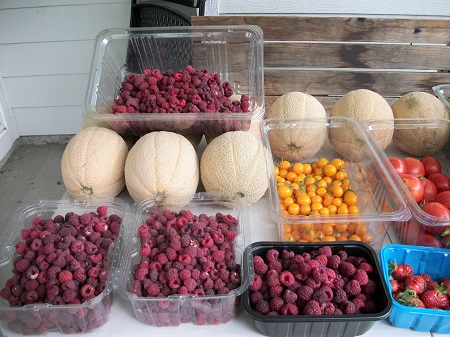 a few late-season strawberries, two 1# salad tubs filled with beans (most ended up as compost), partial tubs of Sungold and Early Girl tomatoes, a few good Cherokee Purple heirloom tomatoes (most ended up as compost), and two nearly full 2-gallon buckets of Roma tomatoes. The sprigs of spearmint represent an *entire garden cart* full of it that I had to trim off, just to get the plant pack in bounds.

Not included: the *23.5 inch zucchini* I had to throw in the compost.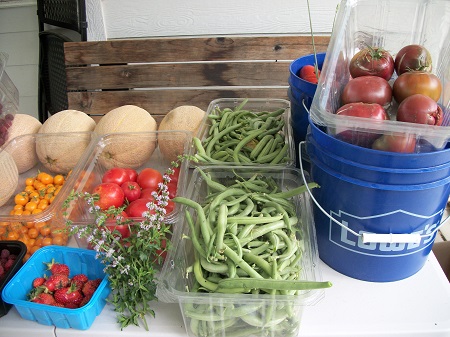 Pat's neighbors don't know what they are missing. I hate hearing about the part of the harvest that went past its prime.
Getting down to the nitty gritty
We also have new information related to past threads today. Remember not to comment on old threads. From last week's gardening thread:
Tomatoes
Geoffb5 has checked in with details on those pretty tomatoes he grew on those gorgeous plants:
For slicing I like the Kellogg (orange) best as it is very meaty and not too acid. Lemon Boy (yellow) and Black Krim (purple) are next. For salads the Early Girl is good, I also use the bigger ones on BLTs along with Better Boy. The disappointment this year was the Big Rainbow. Lots of smallish tomatoes but very watery. When I got the seedlings what I probably was thinking of was Big Pineapple and bought the wrong one. There's always next year.
Kellog's Breakfast seems to be developing a following among The Horde. I am not real crazy about the bicolor types like Big Rainbow in our climate, either. Haven't seen many comments about Brandywine this year. Maybe as winter rolls in, we can make up a regional tomato wish-list or something. Maybe one for peppers, too. Anybody grow Hatch chilis this year? (h/t Sarah Hoyt)
I still think Geoffb5's container plants look especially lush. I would be interested in learning some growing details.
Raised Bed Gardening
In response to my blegging, Lawrence Larson has provided some really useful details on the classy raised bed garden and veggies pictured in last week's thread:
Thanks for sharing our submission. We've been growing veggies for a long while, but I make no claim to be a green thumb. Our biggest lesson learned over the years is to plant zucchini and tomatoes only. They love the weather and it's nearly impossible to kill 'em. We've never had much luck or good output from anything else we've tried and we've got lots of great recipes for them both zuccs and tomatoes together and separately.

We built the garden in a "C" shape to be able to get access to all the plants without having to climb into the bed. We back filled it with several yards of high grade top soil--didn't even bother to mix in fertilizer. The bed is 18" above our alluvial clay-like soil so the drainage is excellent. It's plumbed for automatic watering with mini-bubblers instead of fixed flow emitters. The mini-bubblers are great for varying the amount of water delivered plants on the same circuit.

The zucchini and crooked neck ended up completely overflowing the beds. We were constantly pruning back large leaves between the roots and the fruit so that the plants energy was focused on flowering instead of growth.

I honestly don't know if anything we did was the key to our success. It could have simply been the whether this spring and summer. It was a wonderful summer of home-grown produce.
We would like to see a recipe or two. Any thoughts about winter gardening in that new bed? Veggies (broccoli, salad greens) or flowers?
Invasive Species
Turns out that Todd was way ahead of us on the identity of the Tree of Heaven.
New to me is the idea that an invasive species can be a tree, not just a tiny weed. If caught small, you can just pull it out of the ground. Larger specimens must be treated with natural or chemical herbicides. TOH doesn't live forever, a tree will will eventually die. I had a dead tree removed in the corner of my lot, but it was in my pre-TOH-radar days, so I don't know if it was a TOH or something else. Once you notice TOH, you'll have a permanent TOH radar in your brain and you see it everywhere. I know it grows all over Denver, but I don't think it thrives everywhere in the USA.
Somebody in Portland agrees with you, Todd. Personally, I think that radar is also useful when invasive species that are NOT trees are small. It's discouraging that so many of them were imported on purpose. Rip 'em all out when they're little.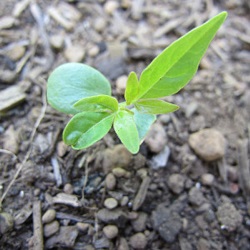 Hard-neck garlic and garlic scapes
If you are in the North, time may be getting short for planting hard-neck garlic. Getting late for ordering fall flower bulbs. Earlier this summer, Born Free sent in some remarkable photos of hummingbirds on garlic flowers. This set me off on a little tangent regarding garlic scapes.
This week, I got a link from a surprise correspondent with more uses for garlic scapes than you could probably imagine. You can use them in flower bouquets, pickles, all kinds of dishes. Just keep scrolling. Lots of photos, and a little cooking video.
Ever considered wrapping garlic scapes in bacon? GAINZZZ-friendly.


I think this one's easy enough for Ace.
I don't know if it was clear to me earlier that only hard-neck garlic, the kind planted in the North, produces garlic scapes. Maybe that is why I have never seen them before. Heh. For you northerners, harvesting the scapes may have the benefit of improving your garlic harvest, unless you plan to save the bulbs to re-plant next year.
Soft-neck garlic, the kind planted here in the Valley, goes in after the new year, so southerners can wait a while before planting garlic. I think there is more variation in flavors among cultivars of hard neck garlic. Some are mild. Some are anything but mild. Hard-neck garlic tends to have cloves of uniform size, while soft-neck garlic has a bunch of tiny cloves in the center. I think I remember something about baked garlic from the Food Thread. Some cultivars of hard-neck garlic are especially recommended for baking.
Harvesting and storing garlic seems to be trickier than harvesting onions. Anybody have some experience to share?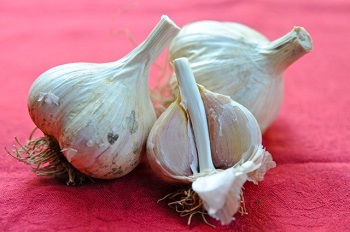 Hard-neck Garlic
Disaster preparedness and recovery
We have been getting some inquiries and suggestions recently about preparedness. Not all prepper stuff is yard and garden related, but some is. Would you like to see more information along these lines?
This was the first year we bought federal flood insurance, because of the possibility here in the San Joaquin Valley of a levee break. But I am not really prepared today to discuss the effects of Harvey and Irma on gardening. If you are, I would love to hear from you. I did run across this piece on cars saved from Harvey by garden blocks. Too bad about the house.
Wired managed to provide a suggestion for sinking those floating rafts of fire ants from Harvey: dish soap. Anybody have a better suggestion?
If you're wading around flood waters and run into a raft of 100,000 fire ants, your day will get considerably more complicated. The ants will board you and sting and not let go, even if you submerge. (Stings are painful, hence the name, but rarely fatal, typically if you've got an allergy to the venom.) Really, your best bet is to hit their rafts with soapy water, which breaks up the ants' waxy covering and drowns them. Otherwise, it's hard to stop these things, which have been known to float around for almost two weeks.

But should the raft make it to a dry surface, the ants form into an even more bizarre structure: a roiling, liquid Eiffel Tower. . . .
Don't give in to fire ants. Ageratum houstonianum is one flower you might say represents the "Houston spirit". It is recommended for fall. It is easy to transplant, even in bloom. Though it is usually seen as a short bedding plant, there are taller sorts that are even useful for cutting.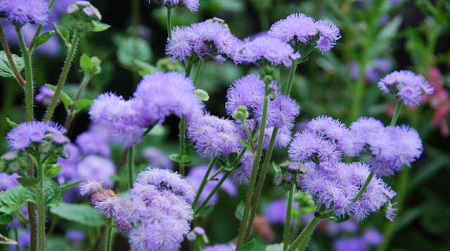 I think people affected by Irma are not quite ready to talk about gardening yet. I do have some thoughts on preparing for fire. I don't think there is much you can do about some of the huge wildfires we are currently seeing, but last week there was a less-huge wildfire that closed a highway I had traversed while vacationing in Utah recently. I am not aware of any friends who lost homes, but a friend of a relative did.
There was something pathetic about the real-time news reports showing homeowners training weak streams of water from garden hoses against the advancing fire, and about firefighters begging homeowners to turn their hoses and sprinklers off so that there would be sufficient water pressure for firefighters to do their job.
I noticed in news reports that one of the homes that burned flat to the ground had a swimming pool. It reminded me of reports I had seen of swimming pool fire-fighting rigs. The one I remembered had a stationary nozzle fixed to the pool. It would spray water over the owner's roof and parts of the neighbors' roofs. The one shown below is just a fire hose attached by the homeowner to his pool pump. Looks more versatile. The article from the OC Register is dated, but if you scroll through the slides, there is some interesting information. Looks like roof eaves are an area of concern. There is also a photo about some fire retardant you can spray on your house that could be refreshed by firefighters.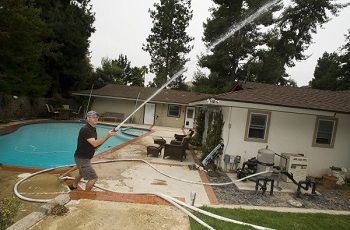 I have never wanted a swimming pool. But sometimes a water tank seems like a good idea. Have you been thinking about "hardening" your house and yard against disaster lately? Better done calmly than in time of disaster, I think.

Gardens of The Horde
The weather changed this week. It's actually pleasant enough to consider pulling weeds without feeling dismay. Anything going on in your yard or garden? If you have been affected by wind, fire or flood, we would like to hear from you.
If you would like to send information and/or photos for the Saturday Gardening Thread, the address is:
ktinthegarden
at g mail dot com
Include your nic unless you want to be a lurker.

posted by Open Blogger at
12:43 PM
|
Access Comments