« Thread before the Gardening Thread: Why do they hate us? [KT]
|
Main
|
Ace of Spades Pet Thread »
July 08, 2017
Saturday Gardening Thread: Summer Surprises [KT]
Ruby Falls Underground Cave and Waterfall
Chattanooga, Tennessee
Traveling with the Horde
Waterfalls seem to be a big deal in Eastern Tennessee. They have lots of State Parks there, too. with forests and 6oo year old rhododendrons and stuff. Which means they have water for gardens. Probably more often than on Tuesdays and Saturdays.
Near the end of last month, CBD hosted a guest post by Cumberland Astro about moving from Austin (too suffocatingly left wing) to take advantage of new opportunities in Tennessee. He and his wife have started a garden there. We have photos!

He wrote this on the last day of June:
My wife and I moved from Austin, TX to Chattanooga, TN in late 2016. We bought a new construction house in a Chattanooga suburb that sits atop the Cumberland Plateau - my home's elevation is 1,950 feet above sea level. Having spent decades trying to grow fruit and vegetables in a climate that is only agreeable in early Spring, I am thrilled at the opportunity to grow things that won't grow in Central Texas (raspberries, blueberries, apples, cherries) and to also be able to garden all summer long. In Central Texas July 4 was the approximate date to rip out all the tomatoes and cucumbers and start hibernating until October. Here the temperature has not yet hit 90, which makes sense since the average July-August high temp on the plateau is in the mid-80s.
First, the fence went up.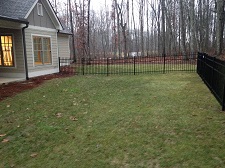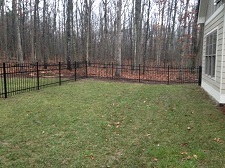 Selected little visitors were invited in.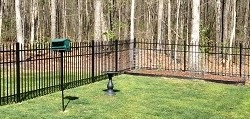 And then there was the real work:
For my Cumberland gardening, I had a tabula rasa to work with, as thewoods had just been cleared for my house, leaving an acidic soil that was rock-free. I ended up doing three separate projects:

1) GARDEN - traditional vegetable garden composed of three adjoining 8' x 8' raised beds. (In which I've planted tomatoes, cucumbers, and strawberries.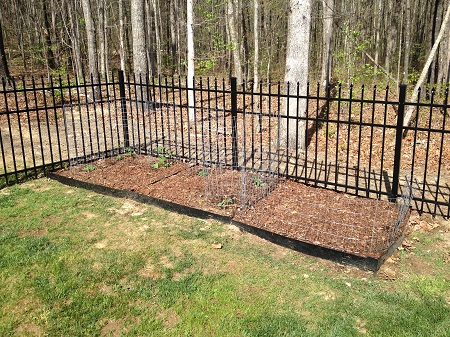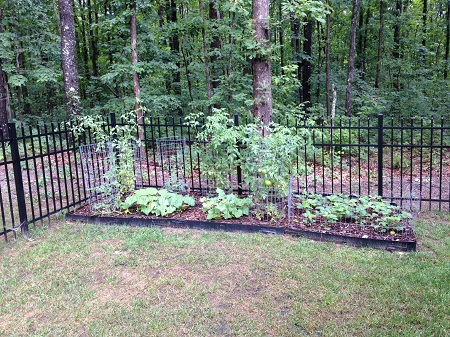 Nice before and after photos of the veggie garden! Somebody out there is getting results.
2) BRAMBLE - a section along one fence line with raspberry and blueberry bushes.
Looking at that photo, I wonder if there are edible berries in the woods beyond the yard.
3) ORCHARD - Five dwarf bare root fruit trees (apple, pear, cherry). They have all taken root and grown but I can't expect any fruit for another year or two.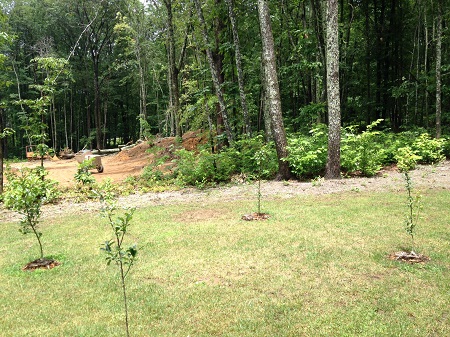 Nice fruit trees. Looks like some major work going on behind them, too. Somehow, I am not surprised.
Many thanks to Cumberland Astro for the inspiration.
Garlic and High Society
Born Free sent in some new-to-me information about garlic and certain high flyers, and some photos:
You put out the call for veggies, does garlic qualify? Please don't hold your nose, I'm here In Praise of Garlic. I've never seen anything attract hummingbirds for such extended feeding visits. They get so tired of eating, they perch.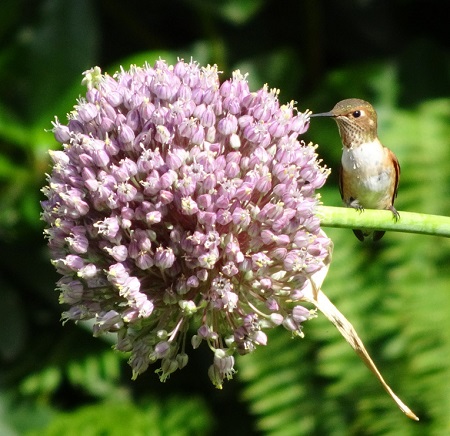 Rufous hummingbird, perched
Each of the "buds" unveils hundreds of individual flowers. Once they change color, their fragrance is pure garlic. I'm told hummingbirds can't smell, but it smells yummy to me. I live in the Puget Sound Area, and let me add: Each plant bears one bud. The bud opens into a starburst of green, then purple.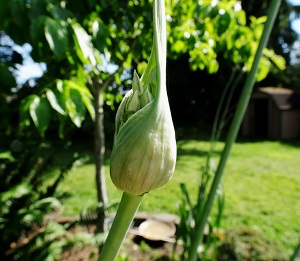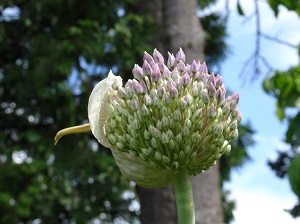 Each "starburst" lasts 2 months or more, continually producing nectar. If the flower stalk is clipped and put in a vase of water, it will retain its color and fragrance for several weeks, even a month ore more. The garlic cloves grow underground, and in my flowerbed they seem to self-propagate. Last year I had two plants. This year I had seven. I know nothing! I do nothing to them except water during growing season.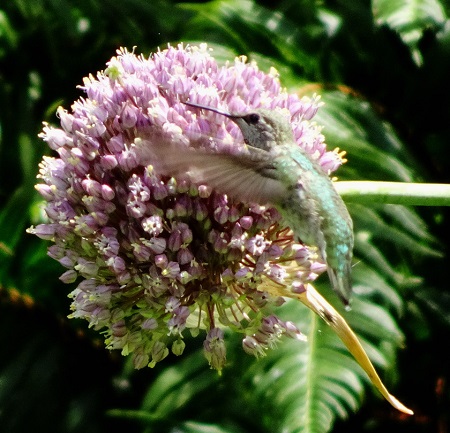 Anna's Hummingbird
Amazed that you caught those photos! I have grown garlic in flower beds, too. Because it is said to repel pests. But I usually don't harvest it. Garlic is grown commercially around here.
Here's a summary from the Old Farmer's Almanac on planting, growing and harvesting garlic. If you are unsure about when to harvest mature garlic, you can always go for garlic scapes. The latest trendy garlic thing. Easy if you grow your own. But you won't get hummingbirds, because you are cutting off the future flower buds.
What to do with garlic scapes
There are three species of ornamental "garlic" in the genus Tulbaghia, also. Including "Society Garlic", Tulbaghia violacia. They say you can use the leaves in cooking. I'm not so sure. There is also a species with clove-scented flowers and a species called "sweet wild garlic". They're not even Alliums, like real garlic. They are tender to frost, but will grow even in the low desert.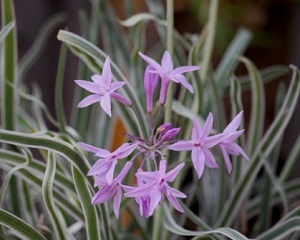 Variegated Society Garlic
Gardens of The Horde
There was flooding last month on the Kings River not far from us, during the heat wave prior to this one. Guess there's not much chance of flooding this time around. It's hot here. Twice a week watering allowed. Heard on the radio that even the global warming fanatics are now recommending more water storage. ARE YOU LISTENING, GOVERNOR BROWN?
Bought a few Vincas. They take the heat. And part shade in heat, even.
Anything going on in your yard or garden?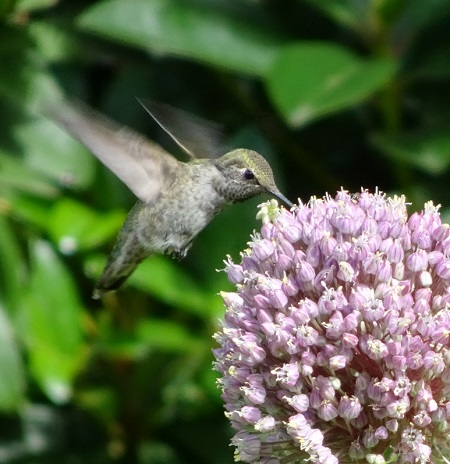 Anna's on the wing again
We will be visiting other regions with The Horde this summer . If you would like to send information and/or photos for the Saturday Gardening Thread, the address is:
ktinthegarden
at g mail dot com
Include your nic unless you want to be a lurker.


posted by Open Blogger at
12:52 PM
|
Access Comments