« Saturday Gardening Thread: Summer Surprises [KT]
|
Main
|
Saturday Afternoon Chess/Open Thread (Featuring Dress Pr0n) 07-08-2017 »
July 08, 2017
Ace of Spades Pet Thread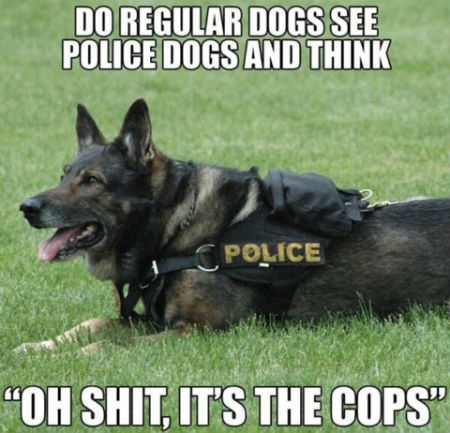 (I'm hoping a certain dog in my world is paying attention.)

Welcome to the almost world famous Ace of Spades Pet Thread. Let your furry buddy know it's time to kick back and relax.
*****
The Pet Thread wants to know, which one of you Morons did this?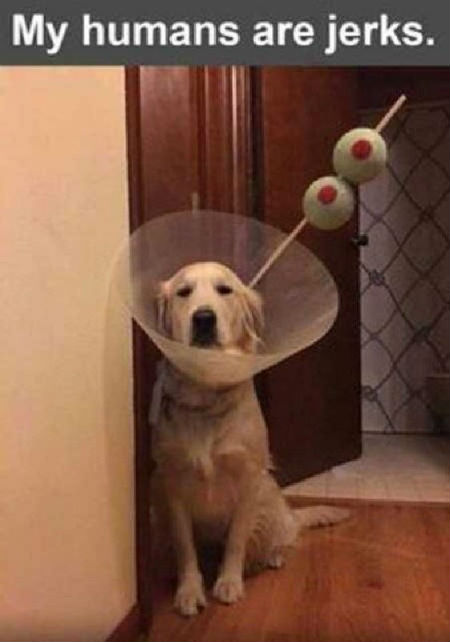 Jerk? That's harsh. Moron? Yes.
*****
A Little of This. A Little of That.

We all have our thoughts about Lena Dunham. Poor dog. But, at least it wasn't sat on by the whale or eaten. h/t Lizzy

The next story is an awesome one sent into us by PaleRider. In a crazy world full of hate, intolerance and awful restaurant food, A miracle story!!!
The guy who wrote "the waltzing cat" wrote lyrics to it.

He's also the guy who wrote the typewriter song and sleigh ride. submitted by Katy
*****
Meet The PetMorons
Quite the story behind our first PetMoron of the week.
This is Roscoe, a foundling pit bull mix. He was a terrific dog, great around kids, horses, other dogs, and the indoor cats. (Outside cats, not so much.) One night, I went to let him in for the night, and he refused to come in. Flipped on the porch light, and this is what I found.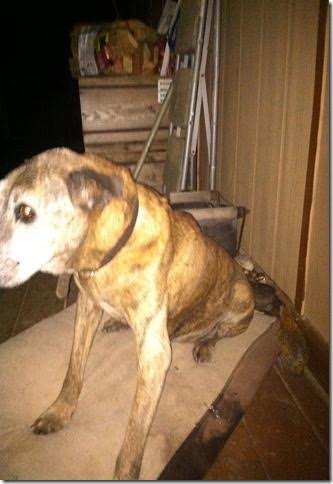 Took a bit to figure out what was going on, but when I turned the porch light on, this is what I found: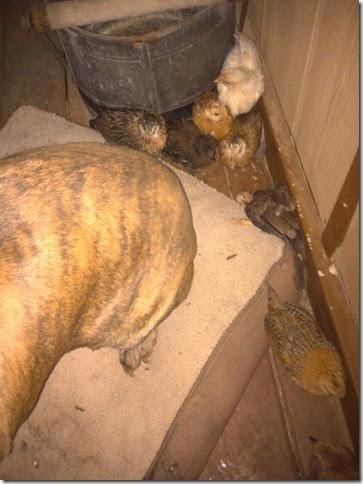 that's nine baby chickens huddled up behind his bed! The hen (which belonged to my neighbor, across the road) had been hit by a car, and the chicks decided that the safest place to roost was behind that vicious pit bull. I had to find a box, gather all of them up and bring them into the house before Roscoe would come in. Put them in the laundry room, and he spent the night in front of the laundry room door. I'd let them out in the morning, and he'd follow them. Bring them in at night, and he'd follow them into the house. That was the routine until one morning, he couldn't get up (he was almost 15 then) and we made the last trip to the vet. Don't let anyone tell you that pit bulls are vicious. (And Charlie Brown was right: The more I learn about people, the better I like my dogs.) Retired Spook
Thanks for sharing with us Retired Spook.
*****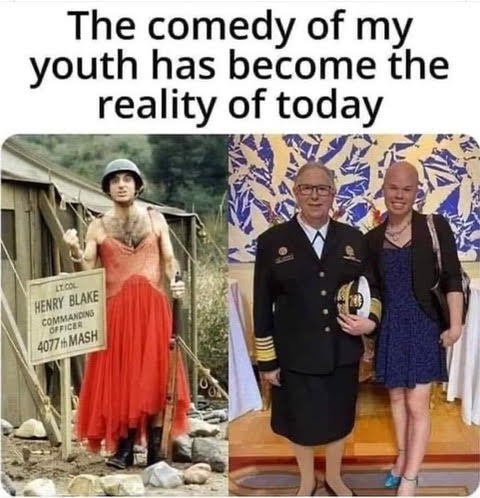 Scout is a Schnoodle, 6 months old. Just now finding ways to entertain herself. Her partner in crime wouldn't pose for the mugshot.

-FireNWater (lurker)
Been there, done that.
*****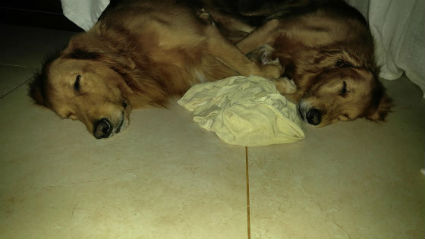 Hi folks, We are 2 Goldens, brother and sister, we live in Panama with Mum and Dad, but we were born in Ft. Myers, Florida, we will be 7 years in October. We love to read the Pet column every week. Best regards, Sammy and Cindy. PS, Dad is a lurker, (ziggydog)
Who knew Goldens had thumbs and could type? Thanks for the email!!!!
*****
The survivors in the backyard.

We discovered these two beautiful creatures living in our outdoor garden shed when they were kittens, around the early fall last year when it was still hot here in California. They were little, maybe only a few months old and they were tiny. We estimate the time because there was a heat wave, which is normal for late September. By our backdoor is a spigot with a big metal bowl under it to catch the water. Normally birds drink, splash, whatever out of it, and one night, my sister came in the house and said something scurried into the bushes, it was at the bowl, and she must have surprised it. Seriously freaked her out (we had just gone through the experience of a possum taking up residence in the shed, but it was long gone). And she said it was little. Whatever it was, it was little.

The boy, on the left - we call him B-man or BB, short for Batman because of his cowl-like coloring - we eventually found sleeping in a small wire hanging basket filled with sphagnum moss, and God only knows where the girl was sleeping because we never saw her out in the open, only occasionally, a good few weeks after we found him, a brief glimpse of fur here and there. And we call her Mommy, because, well, she became a mommy.

They were both feral, her more than him. He was friendly, easily seduced by food. A little petting here and there allowed, but still skittish. And her? She'd eat and disappear. Not too interested in making an acquaintance. We discovered that our neighbors were feeding them, too, and they seemed interested in adopting them. But they weren't really locked into it, and really, we have a much nicer backyard, and they liked it here. Lots of plants to sleep and hide under and not be seen. Reluctantly, we'd spruced up their accommodations. Beds in the shed were made, toasty blankets, water, food. It was starting to get cold by then, and the girls next door didn't have any place outside set up for them, but still were weakly saying they wanted them. We advised the girls to get them fixed, gave them out vet's name, the feral fixing rate, all the information. But nothing happened, so we made plans to do it, just in case.

And then. She could not have been more than seven months old when we saw her tummy. When we told the neighbors our suspicions, that was that.

Three beautiful kittens were born in the early morning hours on April 1st, in the ivy, under a ladder, right next to my bedroom's sliding glass door. That was when Mommy had to trust us, and we got to know the loving, sweet, gentle girl that we have to find a good home for.

So we need the morons help. If anybody knows anybody in the San Gabriel Valley - we live in Covina - that would be so kind to adopt these sweet, sweet, deserving creatures, please let me know. There are also the three kittens that need moms and dads so if you could help us out, we would be forever grateful.

If okay with Mis Hum, you can contact me through the pet thread email.

P.S. We would keep all five if we could but we already have eight wonderful catz and we just can't keep 'em. And apologies that this is so long but sometimes stories can't be told in a damn paragraph.


Sincerest thanks!!

Joanne, comments as joanne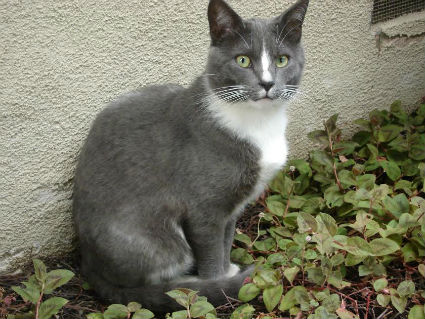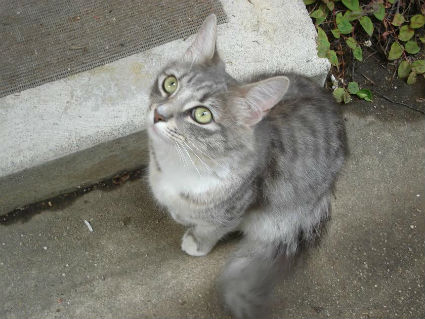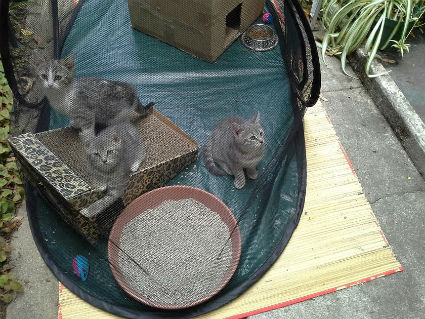 *****
This week's Pet Thread brought to you by Cuteness.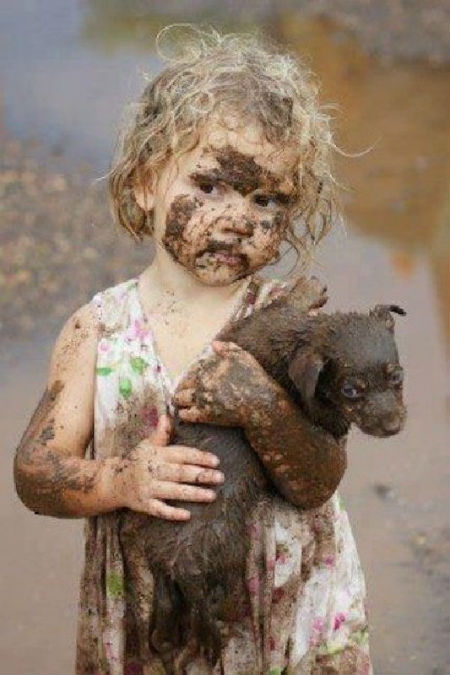 Thank you for stopping by today. Thank you all for your submissions. We are getting to them.
Do you have something pet/animal related you wish to share? Contact us at petmorons at g mail dot com.

posted by Misanthropic Humanitarian at
03:01 PM
|
Access Comments