« Saturday Morning Weird News Dump
|
Main
|
Saturday Gardening Thread: Summer Surprises [KT] »
July 08, 2017
Thread before the Gardening Thread: Why do they hate us? [KT]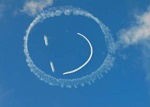 Serving your mid-day open thread needs
Via Insty, here's Don Surber:
President Trump's message to the Poles was that of our great nation, and really, all lovers of freedom -- which they hate. . .
President Trump gave special recognition to former Polish President Lech Walesa.
Obama snubbed Walesa, and later Walesa snubbed Obama.

Walesa is the Pole our adversaries hate most. He stood and ignited a peaceful revolution that liberated Poland and the rest of Eastern Europe from the yoke of communism.

The revolution liberated Russia, which dissolved the Soviet Union appropriately on Christmas. That act restored freedom of religion to a people denied it for 75 years.

But the main reason our adversaries hate us is we are the spine of Western Civilization. . . .
Insty has several links up this morning related to Western Civilization.
Earlier, Mark Levin identified 12 differences between Americans and Progressives. I think I like him better in writing than on the radio.
And who are "THEY"? Well, the media are a big part of "THEY". Despite recent appearances, CNN and MSNBC aren't the only news sources out there. Flashback to the moment ABC News realizes that Donald Trump has won the electionVia Maggie's Farm:
All those smart people. All those insider connections. All those assumptions. All those righteous judgments about what Trump votes meant and would mean.
Things could have been so different. If only . . . . .
Hope you have a great Hillary Clinton-free weekend.

posted by Open Blogger at
11:16 AM
|
Access Comments