« EMT 07/29/17
|
Main
|
Saturday Gardening Thread: Hangin' with the Horde [KT] »
July 29, 2017
Thread below the Gardening Thread: Blended Systems [KT]
Serving your mid-day open thread needs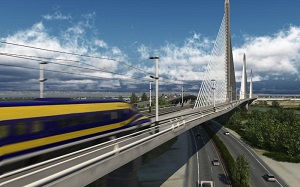 $56 million per kilometer, projected cost
Happy Saturday, Horde. It's really, really hot here in the San Joaquin Valley. I'm a little bit cranky. I ran across an excellent short, information-packed update on the ongoing failure that is California High Speed Rail. The Blended System feature of the revised project promises additional headaches for the Bay Area, in anticipation of those First Phase travelers from Shafter. Problems in addition to the world's most expensive bus station.
The artist's conception above pictures an approach to Bakersfield, which didn't quite make it into the initial construction area, which ends in Shafter. Too many potential passengers, perhaps. But back to this week's piece on HSR:
To reduce projected costs, the state embraced a so-called blended system, where high-speed rail trains share tracks with local commuter systems at the northern and southern ends of the line. . . . .

In the densely populated Peninsula, the introduction of high-speed rail under the blended system will cause massive time increases. During the peak hour, trains will pass through every three minutes. New perimeter fencing and four-quadrant gates have officials concerned about increased congestion in the 41 places where train tracks meet the streets. According to a report by rail transportation expert Paul Jones, the number of vehicles that can cross the rail grade in gate up periods between trains during the peak will decrease by 60%. During peak hours, gate down times will approximately double. The cost of Bay Area traffic congestion is already $2.6 billion a year. New delays could mean millions or billions more in lost productivity.
That is only one forehead-slapping detail. Jerry Brown and his dream team can't give up the dream, even as it shrinks and warps at their hands and as new, better dreams appear on the horizon. Reminds me of a few other government programs . . . . . .
I wish Jerry Brown had remained retired from politics. "It's all a lie" as he said before running again. The promise now is that a bullet train will be heading not to San Diego, but to Orange County. Sometime in the next few decades. Would it still be a "bullet train" then?
Weekend
Hope you can kick around a few ideas here at ace.mu.nu without letting them get in the way of your weekend. Got something fun planned? Or maybe something that you have actually planned out in advance?

posted by Open Blogger at
11:00 AM
|
Access Comments