« Thread below the Gardening Thread: Blended Systems [KT]
|
Main
|
Ace of Spades Pet Thread »
July 29, 2017
Saturday Gardening Thread: Hangin' with the Horde [KT]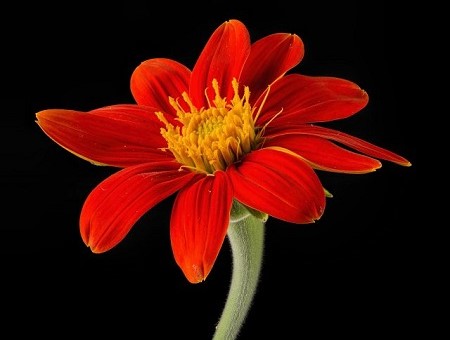 Tithonia rotundifolia
Kansas
Last week, I included a link to Don's flickr page, but he also has some great stuff for July on his blog, including the Tithonia (Mexican Sunflower, Red Sunflower) above. As he notes, Tithonia grows tall enough that you can look it in the eye. It is a great butterfly plant. If anybody knows why it is called "clavel de muerto" (carnation of death), let me know. In addition to orange and orange-red cultivars, there are a couple of butterscotch-colored ones, and some half-height "dwarfs". Check out Don's closeups of regular sunflowers, too. He's in Kansas, after all.
Don has cultural notes on growing flowers from non-midwestern climates (including the Tithonia) in this post. What worked and what didn't work as well. Attention: denizens of the East. Guess the Tithonia got red spider mites.
This is a plant that worked for him, Gilia tricolor. It is native where I live. I love little wildflowers like this. It is reputed to smell like chocolate, but I think some people tend to use their imaginations a little when comparing flower fragrances to chocolate. Apparently makes a good cut or dried flower. I have never tried drying it. If anybody can confirm that it is attractive to hummingbirds, please let us know.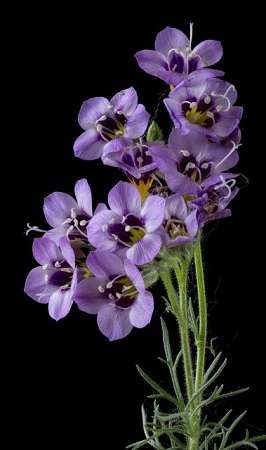 Bird's Eyes
Annie's sells two additional species of Gilia. Gilia capitata (Blue Thimble Flower) is renowned as a bee plant and is often included in pollinator mixtures. Gilia splendens, a little rose flower from Southern California, is long-blooming and has surprising turquoise anthers and pollen.
And here is one of the cactus photos Don selected for special attention.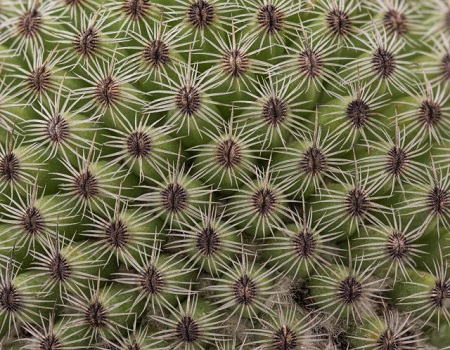 Mammillaria huitzilopochtli
Back on his flickr account, there is an outstanding new water plant photo.
Oregon
A while ago, Kindltot send in this inviting landscape photo:
[This] is a farm out by Gaston OR that used to plow up and plant Dahlias and put out a bench and plastic buckets and a drop-box and let you U-Pick.

I had a girlfriend who loved going there to take pictures.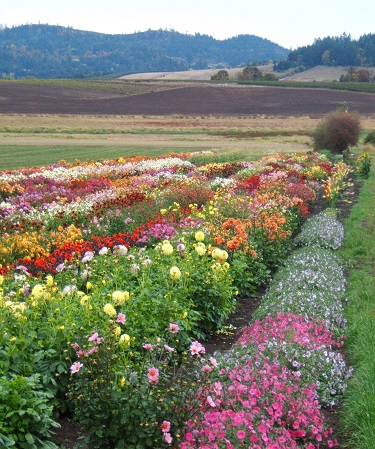 I can see why.
North Carolina
Back at the end of June, Lurker liz953 sent in the following fascinating photo: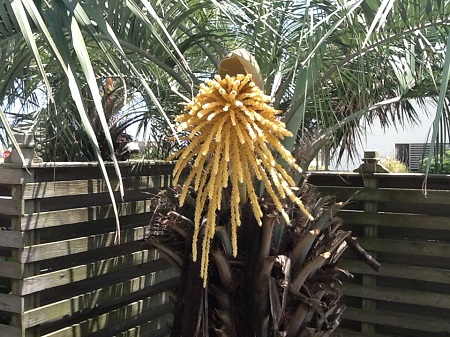 It's a Pindo Palm, and some also refer to it as a Jelly Palm. The fruit tastes like a cross between pineapple and lemon. Very fibrous, and has a rather large seed. Apparently the seeds are easy to propagate.

At my home away from home in Nags Head, NC. I have three palms that are in flower like this one. Long green pods grow out of the trunk, then harden up into woody pods as the flowers grow inside (you can see the top of the pod ion the photo). Then the pods split open and the yellow flowers tumble out, as in the photo. Each flower produces a yellow/orange grape-sized fruit that falls to the ground. Some guy came by last year and asked if he could have the fruit to make wine. I asked if it was good wine, and he said, "Not really, but you can drink it."
Hmmmm. Anybody every made jelly or wine with the fruit of this palm?

Gardens of the Horde
There are more photos from members of The Horde waiting for my computer to cooperate. Tune in again.
We have ripe Pluots. Keeping the trees alive. Battling spider mites. What's going on in your garden?
If you would like to send information and/or photos for the Saturday Gardening Thread, the address is:
ktinthegarden
at g mail dot com
Include your nic unless you want to be a lurker.


posted by Open Blogger at
12:44 PM
|
Access Comments