« Ace of Spades Pet Thread
|
Main
|
Saturday Evening Movie Thread 05-13-2017 [Hosted By: TheJamesMadison] »
May 13, 2017
Saturday Afternoon Chess/Open Thread 05-13-2017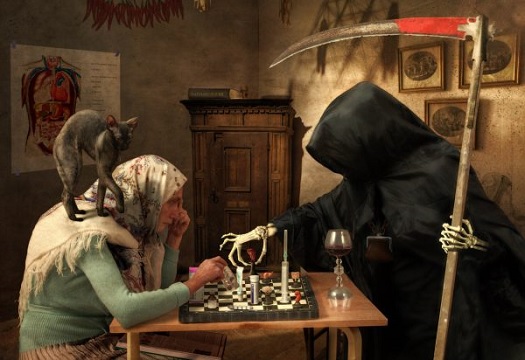 Good afternoon morons and moronettes, and welcome to the Saturday Afternoon Chess/Open Thread, the only AoSHQ thread with content specifically for all of us chess nerds who pay homage in the temple of Caïssa, goddess of the chessboard. And, for those of you who aren't nerdly enough for chess, you can use this thread to talk about checkers, or other games, or politics, or whatever you wish, only please try to keep it civil. Nobody wants to get in the middle of a food fight on a Saturday afternoon.
"Chess teaches foresight, by having to plan ahead; vigilance, by having to keep watch over the whole chess board; caution, by having to restrain ourselves from making hasty moves; and finally, we learn from chess the greatest maxim in life - that even when everything seems to be going badly for us we should not lose heart, but always hoping for a change for the better, steadfastly continue searching for the solutions to our problems."
--Benjamin Franklin

Pic Note
Pic stolen from here. Unfortunately, I can't tell you anything about it because the site's language is Russian. There's a poem that accompanies this pic that I ran through the Google translator, but the results were less than satisfactory. I didn't see any reference to chess. But there was lots of stuff about that cat.

Problem 1 - White To Play (126)
There are a couple of paths to victory for White. Try to find both. And by "victory" I mean you don't have to play it out to an actual checkmate, but only until you can show that White has attained a decisive advantage.
Hint: A discovered check wins material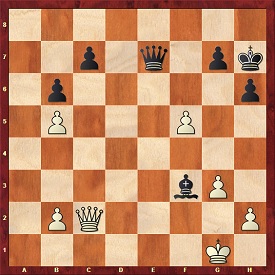 8/2p1q1pk/1p5p/1P3P2/8/5bP1/1PQ4P/6K1 w - - 0 1


Problem 2 - Black To Play (481)
Again, find both paths to victory.
Hint: Black mates in 2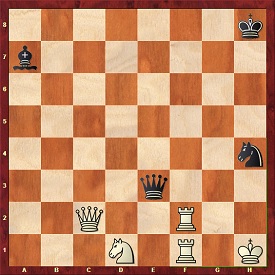 7k/b7/8/8/7n/4q3/2Q2R2/3N1R1K b - - 0 1



Problem 3 - Black To Play (BWTC 208 )
This is probably the toughest problem in today's batch. It may take zombie up to 15-20 seconds to solve it.
Hint: Black can deliver a mate in, at most, 6 moves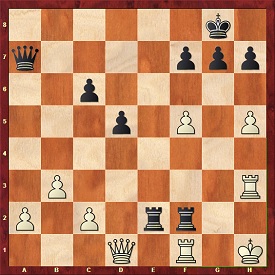 6k1/q4ppp/2p5/3p1P1P/8/1P5R/P1P1rr2/3Q1R1K b - - 0 1



Problem 4 - White To Play (446)
Hint: White wins material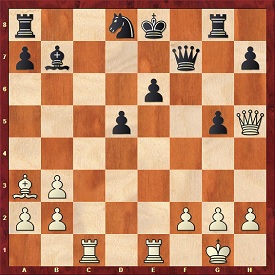 r2nk1r1/pb3q1p/4p3/3p2pQ/8/BP6/PP3PPP/2R1R1K1 w q - 0 1



Endgame of the Week (Blake 110)
It's White move. Can he avoid losing, even though he's two pawns down? The answer may surprise you.
Hint: Block that rook!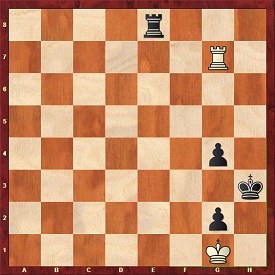 4r3/6R1/8/8/6p1/7k/6p1/6K1 w - - 0 1


And Now, For the 'Ettes -- Dress Pr0n!
Actress Helen Hayes, 1931: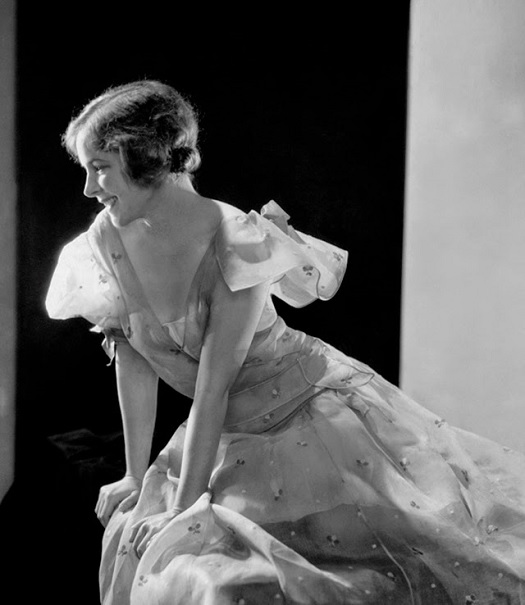 I have no idea who this is, but I think the color of her dress complements her skin and color nicely:

I've heard that there is a bit of a "science" to this, where people are classified as summer, winter, spring, or autumn, and different colors and color combinations go well with each of the different types, which is why certain colors look good on some people but not so good on others.
And I can't believe I know this stuff. Why don't I just turn in my man card right now and be done with it?

___________
Solutions Update
Problem 1 - White To Play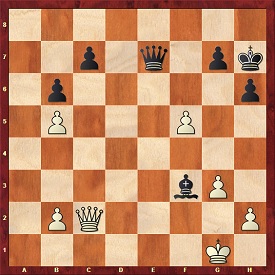 8/2p1q1pk/1p5p/1P3P2/8/5bP1/1PQ4P/6K1 w - - 0 1


Both path start with the same first step:
1.f6+!
Here is the first way:
1...Qe4
2.Qxe4+ Bxe4
3.f7 c6
4.f8=Q and White wins.
And in the second path, Black blocks with the other piece, but White still wins:
1...Be4
2.fxe7 Bxc2
3.e8=Q and White wins.

Problem 2 - Black To Play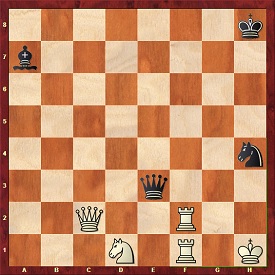 7k/b7/8/8/7n/4q3/2Q2R2/3N1R1K b - - 0 1


1...Qh3+!
White has two possible responses, but the result is the same in either case.
2.Kg1 Nf3#
Or, White can try blocking with the rook:
2. Rh2 Qxf1#
It's a different checkmate, but it's still a checkmate.

Problem 3 - Black To Play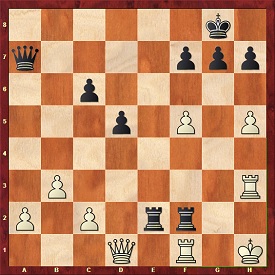 6k1/q4ppp/2p5/3p1P1P/8/1P5R/P1P1rr2/3Q1R1K b - - 0 1


What makes this problem tough is that the first move may be hard to see.
1...Qe3!
This move sets up everything that follows. Black has several responses. The most obvious one is to take the queen. Let's see what happens when he does.
2.Rxe3 Rh2+
3.Kg1 Reg2#
So, that didn't work out so well. What if Black moves the rook to h2?
2.Rh2 Rxh2#
That's even worse. The best response is probably
2.Rxf2
2... Qxh3+
3.Kg1 Qg3+
4.Kh1 Rxf2
Or 4...Qf3+ 5.Kg1 Qxf2+ 6.Kh1 Qg2#
5.Qg1
To protect against the mating threat on h2.
5...Qh3+
6.Qh2 Qxh2#

Problem 4 - White To Play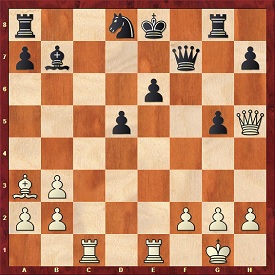 r2nk1r1/pb3q1p/4p3/3p2pQ/8/BP6/PP3PPP/2R1R1K1 w q - 0 1


White is currently down the exchange. But he can recover the material by:
1.Rc7! Qxh5
2.Re7+ Kf8
3.Rxb7+ Ke8
4.Re7+ Kf8
5.Rxh7+ Ke8
6.Rxh5 Kf7
And now not only has White recovered his lost piece, but he is actually up by a couple of pawns. He should win.

Endgame of the Week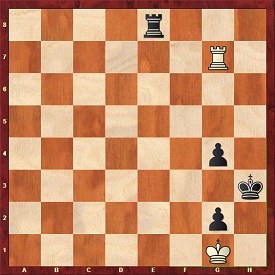 4r3/6R1/8/8/6p1/7k/6p1/6K1 w - - 0 1


1. Rh7+!
Why is this such a great move? Because
1...Kg3
Black's only response. He is now ready to move his rook down to the 1st rank to deliver the checkmate. But...
2. Re7! Rd8
Not 2...Rxe7 which is stalemate.
3.Rd7 Rb8
4.Rb7 etc.
Black is unable to move his rook off the back rank. White will always be able to block it. So the game is a draw.
Hope to see you all next week!
___________
Note: that cryptic line of letters and numbers you see underneath each board diagram is a representation of the position in what is known as "Forsyth-Edwards Notation", or F.E.N. It's actually readable by humans. Most computer applications nowadays can read FEN, so those of you who may want to study the position, you can copy the line of FEN and paste into your chess app and it should automatically recreate the position on its display board. Or, Windows users can just "triple click" on it and the entire line will be highlighted so you can copy and past it into your chess app.
___________
So that about wraps it up for this week. Chess thread tips, suggestions, bribes, rumors, threats, and insults may be sent to my yahoo address: OregonMuse little-a-in-a-circle yahoo dott com.

posted by OregonMuse at
05:00 PM
|
Access Comments