« Ace of Spades Pet Thread
|
Main
|
Saturday Evening Movie Thread 04-08-2017 [Hosted By: TheJamesMadison] »
April 08, 2017
Saturday Afternoon Chess/Open Thread 04-08-2017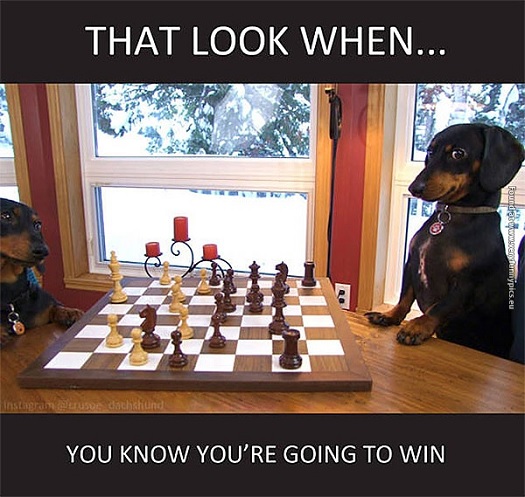 Good afternoon morons and moronettes, and welcome to the Saturday Afternoon Chess/Open Thread, the only AoSHQ thread with content specifically for all of us chess nerds who pay homage in the temple of Caïssa, goddess of the chessboard. And, for those of you who aren't nerdly enough for chess, you can use this thread to talk about checkers, or other games, or politics, or whatever you wish, only please try to keep it civil. Nobody wants to get in the middle of a food fight on a Saturday afternoon.
"I used to play golf. I wanted to be a better player, but after a while I realized I'd always stink. And that's when I really started to enjoy the game."

Don Rickles
See, you can cross out 'golf' in that Rickles quote, pencil in 'chess', and that pretty much sums it up for me. I had to embrace my inner suck.

Problem 1 - It's White To Play - And His First Move May Surprise You! (76)
Hint: White can force a mate in 2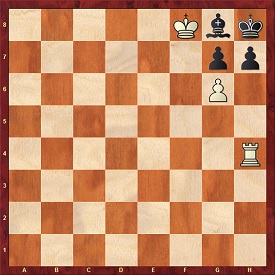 5Kbk/6pp/6P1/8/7R/8/8/8 w - - 0 1


Problem 2 - White To Play (454)
White can COMPLETELY PARALYZE Black with one CRUSHING move!
Hint: Black must lose material, or be checkmated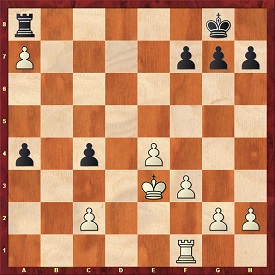 r5k1/P4ppp/8/8/p1p1P3/4KP2/2P3PP/5R2 w - - 0 1



Chess Set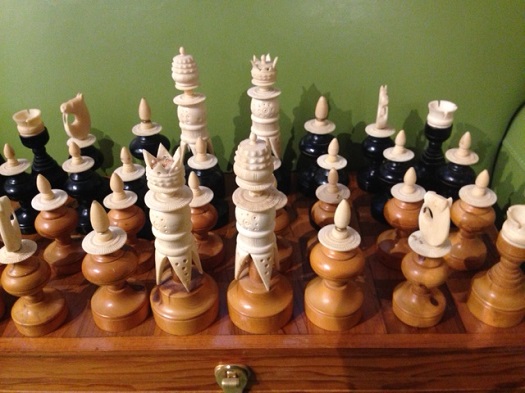 This chess set pic was sent to me by All Hail Eris. She thinks it may be from Indonesia.
Note: I'm open to other pics, too. Like the moron library pics on the book thread, photos of moron chess sets might be fun, too.

Problem 3 - White To Play (82)
Hint: White mates in 4

8/8/8/1R6/6kP/4KN2/1p6/1r6 w - - 0 1



R.I.P. Grandmaster Arthur Bisguier
Here is his NY Times obit:
Arthur Bisguier, a largely self-taught chess grandmaster who brought a native Bronx brashness to his style of play in defeating some of the game's greatest players while finding mostly frustration when he faced Bobby Fischer, died on Wednesday in Framingham, Mass. He was 87.
The obit is pretty complete.
I notice that not much about chess can be written in the popular media without it being shown how it relates to Bobby Fischer.

Problem 4 - Black To Play (BWTC 204)
FINISH HIM!
Hint: Black mates in 4
I've always found that problems involving knights are tricksy and hard to see.

2k5/ppp3pp/8/NQ2n2q/2Pp1n2/R4bP1/1P3P1P/4R1K1 b - - 0 1



U. S. Championship
The U.S. Championship tournament continues.
Wesley So has been on a rampage the last few months, but he's still neck-and-neck with Akobian. Caruana was upset in an early round, and lost again in round 9 (to Akobian). Meanwhile, Hikaru Nakamura was having troubles of his own against Alexander Onischuk, and he eventually lost.
Here is a snapshot of the standings after round 9: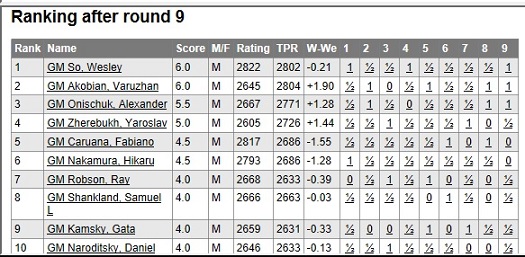 Endgame of the Week (Endgame 166)
White to play. What is his path to victory?
Hint: Another one where you win by simplifying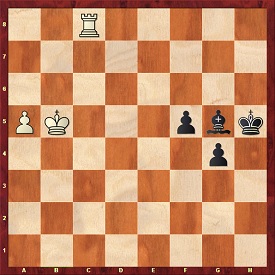 2R5/8/8/PK3pbk/6p1/8/8/8 w - - 0 1


___________
Solutions Update
Problem 1 - It's White To Play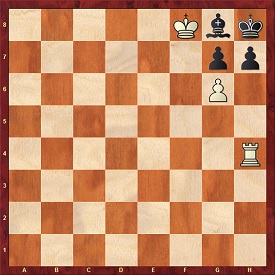 5Kbk/6pp/6P1/8/7R/8/8/8 w - - 0 1


1.Rh6!
This move reduces Black's options down to, basicall, two. The first:
1...gxh6
2.g7#
Or
1...Bf7 (or Be6 or any other square on the g8-a2 diagonal)
2. Rxh7#
This problem has traditionally been attributed to legendary chess genius/crazy man Paul Morphy.

Problem 2 - White To Play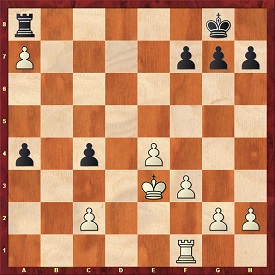 r5k1/P4ppp/8/8/p1p1P3/4KP2/2P3PP/5R2 w - - 0 1


Here's the move that freezes Black:
1.Rb1!
Seizing the open file. Black's king is trapped on the back rank, as is his rook. The pawn is immune from capture: 1...Rxa7?? 2.Rb8#
So what's left? Black's only other options lose material. For example:
1...Rf8
2.Rb8 g5
3.a8=Q Rxb8
4.Qxb8+ wins.
My chess app went with 1...g5, but that's equally futile:
2.Rb8+ Rxb8
3.axb8=Q+ also wins.

Problem 3 - White To Play

8/8/8/1R6/6kP/4KN2/1p6/1r6 w - - 0 1


1.Rg5+ Kh3
2.Kf4!
Not 2.Kf2? Rf1+ 3.Kxf1 b1=Q+
2...Rg1
3.Rxg1 b1=Q
4.Rg3# 1-0

Problem 4 - Black To Play
Hint: Black mates in 4

2k5/ppp3pp/8/NQ2n2q/2Pp1n2/R4bP1/1P3P1P/4R1K1 b - - 0 1


1...Qxh2+!
Once Black has busted things up with the queen sac, he can deliver the mate with the knights.
2.Kxh2 Ng4+
3.Kg1 Nh3+
4.Kf1 Nh2#
Even though the moves are pretty much forced, I just find it hard to keep straight in my mind what squares the knights are covering and how things change when they move.

Endgame of the Week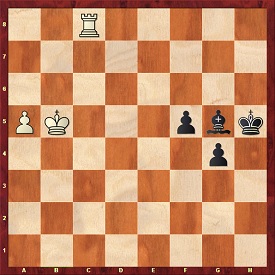 2R5/8/8/PK3pbk/6p1/8/8/8 w - - 0 1


White has an easier job winning if the pieces are off the board. Which he can force.
1.Rh8+ Kg6
2.Rg8+ Kh5
3.Rxg5+ Kxg5
And now even though White has sacrificed the exchange he has a decisive positional advantage. His pawn
will queen first.
4.a6 g3
5.a7 g2
6.a8=Q g1=Q
7.Qg8+
Oops! Skewered!
Of course, this is not necessarily the best defense. My chess app tried to utilize both pawns:
4...f4
5.a7 f3
6.a8=Q Kf4
I have to admit this position is a bit trickier.

7.Qf8+ Ke3
8.Qc5+ Ke2
9.Qe5+ Kd3
I was expecting 9...Kf2. The app's move allows me to cut off his king from the pawns.

10.Qe1 Kd4
11.Qg3 Kd5
Again, a mystery. Why not 11...Ke3? The app probably saw that trying to hold onto the pawns was a sure loser.
12.Qxg4 f2
13.Qf3+ Ke5
14.Qxf2 etc.
Hope to see you all next week!
___________
Note: that cryptic line of letters and numbers you see underneath each board diagram is a representation of the position in what is known as "Forsyth-Edwards Notation", or F.E.N. It's actually readable by humans. Most computer applications nowadays can read FEN, so those of you who may want to study the position, you can copy the line of FEN and paste into your chess app and it should automatically recreate the position on its display board. Or, Windows users can just "triple click" on it and the entire line will be highlighted so you can copy and past it into your chess app.
___________
So that about wraps it up for this week. Chess thread tips, suggestions, bribes, rumors, threats, and insults may be sent to my yahoo address: OregonMuse little-a-in-a-circle yahoo dott com.

posted by OregonMuse at
05:08 PM
|
Access Comments