« Nature Is All Knowing, Except For When It Isn't?
|
Main
|
Ace of Spades Pet Thread »
April 08, 2017
Saturday Gardening Thread: Track the Bloom [KT]
Several members of The Horde have commented on the Wildflower Super Bloom this year and have linked some beautiful photos. While Americans are tracking the wildflower bloom, Chinese tourists are tracking the bloom of a GMO oil seed crop.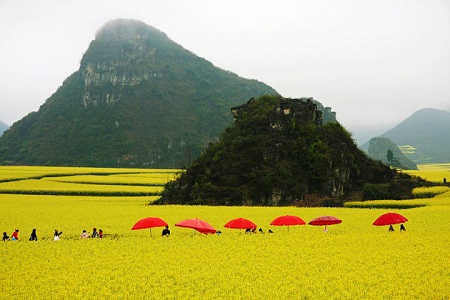 Additional photos at the link
The county of Luoping is located in eastern Yunnan province of China. It is a popular spot for tourists that come to see the golden beauty of the canola fields during spring.
The landscape and bloom there are pretty impressive, visually. Incidentally, the umbrellas in the photo above reminded me of Cristo's umbrellas popping up where California Poppies would be expected in spring. I happened to be traveling through the Grapevine during the windstorm that brought the exhibit to an end. I saw one of the giant umbrellas skid across the freeway and another bounce through a field. I don't think I saw the fatal umbrella. But back to China.
Luoping County is described as "underdeveloped", but there is a city of half a million people there. You may or may not run into women in traditional dress.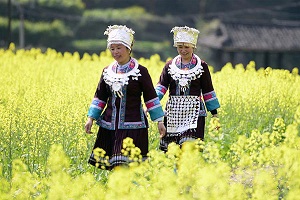 In addition to being a tourist draw, Luoping is a center of Chinese Beekeeping. The beekeepers stay in tents. Canola blooms at different times in different parts of China, in case you miss the early blooms in Luoping. Follow the beekeepers.
The Super Bloom in California
Well, I guess #TrackTheBloom has come to Central California now.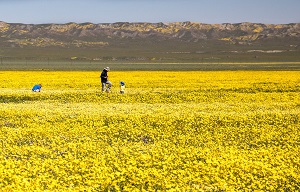 Carrizo Plains
The Carrizo Plain National Monument is in southeastern San Luis Obispo County near Soda Lake, about 23 miles east of Taft. It is one of the largest native grasslands that remain in the state.
Make that "west of Taft". Taft* is in Kern County. It is closer to Bakersfield than to San Louis Obispo. The San Andreas Fault runs through the monument. I have never been there, but I have seen a natural oil seep sending tar onto a road in the general area, which is not surprising given the oil industry to the north and east.
The Tremblor Range, which borders the monument on the northeast is similarly carpeted with swaths of orange, yellow and purple wildflowers, "like something out of a storybook," the Interior Department said.
Video at the link. Watch for rattlesnakes if you go.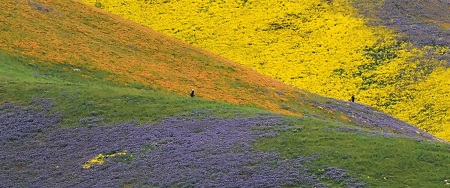 Hills of the Temblor Range
Same goes for the deserts of Southern California. There are some gorgeous photos here.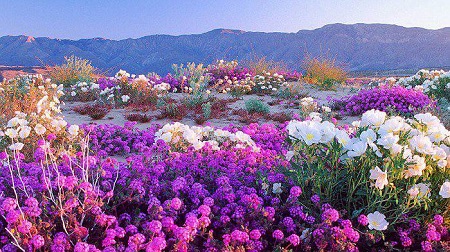 Sand verbena and evening primroses
Have you seen some notable wildflower blooms this season? Still Tracking the Bloom?
Tidy Tips
You can grow several Western wildflowers in your yard for spring color. For close-up charm, I think Tidy Tips are a fun choice. And they make good cut flowers.
Tidy tips wildflowers are a great addition to the sunny landscape where poor soil makes it difficult to grow pretty flowers. You probably have such a spot, just out of reach of the water source, where a few pretty blooms would be a nice touch. . .

Tidy tips planting is simple. Broadcast seeds onto poor soil with good drainage and cover lightly. Seeds of the tidy tips wildflowers need light to germinate. When growing tidy tips, the optimum temperature for germination is 70-75 F. (21-24 C.). It is helpful to cover seeds with a screen until they take hold and sprout, as birds love the seeds and will readily scoop them up if given the chance.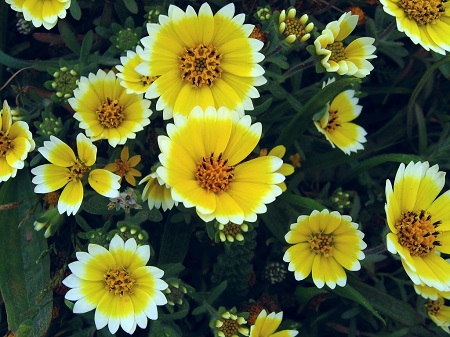 There are several species of Layia in the wild. A couple of them are found in the Carrizo Plain National Monument. All have yellow, white or yellow and white flowers. Tidy Tips may dominate other wildflowers in plantings of mixed wildflower seeds, like the big field at the link, planted by Lowe's somewhere in Northern California. Teach flowers not to bully.
Gardens of The Horde
From this morning's EMT, hope Krakatoa's garden made it through the freeze. Has weather been a challenge where you are?
As a follow-up to Kindltot's Cat's Ear photo from last week, Hal Dall has sent in a photo of a related species, Calochortus macrocarpus, the Sagebrush Mariposa Lily.
Hi, love the garden thread. I'm including a photo of one of our plants, the flower is nearly 2 inches across. Note the pattern of glandular hairs within the bowl, many Calochortuses have similar beautiful markings.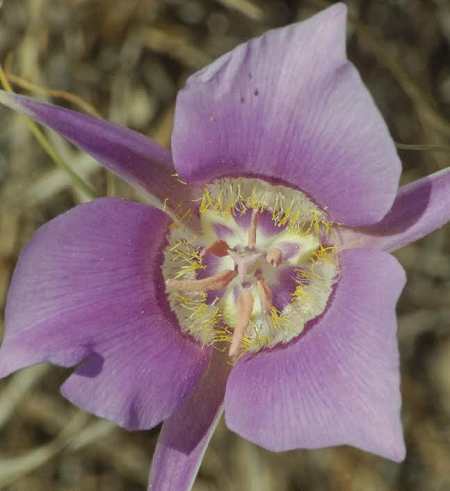 I would love to have some of those in my yard. Don't know if they would survive the gophers.
Crotchety Old Jarhead ought to appreciate these photos from Nuker: Two views of an Indoor Kitchen Nook Garden featuring a couple of really big Fiddle Leaf Figs. And a Spathiphyllum for JBT. And other interesting plants, too. "Arranged by a lurker's wife who has a green hand rather than just a thumb."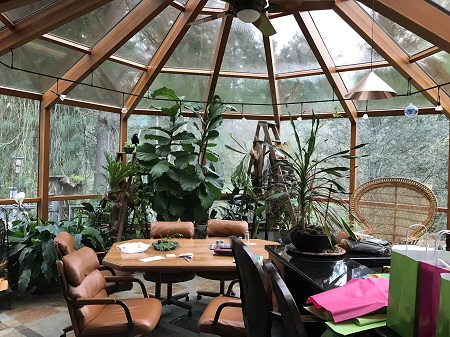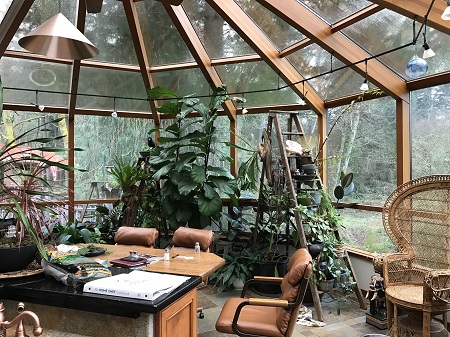 Thanks to everyone who sent in photos. We will post some next week, if all goes according to plan.
Here in the San Joaquin Valley, we still have a few beehives visiting the Garden Kitties, who seem smart enough not to mess with the bees. Brother-in-law was out checking the hives and watching the bees yesterday, with netting only on his head. Wearing shorts and short sleeves. He may have split a hive or added a super. I don't have any specific new information for Moron Robbie, who sounds about ready to start a couple of hives. Maybe other members of The Horde can offer some tips on beekeeping.
I finally picked up three open-pollinated tomatoes to go with my hybrids. One thing I like about open-pollinated tomatoes is that they often come with a story.
I may have mentioned Cosmonaut Volkov before. It isn't the most hot-weather tolerant tomato I've ever grown. Great flavor in the early season here, though. It is becoming increasingly popular in short-season areas. It's semi-determinate. From Tatiana's Tomatobase:
This tomato was named by the former space engineer Igor Mikhailovich Maslov after his friend Vladislav Volkov, a Russian cosmonaut, who was killed during the landing of the Russian spaceship Soyuz 11, along with the other crew members. When Igor Maslov retired, he trialed more than 300 tomato varieties and he thought that Cosmonaut Volkov was the best.
Kellog's Breakfast is a famous big, orange beefsteak tomato. It is from West Virginia, but was saved for posterity by Darrell Kellogg, a railroad supervisor from Redford, Michigan.
Speaking of tomatoes for breakfast, my aunt put garden tomatoes on (unsweetened) french toast. Very tasty with a little salt and pepper. Or try Kellog's Breakfast in a Sliced Heirloom Tomato Salad. A salad you can put in a sandwich if you want to.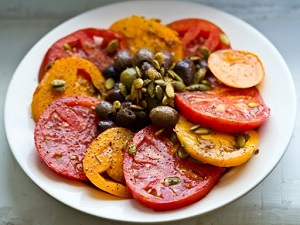 Japanese Trifele Black is actually a commercial Russian tomato. It grows on a potato-leaved plant, which is unusual for oxheart type tomatoes. They more commonly have wispy leaves. Some also carry a "wilt gene" that makes them look sick even though they are healthy. Some non-oxheart heirlooms have this gene, too.
The seed houses that seem impressed with this tomato are mostly in cool-season climates. We'll see if it is as good in hot summer weather as my favorite "black" tomato, Nyagous. I'm planting it in afternoon shade.
A truly transcendent tomato. Pear-shaped fruit has green-streaked shoulders, deepening to a burnished mahogany and finally to a darkened, nearly black base. The meaty interior has similar, opulent shades and an incomparable, almost indescribably complex and rich flavor to match. The fruit reach 2 1/2-3 inches long and wide and are very crack-resistant.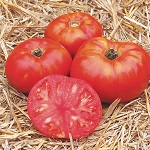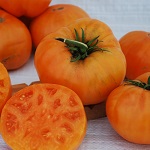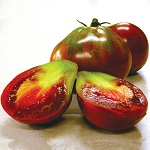 Cosmonaut Volkov, Kellogg's Breakfast and Japanese Trifele Black
Wish me luck.
Anything growing in your garden?
According to a display at the West Kern Oil Museum, local residents asked the Southern Pacific Railroad if the station could be named Moro when the rails arrived in about 1900, but a railroad official declined because the name would be too easily confused with the coastal town of Morro Bay. Instead, the railroad directed the station be called Moron a word which as yet had no association with stupidity.
Emphasis mine.

p.s. If you would like to send information and/or photos for the Saturday Gardening Thread, the address is:
ktinthegarden
at g mail dot com
Include your nic, unless you want to be a Lurker.
Have a great week.

posted by Open Blogger at
12:10 PM
|
Access Comments