« EMT 03/12/17
|
Main
|
Food Thread: What To Drink: Bourbon, Scotch Or Beer? »
March 12, 2017
Sunday Morning Book Thread 03-12-2017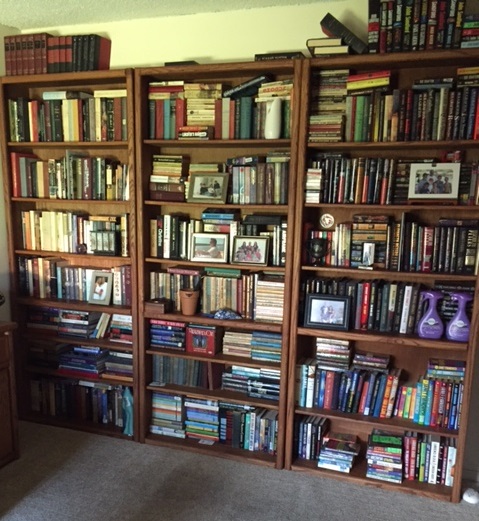 Library of Lurking 'Ette 'bookaday'
Good morning to all you 'rons, 'ettes, lurkers, and lurkettes. Welcome once again to the stately, prestigious, internationally acclaimed and high-class Sunday Morning Book Thread, where men are men, all the 'ettes are hotties, safe spaces are underneath your house and are used as protection against actual dangers, like natural disasters, or a Trump's executive orders, and special snowflakes melt. And unlike other AoSHQ comment threads, the Sunday Morning Book Thread is so hoity-toity, pants are required. Even if it's these pants, which are such an eyesore, I can hardly even look at them.

Israel and Palestine
I received an interesting e-mail from a lurker who buys and sells rare books and manuscripts. And by "rare", I mean "you can't afford it." Prices are typically in the thousands of dollars. But looky-loos like myself can window-shop on his site, and he's got lots of interesting items listed.
Anyway, he informed me that he has acquired
...a 1751 manuscript book that has some very interesting 'data' which may interest but come as no surprise to the moron horde though a great surprise to those that would seek to delegitimize the State of Israel.

This book was likely created by either a British naval officer or an academic; its title is 'Some Memorandums Relating to Geography and Astronomy'.

Two entries I found very interesting but not surprising were 'Different Kingdoms of the World' of which Israel is listed and an entry regarding capital cities of which Jerusalem is named for Israel. [No there is not a single mention of the word Palestine anywhere.]
Emphasis mine. He sent along this photo of the relevant page in the manuscript, which you can embiggen by clicking on it: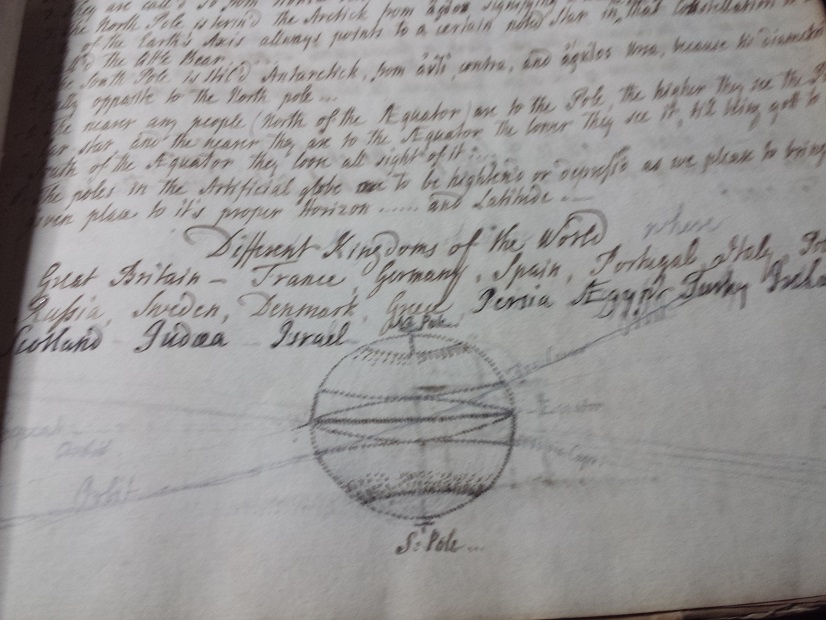 ...fascinating to observe these were basic facts, acknowledged 260+ years ago and by what was surely the apex of world knowledge given the importance and relevance of the British empire and its navy to the world even in the mid 18th century.
This is such an obvious point, it never occurred to me. If you're running a world-wide empire, you'd want to have accurate knowledge of what's out there in the world beyond your borders, and what you'd might bump up against. And if there was ever a country in the Mideast called "Palestine", the British would have certainly known about it and referred to it by that name.
Right?
I notice that "Israel" is listed, also what appears to be "Judea." I'm not sure what the difference is. As I recall, in biblical times, "Israel" was the northern 10 tribes of Israelites and was eventually swallowed up by Assyria, and "Judea" was the remaining two tribes that managed to survive. But I would think that by 1751, that distinction would have been irrelevant.
More photos and info on this manuscript on the rare books website.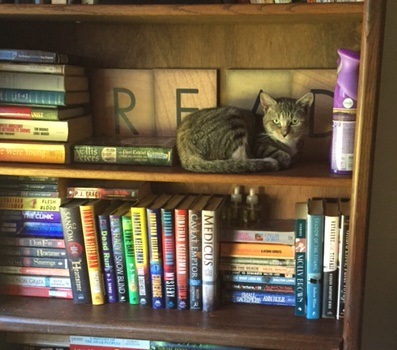 Another Photo From 'bookaday'
Errata
Last week, I opined that Ayn Rand's book, 'The New Left - the Anti Industrial Revolution hadn't yet come out as an ebook. But Ed Driscoll informed me that most, if not all, of the essays in "The New Left" was republished under the title "The Return of the Primitive: The Anti-Industrial Revolution" and is, in fact, available on Kindle.

Bad Sex
Every year some literary publication gives out a "Bad Sex In Fiction" prize. The Guardian published the passages that earned 6 authors a spot on the finalist list here, for those of you who are curious.
Perhaps these finalists should have a look at these 31 Adorable Slang Terms for Sex From the Last 600 Years. The characters in their novels could be playing the pyrdewy, fadoodling, or dancing the Paphian jig in no time at all. Another good one is "dance the kipples" which should remind everyone of that old joke, "Do you like Kipling?" "I don't know, I've never Kippled."

Troll Level: Master Class
Reasons To Vote For Democrats: A Comprehensive Guide by Michael J Knowles is described as
The most exhaustively researched and coherently argued Democrat Party apologia to date, "Reasons To Vote For Democrats: A Comprehensive Guide" is a political treatise sure to stand the test of time. A must-have addition to any political observer's coffee table. "Thorough" --Ben Shapiro, nationally syndicated columnist and New York Times bestselling author.
This book is currently #8 on Amazon's Top 100 list. That's overall, not just in this or that category.
The book contains nothing but blank pages.
Some of the reviews are pretty funny. Such as "I liked this book so much, I memorized it!" and, my favorite "I can't wait until the Audible version comes out."

A Call For Submissions (Redux)
Back in January, I mentioned that a lurking moron (Mastiff) was putting together a military sci-fi themed anthology and was looking for submissions. He e-mailed this week and said:
I wanted to let the Morons know that the first three authors have been selected, and the Kickstarter project is live. I'm also extending the submission deadline a month, since I had initially planned to launch the KS project before now. I'm now accepting submissions until April 1.
All the pertinent details are on Mastiff's Kickstarter page.

What A Difference An Election Makes - Round 2
Earlier this week, a discussion in one of the morning threads concerning the machinations of the Deep State prompted this comment from Brother Cavil:
Do you know why I can't ready Clancy anymore? Think about his standard protagonists--not just Ryanverse but nearly anything with his name on it. It's a long paean to the Deep State, portraying it as all honorable folk working hard to protect the world as they know it. I can't unsee it now.
Yeah, I know what he means. As I mentioned a few weeks ago, I had the same problem with Sheryl Attkisson's book Stonewalled: My Fight for blah blah blah.... After Trump tore the lid off the top of the MSM and showed everybody what lying scum they all are, Attkisson's portrayal of journalists as an intrepid band of truth-seekers just trying to report the news accurately was simply no longer credible.
So Mike Hammer responded:
Have you read 'Shelley's Heart'?
I've never heard of this book, so I looked it up. Shelly's Heart is a political thriller by Charles McCarry:
The first presidential election of the twenty-first century, bitterly contested by two men who are implacable political rivals but lifelong personal friends, is stolen through computer fraud.

On the eve of the Inauguration the losing candidate presents proof of the crime to his opponent, the incumbent President, and demands that he stand aside. The winner refuses and takes the oath of office, thereby setting in motion what may destroy him and his party, and even bring down the Constitution.
Sounds like one of those "ripped from today's headlines" stories. NTTAWWT. McCarry has written many other political thrillers such as The Tears of Autumn and The Last Supper.

Moron Recommendations
Moron commenter fritzworth likes the Americana flintlock fantasy novel Witchy Eye by D.J. Butler, which plot goes like this:
Sarah Calhoun is the fifteen-year-old daughter of the Elector Andrew Calhoun, one of Appalachee's military heroes and one of the electors who gets to decide who will next ascend as the Emperor of the New World. None of that matters to Sarah. She has a natural talent for hexing and one bad eye, and all she wants is to be left alone—especially by outsiders.

But Sarah's world gets turned on its head at the Nashville Tobacco Fair when a Yankee wizard-priest tries to kidnap her. Sarah fights back with the aid of a mysterious monk named Thalanes, who is one of the not-quite-human Firstborn, the Moundbuilders of the Ohio. It is Thalanes who reveals to Sarah a secret heritage she never dreamed could be hers.
I never knew that "Americana flintlock fantasy" was a genre, but Butler has written other novels in this steampunkish/SF-F mode, such as City of the Saints and The Kidnap Plot. Also Redneck Eldrich, which he co-wrote with Brad Torgersen.
Fritzworth says he liked Witchy Eye so much, he bought two copies, one for himself and one for his adult daughter).
And for those who want to avoid Amazon, Baen also sells it.
___________
Thanks to moron lurker Unkawill who recommended Code Name: Scarlet, a political thriller by Richard Lowry. No, not the NR editor Rich Lowry, this Richard Lowry is a military historian, and this is his first novel:
This stunning tale of historical fiction will take you around the world in an adventure that begins with the 9/11 attack on the World Trade Center and ends years later in Quetta, Pakistan.

When al-Qaeda obtains a nuclear weapon, Rich and Lindsey become key players in the operation that is Code Name: Scarlet. They join a large contingent of American servicemen and women who are tasked with finding and securing the weapon. As history has proven over and over again, no plan ever survives first contact. Lindsey and Rich are forced to improvise and must make life and death choices to complete the mission.
Unkawill thinks this would be just the thing for a smart Military Blog™.
Lowry's other books are on the Gulf War and Operation Iraqi Freedom. And Unkawill also mentions that the author has health issues and is not doing well. He could use some help. On Facebook, he said:
THIS IS MY LAST POST
I am not going to post all my woes. Suffice it to say I am very ill and cannot afford homecare. If EVERY ONE of you would spend the $5 to download Code Name: Scarlet and you encouraged all your friends to do the same, and, if everyone works to take it viral - I will get my miracle.

___________

Don't forget the AoSHQ reading group on Goodreads. It's meant to support horde writers and to talk about the great books that come up on the book thread. It's called AoSHQ Moron Horde and the link to it is here: https://www.goodreads.com/group/show/175335-aoshq-moron-horde.
___________
So that's all for this week. As always, book thread tips, suggestions, bribes, rumors, threats, and insults may be sent to OregonMuse, Proprietor, AoSHQ Book Thread, at the book thread e-mail address: aoshqbookthread, followed by the 'at' sign, and then 'G' mail, and then dot cee oh emm.
What have you all been reading this week? Hopefully something good, because, as you all know, life is too short to be reading lousy books.

posted by OregonMuse at
09:45 AM
|
Access Comments