« Sunday Morning Book Thread 03-12-2017
|
Main
|
After Drinking All That Whiskey Have A Cup Of Coffee »
March 12, 2017
Food Thread: What To Drink: Bourbon, Scotch Or Beer?
The consensus around here seems to be bourbon for breakfast, lunch and dinner. And that works for me. Bourbon and other American Whiskeys are marvelous, and there is tremendous variety in them.
But there is a place for Scotch Whisky in my life and, I hope, in yours.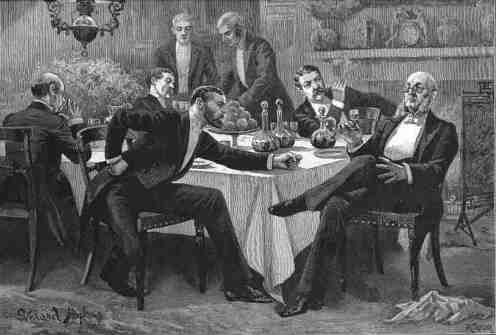 Morons Drinking Scotch Whisky
Morons Drinking Bourbon
To my palate, bourbons have a narrower range of characteristics compared to Scotch, some of which taste nothing like the others. For example, the Islay malts taste like licking an ashtray to some people, but are wonderful taste sensations to others (including me). In general (and I am no expert) it seems that Scotch is more ingredient driven, and that includes the heat source for the cooking of the mash. But then you can throw in the various kinds of barrels they use: new oak, old oak, sherry barrels, etc, and it becomes too damned complicated.
Scotch Whisky Regions

Campbeltown -- Salty-sweet
Highlands -- Smooth (and too big to characterize well)
Islay -- Peat, Iodine and Smoke
Lowlands -- Light and Malty
Speyside -- Damned if I know
There are more, but it would be a fight just to get the experts to agree on exactly how many regions there are.
My technique is simple. I buy Scotch based on recommendations of people I trust, or I simply wing it at the liquor store. And the nice thing about it is that most of the time I end up with a nice drink. Sometimes not great, but rarely not drinkable.
So...a question for The Horde: what Scotch do you drink, and why?
Bourbon and other American Whiskeys are near and dear to our hearts, and we hash out what is good and cheap or good and expensive all the time. They seem like a continuum, from lots of corn to lots of rye, with some wheat thrown in there just to confuse us. I taste sweet, spicy, smooth, oaky, and the bite of alcohol. Yeah those aren't flavors; they are sensations, but it makes sense to me. How about you? What do your senses tell you about the booze you are drinking?
Speaking of the bite of alcohol....I really enjoy it when it is balanced with other things. It is a vital component in cocktails, and just as important in sipping drinks.
And speaking of oak, when it is overdone, i taste a harsh, chemically flavor that I find extremely unpleasant, sort of like artificial vanilla.
I was given an expensive bottle of whiskey for my birthday several years ago, and I was excited to try it because of the buzz around the (NY) distillery. Some of you may have seen their products; they are in squat 375ml bottles. Anyway, it was unpleasantly oaky...completely out of balance. I attribute it to inexperience on the part of the distiller, and the understandable desire to stand out from the crowd.
Oh...beer? Yeah, we'll get to it at another time.

******
From artisanal'ette, with whom I am in complete agreement about the silliness of fad diets:
just weird to me, but there you have it

Tom Brady and Purple Carrot Launch a Plant-Based Meal Kit Service

The New England Patriots quarterback partnered with Purple Carrot, a vegan meal service that delivers solely plant-based meals, to create a custom line of dinners based on his diet. Called TB12 Performance Meals, the subscription costs $78 for three dinners for two people per week and is designed "to help you achieve and sustain your own peak performance," according to the Purple Carrot website. The dinners -- many of which are straight from the Brady-Bundchen kitchen or his $200 cookbook, the TB12 Nutrition Manual -- will be gluten free, high in protein, and low in soy and refined sugar. There will also be no dairy, eggs, seafood, meat, or processed foods.

This New Meal Delivery Plan Will Help You Eat Like Tom Brady

Tom Brady and Purple Carrot Launch a Plant-Based Meal Kit Service

Tom Brady's $78 meal kit is all about eating your vegetables
"[N]o dairy, eggs, seafood, meat, or processed foods." What are you...nuts? What's the point if you can't eat any of those things?
Tom Brady should shut up and throw the football. Even though he is a Trump supporter, he is in other respects just like those idiotic Hollywood celebrities who tout fur oil and vag steaming and voting for Bernie and all sorts of stupid shit. Just like the trained monkeys who dance for our entertainment, Tom Brady has an overdeveloped skill that probably has corresponding deficits in other parts of his skill-set. And who wants to bet against me that Tom Brady hasn't cooked or prepared a meal for himself in a very long time? He has a chef and a nutritionist and God knows what else, so forgive me for being skeptical about the nutritional advice he is giving.

******
I like finding recipes with odd, hipster ingredients so that I can mock them mercilessly and point out how absolutely bat-shit crazy some people are about food and nutrition. And I was all set to make fun of this strange sounding ingredient until I read a bit and realized that it makes perfect sense.
Shit.
Here is Alexandra Stafford discussing "'nduja," which is pretty much high-end Italian spam. Guess the Star Ingredient in This Surprisingly Smoky Pasta Alla Vodka. But it sounds like a great idea and something that adds a huge amount of flavor with very little effort.

******
I'm a big fan of biscotti, and they are surprisingly easy to make, especially when you look at the silly prices for them in coffee shops and bakeries. This recipe is straightforward, and my only suggestion is to use a very sharp knife when slicing the loaves into pieces.
ANISE BISCOTTI


2 cups sugar

1 cup (2 sticks) unsalted butter, room temperature

4 large eggs

4 1/2 cups all purpose flour

4 teaspoons baking powder

1 teaspoon salt

1/3 cup brandy

1 1/2 teaspoons anise extract

1 teaspoon vanilla extract

1 cup whole almonds, toasted

2 tablespoons aniseed
Preheat oven to 350°F. Line 2 heavy large baking sheets with foil. Beat sugar and butter in large bowl until light and fluffy. Add eggs 1 at a time, beating well after each addition.
Mix flour, baking powder and salt in medium bowl. Combine brandy, anise extract and vanilla extract in glass measuring cup. Add dry ingredients and brandy mixture alternately to sugar mixture, beginning and ending with dry ingredients. Stir in almonds and aniseed.
Form two 2-inch-wide, 13-inch-long strips on each sheet. Moisten fingertips and smooth dough into logs. Bake until golden and firm to touch, about 40 minutes. Transfer sheets to racks and cool completely.

Reduce oven temperature to 300°F. Transfer cooled logs to work surface. Using serrated knife, cut logs on diagonal into 3/4-inch-thick slices. Arrange slices on baking sheets.
Bake cookies until dry and slightly brown, turning every 10 minutes, about 40 minutes. Transfer to rack; cool. (Can be made 2 weeks ahead. Store in airtight containers at room temperature.)
Makes about 65
&topic=world_news">

posted by CBD at
04:00 PM
|
Access Comments