« Thread below the Gardening Thread: California Dreamin' [KT]
|
Main
|
College Bowl Thread [KT] »
December 31, 2016
Saturday Gardening Thread: Going Low [KT]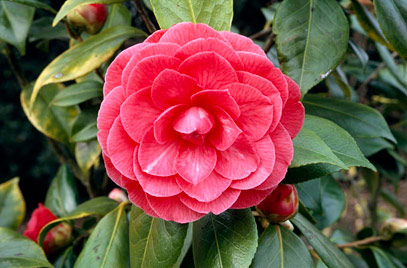 Camellia 'C.M. Hovey', AKA Colonel Fiery
Happy New Years Eve Day, Horde! Remember:
A garden is never so good as it will be next year. Thomas Cooper
I'm currently in that dreamy winter stage when I imagine great things in next year's garden. How about You? It's kind of a quiet day here. I'm skipping New Years Eve at Times Square this year. Actually, I have skipped it every year of my life. Nine hours without the possibility of a bathroom break makes it an improbability for me in the future, too. Too many people in one place.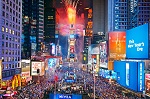 But if you are heading to The City, remember that away from Times Square, there are actually some live plants if you know where to look. Have you ever been to The Highline? I was fascinated by the history of the railroad that preceded it. Trains on elevated tracks ran under buildings like Nabisco and Bell Laboratories. Rail cars could be loaded from indoors. The current park, still being expanded, features many plants tha colonized the old rail line when it was abandoned. Weeds, in other words. Some of them quite attractive weeds.

Below is a nice photo taken by a nice Canadian visitor during a November visit. There are more photos at the link. I'm not sure that right now is the best time of year to visit The Highline.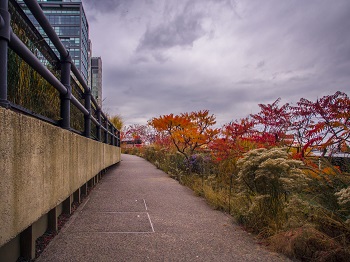 But if all goes as planned, there will someday be a Lowline, too. The proposal for NYC's first underground park was made in 2011. Projected completion is 2021.
Plans are still not approved. Quite a contrast from the Forestiere Underground Gardens in Fresno. They were built and planted by a guy who learned to dig underground when the subway system in NYC was first under construction. In Fresno, he worked alone most of the time. No corporate sponsors. No government regulations. Not much technology.
You can currently visit the second of two test runs for the Lowline.
The Lowline Lab is a long-term open laboratory and technical exhibit designed to test and showcase how the Lowline will grow and sustain plants underground. Built inside an abandoned market on the Lower East Side, just two blocks from the site of the proposed future Lowline, the Lowline Lab includes a series of controlled experiments in an environment mimicking the actual Lowline site.
The lab is closed this weekend, but will be open on weekend afternoons through the end of February. "Special closing events TBA".
Kid-friendly features
are described here, with a suggested itinerary for other activities on the Lower East Side. Anybody helping a kid with a science fair project?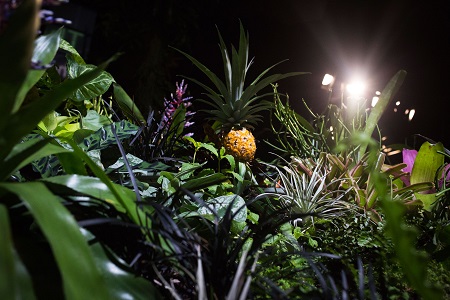 Most expensive pineapple in NYC
If you are elsewhere in The City, you might want to check out some other indoor atriums this winter. Trump Towers is mentioned. But the piece was written in February. Heh.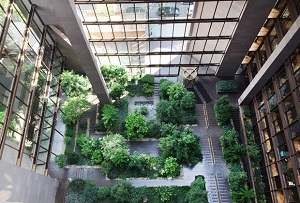 Or, head over to the Brooklyn Botanic Garden where they have story time for kids on the 7th, and a variety of walks for kids an adults, including one led by a psychotherapist, outdoors, intended to help participants get over the winter doldrums (January 8). Just before your walk with a psychotherapist, learn the science behind making "funky" sauerkraut. Is there a connection? Some commenters here at the Garden Thread already know how to make sauerkraut.
Something Sweet for Winter
The Brooklyn Botanic Garden lists Wintersweet as one of the plants you may find blooming in the Children's Garden in January.
Wintersweet flowers are an unexpected delight. The Chimonanthus spends most of the year unnoticed and minding its own business, but when January rolls around, it lets loose a barrage of flowers that are delicate in appearance but which arguably carry the best scent of any flower, anywhere. You have not lived, until you have cozied up to Wintersweet and taken a big whiff.
Over at Dave's Garden, a commenter said,
They smell amazing! Sweet but not cloying, and very strong. I'd recommend growing one near a back or front door where you'll pass in winter. The flowers look rather like jellyfish, and they are fleshy, with thick petals and a firm texture; they are about the size of a thumbnail.
Most people seem to think that the shrubs are nothing special to look at in summer. They do have yellow fall foliage. Sunset says they need afternoon shade in my climate (Central California). Where summers are cooler, plant Wintersweet against a south wall or in a sunny entryway. There are two named varieties, on yellow and one with bigger flowers, but the original is said to be the most fragrant. Cut some branches early and force them indoors if you want to. You can buy seeds through the AoSHQ Amazon Store.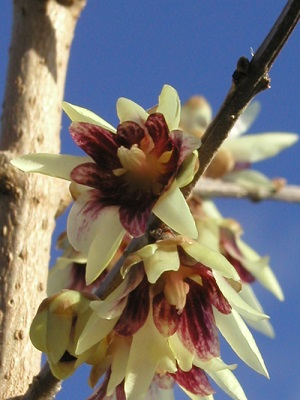 Do you think the flowers look like jellyfish? Wintersweet is hardy to parts of Zone 6. It needs some winter chill, so if you are in the warmer parts of Zone 9 (or in zone 10 or 11) you could substitute the attractive, evergreen Sweet Olive.
Seasonal Reminders
Many botanical gardens are continuing their holiday displays for another week or so. Is there one near you?
If you're in Southern California, you might want to stop by Descanso Gardens, which is featuring an "enchanted forest of light" in the evenings. The camellia forest there is pretty impressive in the daytime, too, about this time of year. You don't often see camellias that tall.
You should also visit the Huntington Gardens, Library and Museum while the camellias are blooming, and while the Osmanthus fragrans scents the Japanese Garden. It's not to far from the Rose Parade route. Or from the floats displayed after the parade.
Osmanthus fragrans may also still be blooming in the Brooklyn Botanic Garden, in the Warm Temperate Pavilion. It is listed as a December bloomer there.
Remember dormant spraying of fruit trees and also shrubs prone to insect or fungus attack from over-wintering pests in the spring. In warmer climes, remember that old fashioned Christmas lights can help protect some evergreen trees, including citrus, from frost.
Gardens of The Horde
Was your garden affected by one of the Top ten weather stories of 2016?
We had rain yesterday (Yay!) so fog is here today. Haven't done much in the garden this week. How about you?
Have a great New Years Eve and a great week!

posted by Open Blogger at
12:40 PM
|
Access Comments