« Thread Below the Gardening Thread: John Kasich Edition [Y-not]
|
Main
|
Ace of Spades Pet Thread [Misanthropic Humanitarin] »
April 23, 2016
Saturday Gardening Thread: California Here We Come! [Y-not and KT]
PLEASE KEEP POLITICS OFF OF THIS THREAD. THANKS!
Y-NOT
Y-not: Greetings, gardeners!
I got nothing.
Actually, I lie, I *do* have content, but it's not finished yet and I have things to do today. Here are a few links to make amends:
Garden Art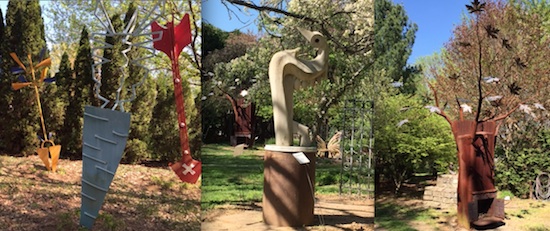 A recent visit to a small and quirky garden center inspired me to look for sculpture garden links.
Via the WSJ, here's a list of five top-rated sculpture gardens. This list focuses on U.S. sculpture gardens.
The Storm King Art Center appears on many of these "best of" lists. Here's a striking piece called Black Flag by Alexander Calder:
Has anyone been to Storm King? Where's your favorite sculpture garden?
In honor of Prince, here's an interesting article about one of the most recognizable pieces of garden sculpture in the U.S.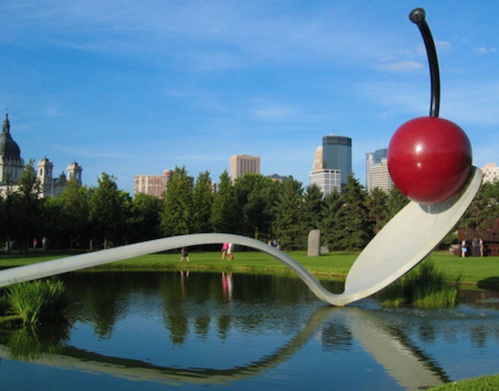 The spoon itself weighs 5,800 pounds and the cherry, another 1,200 pounds. The cherry's stem also acts as a fountain which sprays into the bowl of the spoon and off into the pond beneath. Even the pond itself has meaning, being shaped to resemble a linden seed, drawing attention to the rows of linden trees planted nearby.
Link to the Walker Art Center, which curates this piece, here. You can see it and other works of art at the Minneapolis Sculpture Garden.
Biographies of the artists here.
Want inspiration to create your own sculpture garden? This article from Midwest Living might appeal to you.
Or perhaps this article will get your motor going! (SWIDT?)
I tried, but failed, to discover who "invented" those art pieces made from old car and tractor parts. (I suppose they were an extension of the "found art" movement or perhaps something that was always part of "folk art.") I remember how cool I thought those animals made from old automotive parts were when I first saw one at an art festival -- now they are everywhere! These are particularly amazing.
Have any of you made garden art from reclaimed items?

Now, here's the irreplaceable KT to share some interesting information about gardens in California (and some creepy crawlies)...
Staying Underground
Last week, Y-not took us to Mammoth Cave National Park. The cave system there is a remarkable natural wonder. This week, I thought we could take a little virtual visit to a man-made underground wonder.
"To make something with lots of money, that is easy.
But to make something out of nothing --that now, is something!"
Baldassare Forestiere
On Monday, I heard on the radio that Forestiere Underground Gardens in Fresno had won the Reader's Choice Award from USA Today for Best Underground Attraction. I have driven by the entrance, which was not particularly touristy - not even inviting, really. It's been a while. Hope they have spiffed the front up some since then. I guess the good stuff was all hidden underground.
TripAdvisor has photos and reviews.
Baldasarre Forestiere came USA from Sicily "to escape the iron rule of his wealthy father and pursue his own dreams." His first job in America was digging for the early subway system in Boston. He had admired catacombs in his native land, and patterned his eventual underground complex after them.
But unlike the darkness of the Old World's catacombs, Forestiere designed naturally lit courtyards, driveways, even a glass-bottomed aquarium (now not in use) below which he could sit and read. No plans were put on paper; each room and passageway originated in Forestiere's mind as he went. With the simple tools of a farmer—a pick, a shovel, a wheelbarrow, a dragged scraper, and eventually two mules—the determined immigrant dug, chipped, and carved his personal monument to ingenuity for 40 years in his spare time. By the time he was 44 years old, he had excavated and planted over 10 acres.
The gardens no longer occupy 10 acres, but there are three levels in some parts of the remaining gardens. Inhabitat has a nice little summary and slideshow.
Forestiere began building the underground arboretum in 1906 when he bought land near Fresno that he thought was fertile, but soon discovered it was hardpan. Seeking to escape the scorching heat of the San Joaquin Valley, he was inspired to seek refuge underground, where he found that the soil was actually fertile for growing plants. Over the course of the next 40 years until his death, he carefully carved 10,000 square feet of subterranean bedrooms, living rooms, a kitchen, a chapel, a fish pond, and a network of gardens, trees and trellises all by hand- and without architectural training.
Plants of the Sequoia and Kings Canyon National Parks
If you decide to visit the underground gardens in Fresno, you might also want to swing by nearby Sequoia and Kings Canyon National Parks. I once had a close encounter with a bear in Kings Canyon National Park, which includes the deepest canyon in the USA. It is fascinating to see the changes in vegetation as you drive higher and higher in these parks, or during trips to any of the nearby national or state parks, monuments or forests.
This topographic diversity . . . supports over 1,200 species (and more than 1,550 taxa, including subspecies and varieties) of vascular plants, which make up dozens of unique plant communities. These include not only the renowned groves of massive giant sequoia, but also vast tracts of montane forests, spectacular alpine habitats, and oak woodlands and chaparral.
Before your trip, you might chose a book on the local wildflowers via the AoSHQ Amazon Store. There are some showy larger flowering plants in the parks, and also charming little wildflowers. Some adapt readily to gardens and may even be used to replace thirsty lawns. Note that the photo at the preceding link is from Three Rivers, a little community at the main entrance to the parks. One plant that adapts well to similar xeric landscapes is Silver Bush Lupine. Sometimes I am surprised to see a big specimen blooming on a slope in the lower foothills after coming around a bend in the road. It can seem like someone planted it just to delight motorists.
Five Spot is one annual wildflower from Sequoia and Kings Canyon that adapts readily to gardens. Makes a good bulb cover. Broadcast seed in late fall where winters are mild, or in earliest spring elsewhere (except the desert). Where conditions are moist and humid, it will re-seed. Need a pound of seed?
Sequoia is also home to the
General Sherman Tree,
the largest tree, by volume, in the world.
General Sherman Tree. Photo by Jim Bahn
You can read more about these fascinating trees and see historic and recent photos including people for scale at Monumental Trees. The word Sequoia is taken from the name of the inventor of the Cherokee Syllabary. In the early 20th Century, Native Americans attempted to establish a State of Sequoyah.
Giant Sequoias, Coast Redwoods and Dawn Redwoods are each in their own one-species genus, a sub-family of the Cypress family. There are Coast Redwoods that are taller than the more massive Giant Sequoias. The tallest Coast Redwoods are able to increase their height beyond the limit normally imposed by gravity because the leaves on upper branches take water directly from fog. Where there is no regular fog, the trees are shorter. Maybe not as short as this 55 year old bonsai from the Brooklyn Botanical Garden:
Photo by Jeffrey O. Gustafson
The leaves of Giant Sequoias can also absorb water from the air. But there is far less summer fog in the spots in the Sierra Mountains where they grow than along the Northern California coast where the Coast Redwood grows. Giant Sequoias are hardier to cold than Coast Redwoods, but sometimes get fungal diseases outside their native range. A nasty disease went through the Valley a few years ago, killing many of these trees. I don't remember the details. Mr. Bar-the-Door recently cut down a sickly tree in a friend's front yard. His brother had planted it as a seed, just for kicks. The stump is almost three feet across. Pro Tip: Do not plant a Giant Sequoia near your sewer main. Or near your home, for that matter. There are pretty green sprouts coming up from the stump now. Fits a pattern for this species.
The Giant Sequoia grows successfully in some other places in the world, and there are a few selected cultivars. There is a bigger selection of cultivars of the Coast Redwood, including trees with weeping branches. I don't know if there are selected cultivars of the Dawn Redwood, the pretty deciduous cousin of the trees above. All of these trees grow big. They are not for small yards.
In their native habitat, Giant Sequoias seem to be quite dependent on not-too-hot fires for the successful growth of new trees. But last year's wildfire, the Rough Fire, threatened Grant Grove, which includes the second-largest Sequoia in the world. It was so dry.
Critters of the Week: Millipedes and Centipedes

During the night, in or near the parks, you might encounter glowing, blind millipedes.
The bugs are easy enough for humans to find; simply look for an orange, flat millipede around five centimeters long foraging on the forest floor at night. Amateur entomologists can also search with their noses since these insects are also called the "Almond Scented Millipede" due to the characteristic almond smell of hydrogen cyanide.
UC Davis has a nice summary on how to identify and control millipedes and centipedes (if necessary). Millipedes do not bite, but may exude a toxic liquid that you should wash off your skin if you touch one. Centipedes can bite. Have you ever encountered either one in your garden or home?
DesertUSA has considerable information about centipedes. The biggest centipedes in the USA, with the most painful bites, live in the Southwest. Note that the tail section sort of resembles the head. If a predator bites the tail section, hoping to disable the centipede, it can swing its head back to bite.
Banded Desert Centipede
Have you ever encountered these critters in your yard, or in your home?

Y-not: Thanks, KT!
To close things up, here's another pretty barn quilt square that I spotted recently: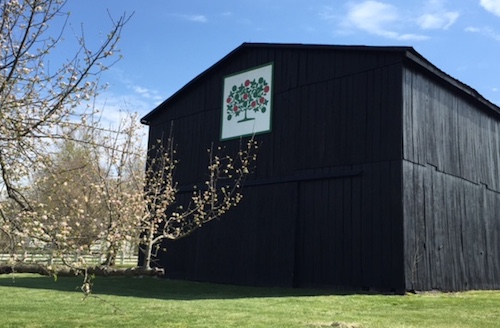 (Some links are broken, but this site lists the locations of many of Kentucky's barn quilt squares.)
And here's an appropriate song from one of my favorite movies:

What's happening in YOUR gardens this week?

posted by Open Blogger at
12:30 PM
|
Access Comments