« Ace of Spades Pet Thread
|
Main
|
A Visit From Saint Hillary »
December 17, 2016
Chess Thread?
Our esteemed Oregon Muse is trapped in an ice storm without power. He did manage to get out a message saying that he was unable to post a chess thread today because he was busy eating his kin to survive. Things get a little strange around here when one of us is unable to perform our assigned duties.

So they've sent me along as a surrogate band, I'm going to find out where you fans really stand. Oh, wait, no, that's Pink. Sorry.
How about more super hero comics?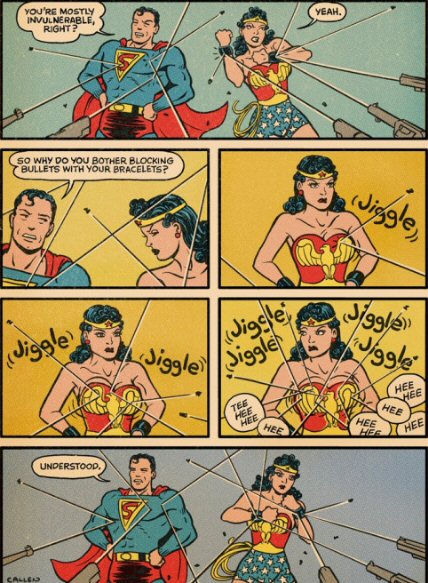 Actually, all of this is just a desperate tap dance to conceal the fact that I know very little about chess. That's not entirely true, I know how to play, and I enjoy it, but I've never played enough to get good at it. Mostly I'm staring at the board trying to figure out where to move the horsey thing so that I can have room to put down my beer.
John Urschel, on the other hand, does know a rook from a knight. He's smart as hell, a doctoral candidate in mathematics at MIT and he just so happens to be an NFL lineman with the Baltimore Ravens. He he is playing against the greatest American-born chess player in the world.
Not bad for one of Joe Flacco's meat shields, huh? He is also featured in an NFL commercial playing chess against a gym full of high schoolers - all at once. Lots of odd ducks (for the NFL) on the Ravens. A lineman who is a genius and their kicker, who happens to be the best in the game, is also an accomplished opera singer who speaks five languages.
Well, I suppose I've wasted enough of your time today. Open thread for discussion of chess or anything else.

posted by WeirdDave at
04:25 PM
|
Access Comments