« Saturday Morning Weird News Dump
|
Main
|
Saturday Gardening Thread: Pre-Christmas Buffet [KT] »
December 10, 2016
Thread below the Gardening Thread: The Ants of Christmas Island [KT]
Serving your mid-day open thread needs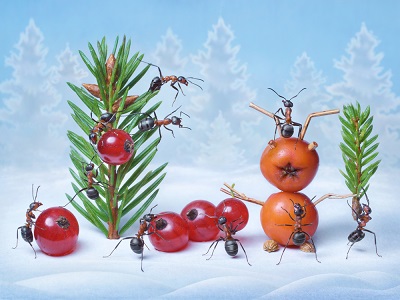 How to Keep Ants Off your Christmas Tree
Yesterday, Ace posted a piece on refugees, many from terrorism-prone countries, whom Obama has agreed that the USA will take so Australia doesn't have to. If you followed the link, you discovered that these are:
illegal aliens intercepted at sea by Australia and held in camps outside that country, on two Pacific islands.
Not long ago, Australia kept a lot of these intercepted-at-sea immigrants in a detention center on a far island outpost called Christmas Island. This got to be too much for the 2,000 residents of the island to handle.
But Christmas Island is plagued by another kind of refugee, the Yellow Crazy Ant. Despite the saying "communism never works", these ants have formed supercolonies on the island while living a communist lifestyle.

The ants first came to the island in the 1940s, apparently. They did not start forming supercolonies until the 1990s. These colonies threaten native wildlife, especially crabs, the island's big claim to wildlife fame.
Speaking of ants, while rummaging around in the AoSHQ blogroll earlier this week, I ran across a piece at Enter Stage Right by Samuel Chan. It is about why socialism never evolves into communism. I think this piece is suitable for sharing with young people currently undergoing progressive indoctrination.
As myrmecologist (ant entomologist) E.O. Wilson said,
"Wonderful theory, wrong species."
I am apparently not the only one who has been thinking about Marxism lately. Last Sunday, CBD worked Marxist labor theory into the Food Thread. And Oregon Muse noted in the Book Thread that:
The rat bastard commies figured out long ago that as long as they proclaim they good intentions, people will believe them. And I think that religious types are especially vulnerable to this line of baloney because of the biblical admonitions to help the poor and needy.
Marxism, labor theory and helping the poor and needy all make at least cameo appearances in AntZ. Remember Chip and Muffy?
Hope your weekend turns out better than Muffy's. Have a great one.

posted by Open Blogger at
11:36 AM
|
Access Comments