« Dick Cheney On Donald Trump
|
Main
|
Mid-Evening Thread With Generic Title »
December 04, 2016
Food Thread: The Labor Theory Of Value And Fast Food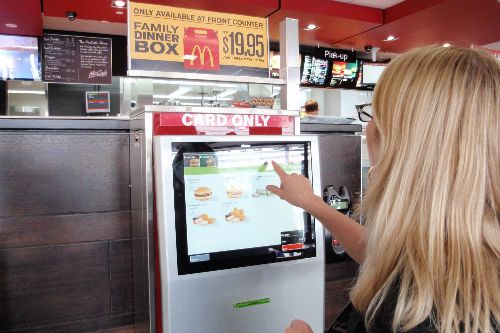 Karl Marx -- the MSM's favorite economist -- had some interesting views on labor and its value in any economic system. He called it "The Law of Value,"(here is a free download of his book) but it is insane no matter what it is called.
If I can build a car with x hours of labor, and the poor schmuck next to me on the assembly line needs 1.5x hours to build the same car (obviously a Red Sox fan), which car is more valuable?
McDonald's, a large consumer of minimum wage labor, has decided that the current mania for a $15 minimum wage, or "living wage," or "Let's Destroy Labor-intensive Industries and Put More People Out of Work Wage," is a fine catalyst for an expansion of their drive to automate their stores. In a bizarrely titled article, McDonald's shoots down fears it is planning to replace cashiers with kiosks, Business Insider quotes the CEO of a food chain saying that automation is a direct response to the $15 minimum wage insanity.
Bennigan's CEO Paul Mangiamele said in a recent interview that McDonald's kiosks -- as well as self-service technologies at other chains like Panera and TGI Fridays -- are a direct response to rising labor costs and calls for a higher minimum wage.
No! Say it ain't so!
The McDonald's spokeswoman responded with a marvelous piece of non-denial denial, and clearly didn't shoot down any such fear that the company will try to...you know...make money for its stockholders and try not to price itself out of business by overpaying for labor.
I eat fast food rarely, and when I do I am extremely price sensitive, or in Econ-speak, my price sensitivity is extremely elastic, as, I am confident, are most of yours.
Entry level jobs are, by definition, for people who are just entering the work force and who have no marketable skills. My first real job was shoveling dirt. Lots of it. If my employer's cost to hire me approached the cost of renting a small backhoe, What would he have done?

*****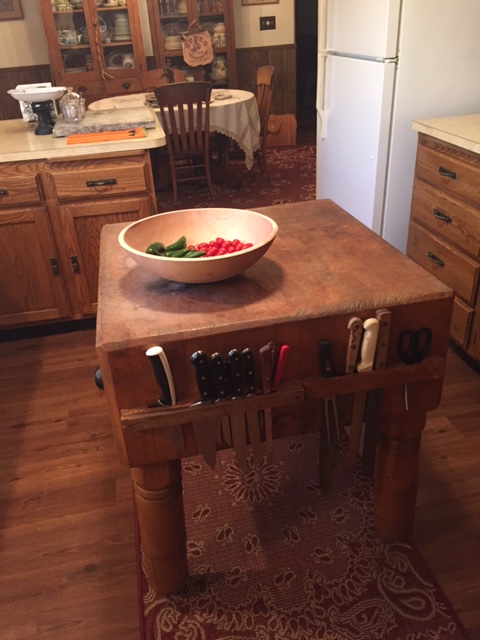 I have absolutely no recollection why commenter "concrete girl" sent me this photo (It was just after she sent me an awesome painting for the morning art thread). Senility rests lightly on the Dildo...But it looks great, and I have no content for today's Food Thread, so what the hell. I also happen to love jalapenos, and in fact had a bison-jalapeno burger last night that was excellent.
Actually, I was going to hit up you maniacs for cook book ideas, but I think I will wait for artisanal'ette to write a guest Food Thread dedicated to cook books, because as far as I can tell, she owns them all.
But what about kitchen gadgets? There are, seemingly, millions of them, but I don't own many, and use even fewer. My favorite is a vegetable chopper that is a labor-saving marvel (Sorry Karl!). What about you people? Any kitchen gadgets that you like?

******
Chicken Fingers. Yup..I love 'em. And don't lie....so do you. And if Ace tried mine he would happily give up his GAINNZZ for the week. But they do require frying. I don't really deep-fry them; I flip them halfway through cooking, but really, it's a quantitative, not qualitative difference. And in fact some frying techniques call for intermittent frying, so it's pretty much just frying.
So when I saw this recipe I had to chuckle, because there are 83,000 recipes on the web for ersatz fried food that the cook fakes by baking. And they all suck. But this one comes from somebody who really does like to eat, so I will give it a shot.
Oh, I made a sort of dipping sauce for my last batch of fried chicken fingers that I modeled after a sauce I had in San Francisco at a spectacular neighborhood restaurant called Out The Door. It's complicated, but I think it's worth the effort.
Butter + Sriracha Sauce + Microwave until melted. Whisk. Dip. Enjoy.

******
Everyone cooks tomato sauce to death. Stop.
Tomato Sauce


28 ounce can of good quality crushed tomatoes

Basil

Thyme

Oregano

Pepper

Olive Oil

Sugar
Add a small pinch of the herbs, and salt and pepper to taste. If the tomatoes are not very slightly sweet, add a small pinch of sugar. Add one ounce of olive oil and stir.
Use in place of those silly cooked sauces that take way too much time.
Recipe can be doubled or tripled or quadrupled or quintupled or.....
Tips to cbd dot aoshq at gee mail dot com
&topic=world_news">

posted by CBD at
04:00 PM
|
Access Comments