« Thread below the Gardening Thread: The Ants of Christmas Island [KT]
|
Main
|
Ace of Spades Pet Thread »
December 10, 2016
Saturday Gardening Thread: Pre-Christmas Buffet [KT]
Hello, Horde! It's been a crazy week, I couldn't come up with a theme. So today, a Gardening Thread Buffet. Let's start some inspiration from a virtual tour of Christmas displays at botanical gardens, like the Longwood Botanical Gardens below.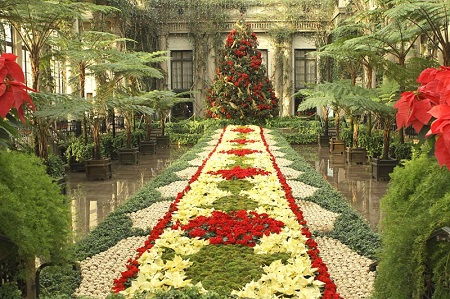 More things to do with all that winter squash and pumpkin
Several of our favorite Gardening Thread Commenters grew and stored (processed or not) winter squash and/or pumpkin from the garden. Last night, I did some quantity cooking for a church Christmas party. Made one of my favorite holiday party recipes, Pumpkin Bread Pudding with Caramel Sauce. It is adaptable to home-processed pumkin. Use a generous 1 1/2 cups of puree in place of a 15 oz. can. I usually make a double batch in an 11 x 15 in baking dish. I leave out the golden raisins (allergic to sulfites). Other recipe notes will appear in the comments.
The Nichols Garden Nursery catalog features an unusual selection of recipes, along with seeds, plants and gift items. They are in the Pacific Northwest, where squash and pumpkins are popular in the garden. The savory Unsweetened Pumpkin Tart is a nice way to use some of that extra winter squash if you're tired of sweet stuff.
Garden Gifts
Nichols (linked above) has gifts for gardeners, brewers and winemakers who may want to give some garden gifts to others. Anybody making infused oils, jelly, jam, or other garden goodies as gifts? Here are Three gifts any gardener will treasure. The site promises 'horticultural how-to and woo-woo'. What do you think?
Garden Miscellany
Last week in the comments, Paul A'Barge included a link to a gardening site that looks useful. Well organized. Check it out.
PJ Media posted a piece on a children's army recruited to fight an enemy as dangerous as the Germans in WWI, the California Ground Squirrel. When we first moved to our present location, there were vacant fields all around, including one next door, where ground squirrels and pocket gophers ran wild. Our dear departed dog Snickers bit a huge chunk out of the bottom shelf of a cabinet in the garage trying to get to one of those squirrels. Dug long tunnels, too. We thought about sending him to engineering school.
Anyway, I thought the children's army thing was interesting.
Gardens of The Horde
Still picking pomegrantes here, and persimmons from our friend's house. Anything going on in your garden? Have a wonderful week.
As dangerous as the enemy in Europe?

posted by Open Blogger at
12:50 PM
|
Access Comments