« EMT - Sunday 12/4/16
|
Main
|
Dick Cheney On Donald Trump »
December 04, 2016
Sunday Morning Book Thread 12-04-2016: A Long-Awaited Death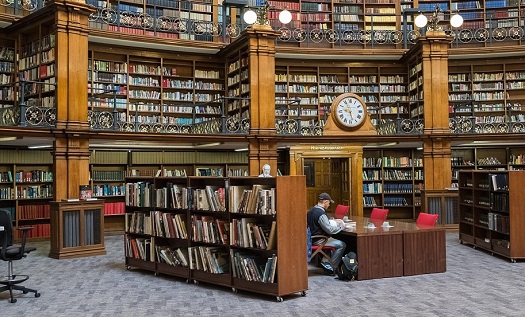 Picton Reading Room, Central Library, Liverpool, England
Click for full size image

It's another beautiful day at AoSHQ's stately, prestigious, internationally acclaimed and high-class Sunday Morning Book Thread and continual soiree, where men are men, all the 'ettes are impossibly attractive, safe spaces are underneath your house and are used as protection against actual dangers, like tornados, hurricanes, politically motivated social media attacks, President Elect Donald Trump, and special snowflakes do not get respect, but instead, belly laughs. And unlike other AoSHQ comment threads, the Sunday Morning Book Thread is so hoity-toity, pants are required. Even if it's these pants, which are about as ugly as you can get.

Against All Hope
Years ago, I remember seeing the industrialist Armand Hammer on some TV talk show (probably the Tonight Show during the Carson era), and he was talking about the time he spent doing business deals in the Soviet Union, and incidentally, getting very rich in the process. Of course, Hammer was a big-time commie tool, and ne spoke of some meeting he had with Joseph Stalin that convinced him that the murderous psychopath was a great humanitarian. "...Stalin had tears in his eyes when he said to me, 'But what about the people?'" Hammer was apparently impressed that Stalin could exercise his tear ducts on cue. So Johnny told him, "What are you, an idiot? How do you get to be so rich by being so dumb? Don't you know you were being played?" When Hammer tried to protest, Johnny said, "Look, I've got 3 ex-wives, so I *know* about being played for a sucker!"
Actually, that's the speech I *wanted* Carson to make. He never said any of that. If he had any reservations about what Hammer told him, he kept them to himself. But that's when I realized that an essential part of the totalitarian commie thug business model was a lot of jabber about "children" and "the poor". It's like the old NYC mafia don (I forget which of the 5 families he ran) who dressed up as Santa every year at Christmas and handed out gifts.
The rat bastard commies figured out long ago that as long as they proclaim they good intentions, people will believe them. And I think that religious types are especially vulnerable to this line of baloney because of the biblical admonitions to help the poor and needy.
It takes a certain amount of backbone to call out this fakery for what it is. Nobody wants to be against "the poor". Or "the children". Nobody wants to be painted as an ogre. But the lie is so effective that liberal old ladies in tennis shoes will defend commie thug tyrants even as they produce tens of thousands of refugees fleeing in leaky boats from their despotism.
One man who wasn't fooled by any of this is the author Humberto Fontova. He and his family fled Castro's socialist paradise in 1961 when he was 7 years old. He has no illusions about Castro and does not suffer fools gladly. He wrote about the adulation given to Castro by the ignorant glitterati in his book Fidel: Hollywood's Favorite Tyrant,
[T]here's a lot that Hollywood liberals and other Fidel Castro admirers would rather you didn't know about the dictator of Cuba—like how he imprisoned more people as a percentage of population than Hitler or Stalin; how Fidel's firing squads killed thousands of Cubans; how Fidel's subjects would rather inject themselves with AIDS than live under his tyranny...Drawing on a wealth of research—including interviews with former Castro regime officials, anti-Castro freedom fighters, and Castro's political prisoners—acclaimed author Humberto Fontova reveals the ugly face of the Castro regime. Along the way, he punctures some of the egregious myths about Cuba
Before Castro, Cuba was actually not a bad place to live, even under Batista. Yes, Batista was a dictator, but Fidel made him look like an amateur. And Batista didn't send thousands of Cubans fleeing the country in leaky boats.
Fontova also wrote The Longest Romance: The Mainstream Media and Fidel Castro:
History records few propaganda campaigns as phenomenally successful or enduring as Castro and Che's. The Longest Romance exposes the full scope of this deception; it documents the complicity of major U.S. media players in spreading Castro's propaganda and in coloring the world's view of his totalitarian regime. Castro's cachet as a celebrity icon of anti-Americanism has always overshadowed his record as a warmonger, racist, sexist, Stalinist, and godfather of modern terrorism.
As Joseph Stalin could count on NY Times reporter Walter Duranty to run interference for him, Fidel Castro had Herbert Matthews, who was, get this, also a reporter for the NY Times. He used to crank out swill like this:
"There are no Reds in [Castro's] Cabinet and none in high positions in the Government or army in the sense of being able to control either governmental or defense policies. The only power worth considering in Cuba is in the hands of the Premier Castro, who is not only not Communist but decidedly anti-Communist…" Herbert Matthews, 16 July 1959
Matthews' hagiographic reporting greatly influenced US foreign policy toward Cuba, as detailed in the book The Man Who Invented Fidel: Castro, Cuba, and Herbert L. Matthews of The New York Times by Anthony DePalma:
His heroic portrayal of Castro, who was then believed dead, had a powerful effect on American perceptions of Cuba, both in and out of the government, and profoundly influenced the fall of the Batista regime. When Castro emerged as a Soviet-backed dictator, Matthews became a scapegoat; his paper turned on him, his career foundered and he was accused of betraying his country
The only question is, was Matthews simply a clueless boob (as some liberals are), or did he know he was not telling the truth about Castro? I'm not sure it matters. Assuming he was ignorant of the truth about Castro, theologians make a distinction between "vincible" and "invincible" ignorance. I think Matthews' is the "vincible" sort, i.e. he really ought to have known. And furthermore, he had a responsibility to know, given his job as a reporter, and given his presence in Cuba where he could easily have found out the truth. Matthews clearly has blood on his hands. Or, had. He died in 1977. I'm glad to hear that his career suffered because of the crap that he wrote. I'm also glad he didn't follow in Walter Duranty's footsteps and win the Pulitzer Prize.

Epiphany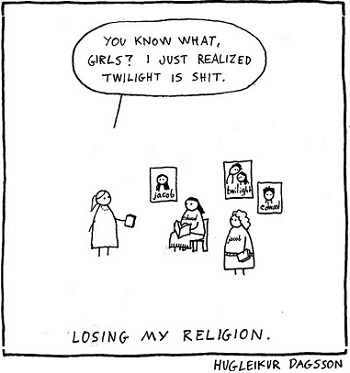 (h/t Anna Puma)

___________
Moron Recommendations
Moron buzzion writes:
A high school classmate has just published his second book with his wife, also high school classmate. It is dealing with loss and faith. I think it would be nice for more eyes to get to see, and there are a lot of eyes at the horde. They're both wonderful amazing people and I think deserve it.
The book is It's not OK. And that's OK.: Inspiring stories from loss to love, and heartache to Hope by Benjamin and Lynn Hartings.
Ben Hartings has buried a son, beaten cancer two times, raised four beautiful children, married an incredible wife, written three books and read exponentially more.
So when it comes to suffering, it sounds like the Hartings know whereof they speak. As Christians, they have hope that goes beyond this mortal life:
This book is full of lessons and stories through when Life is NOT OK! Disease, Diagnosis and Death overcome our lives - These stories will lead you to the knowledge and peace that - "It will be OK" - regardless of the outcome, because of faith in Jesus Christ.
Available in paperback only.
I think some of you morons probably need this book. I have read a few comments on this blog detailing life hardships that have absolutely staggered me. I'd be curled up in a fetal position and weeping uncontrollably like Trigglypuff at a pro-life rally if I had to endure the things that some of you have.

___________
On ace's book recommendation thread back in June, Anna Puma mentioned Glenn Cook's Starfisher Trilogy
zombie asked if there were any famous sci-fi books set on a planet like Mercury
...that is "tidally locked" with its sun, so that one side always faces toward the sun and is super-hot, and the other side always faces away and thus is super-cold; as a result, there is an extremely thin "ring" around the planet defining the "sunset edge" where the sun is just barely visible on the horizon at all times. Thus, in this "ring," maybe only a mile wide, encircling the whole planet top top bottom, there is a zone of mid-temperature livability.
To which Anna Puma mentioned that
The first book of Cook's Starfisher Trilogy is called Shadowline and it's all about these two companies on a tidally locked planet fighting for control of the resources. So each hires a professional mercenary company to fight their war. But there are complications beneath the seemingly straight forward story.
The sequel is Starfishers and the third book in the trilogy is Star's End

___________
From a comment posted on a Friday thread-- oh heck, there's not much I can add to it, so I'm just going to copy and paste the whole thing:
141
While shopping on Amazon for ebooks, Amazon recommended a 99 cent republishing of something originally published in 1920; 'William Bradford of Plymouth Plantation' (B01M7TP226). The 1920 edition edited by Harold Paget.

The language is a bit more modern but I was surprised to read that in 1620 in England 'religious' was a pejorative in the same way that 'Christian' is today. It also details the 'established' churches of that time were obstacles and attempted to impede the Puritans in much the same way that modern leftists are doing. Back then you could be imprisoned for your religious belief. Today, you get hauled into court and fined.

The Puritans were cheated out of their money, and promised provisions and re-supply that never arrived.

I'm only about half way through the account, but I'm in awe to think these are the (modern) words of William Bradford from 500 years ago.

Posted by: Gordon Lancaster at December 02, 2016 12:27 PM (dRW51)
The Kindle edition of William Bradford of Plymouth Plantation is still available for 99 cents.

___________
Don't forget the AoSHQ reading group on Goodreads. It's meant to support horde writers and to talk about the great books that come up on the book thread. It's called AoSHQ Moron Horde and the link to it is here: https://www.goodreads.com/group/show/175335-aoshq-moron-horde.

___________
So that's all for this week. As always, book thread tips, suggestions, bribes, rumors, threats, and insults may be sent to OregonMuse, Proprietor, AoSHQ Book Thread, at the book thread e-mail address: aoshqbookthread, followed by the 'at' sign, and then 'G' mail, and then dot cee oh emm.
What have you all been reading this week? Hopefully something good, because, as you all know, life is too short to be reading lousy books.

posted by OregonMuse at
09:02 AM
|
Access Comments