« Confession Is Good For The Soul [Warden]
|
Main
|
The Morning Report 12/8/16 »
December 07, 2016
Wednesday Night ONT - Liberal Tears Edition
Hi everybody! What time is it? It's ONT time!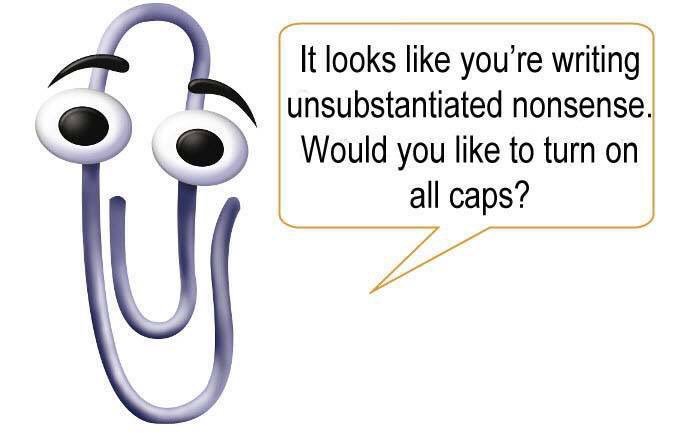 Special Snowflakes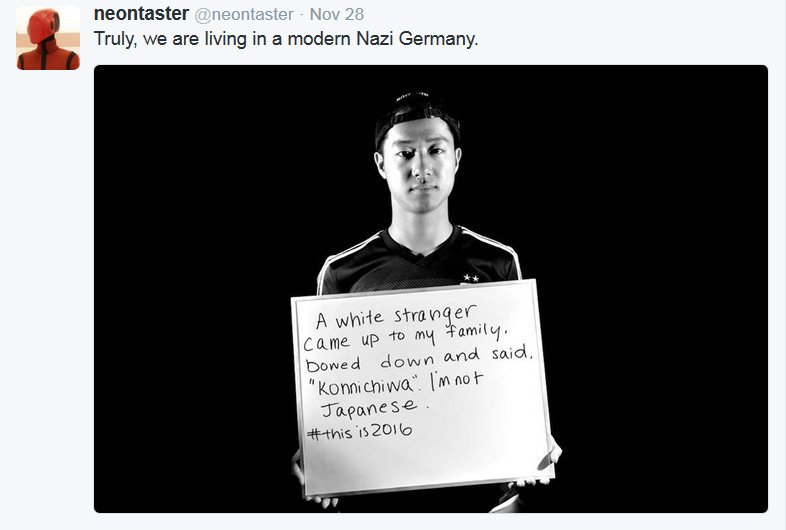 The election of Donald Trump has caused lots of people on the left to become seriously mentally ill. I'm not kidding. Look, I'll admit it. When JEF won reelection, I was depressed. I spent the next day in bed. I had scheduled the day off anyhow, and so I just laid in bed intermittently sleeping and watching TV. I had the luxury to be able to do so, so I did, even as I recognized it was an indulgence. The next day, however, I got up and went to work. Here we are, a month out from the election, and the sheer insanity on the left shows no signs of slowing down. In some cases, it's mild-ish:
"I cried for three days," the Atlanta native, 45, recalls. "I felt like it was the worst thing, politically, that ever happened in my lifetime. It was catastrophic." By Friday she noticed grays growing in, so she put on her big-girl panties and dragged herself to the drugstore. "Literally without thinking, I grabbed the Natural Black box by Garnier," she says. "I was like, f** it! The election deadened my soul. I think I wanted to do something defiant to feel stronger."
Yes. Oh my God, Yes! Dye your hair! That'll show America. Even better, get a bull dyke buzzcut. Or a spike cut. Or just shave your head entirely. I tell you, if loads of fat, miserable liberals start walking around looking like Rachel Maddow on a cocaine bender, the country is sure to demand a do-over! If course, it doesn't matter because some of them have decided that they ain't putting out anymore anyway.
Trump's election stole my desire to look for a partner
I get the feeling that there's a small town in Montana where everybody's going to know that when the author of this piece is seen sitting alone at the end of the bar chain smoking Camels and crying in her Chardonnay, why, a bitter hate fuck is there for the asking. *IF* one can stand the endless whining needed to get her into the bed of your pickup for the two minutes of rumpy-pumpy. And then there's those who just went completely around the bend, like this gay guy from New York who left the Javits Center November 8th and checked himself into the looney bin (really):
How I Ended Up In A Psych Ward On Election Night
SO MUCH insanity. Someone (maybe Peety S Dee?) needs to re-write The Rolling Stones Mick Jagger's 1986 song Ruthless People for these losers. "Hey! Useless people!"

Rounding out our tour of liberal tears is this piece by Kos over at Daily Kos who just wants everyone to know Yes, I'm angry. Pissed. Livid. And yes, at pretty much everyone
Related: Hollywood PR Firm Cancels Holiday Parties Due to Depression Over Trump
Awwww.

Christmas Cheer
The 2016 Hater's Guide To The Williams-Sonoma Catalog
Copy: "Digital screen shows number of cork pulls left in charger."

Drew says: Well, thank God for THAT. I can't tell you the number of times I've had the electric corkscrew go out on me right in the middle of opening bottles of emergency Chianti for UNICEF kids.
Lots more good stuff taking the piss out of the SkyMall of holiday catalogs. Bonus links to previous installments of the series. A true holiday classic!
Good Excuse
Kangaroo Punching

Video at link. Honestly, the outrage from PETA types after this film surfaced has been entirely predictable. The kangaroo was fine, the man saved his dog, which was the object of the exercise, what's the problem? Although I do admit, the clip of him nailing the 'roo with a right cross is pretty damn cool. How many people can say they've done that?
In other animal news: Herd of reindeer wiped out by lightning strike (video). At least the lightning didn't punch them.
Pool Party!

Parenting
Enough? Touching letter from a mom to the unknown child she gave up for adoption.
Related: Thank You for the Autism In some countries, over 95% of babies that have a questionable screening test for Downs are aborted, and the eugenics crowd is pushing to make that 100%. France has just made it illegal to post pro-life information online. It's sick. I am blessed that both of my children are relatively "normal" (Big is bi-polar, but after years of frustration and anger he's found the right combination of medications and is finally living a normal life), but a personal twenty year friendship with a guy who is wheelchair bound, and stories like this, convince me that the urge to "perfect" the species isn't doing any favors to our humanity. All lives matter.
VR Fail Fall

Florida Man on Vacation

Cops called to gas station after man squirts bear spray down pants, strips nude, then pours milk on genitals. Take off to the Great White North. I showed this to my Canadian wife whose only comment was "Psychedelic mushrooms grow wild there".
Troll Level: Master

Minor Content Warning for stick-figure butt-sex

The Art of War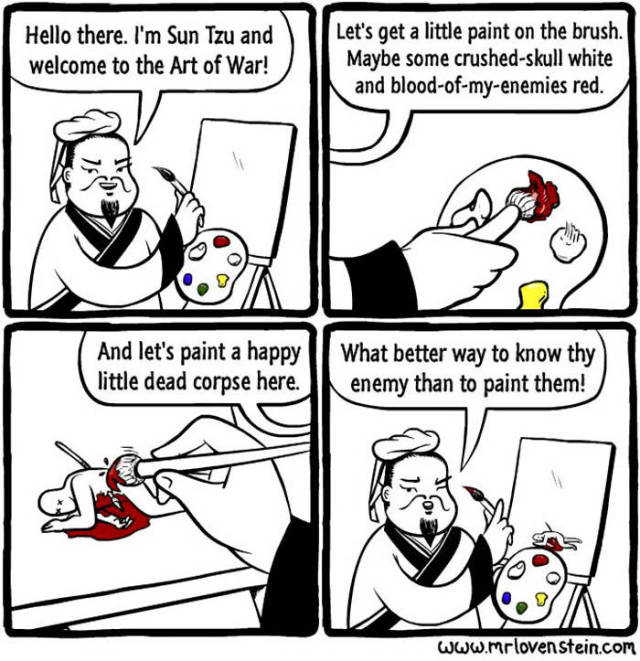 Organ Harvest
Two movies China desperately wants to hide
China is butchering political prisoners and selling their organs to the highest bidder. I remember when this was just the plot to a sci-fi/horror novel. What a piece of work is a man, how noble in reason, how infinite in faculties, in form and moving how express and admirable, in action how like an angel, in apprehension how like a god!
Car vs Copter

From Top Gear Korea Video at link. No serious injuries. Any helicopter pilots care to speculate what that snake driver did wrong?

Tonight's ONT brought to you by tie fighters:
The Yahoo Group wants to take a road trip to Branson, Mo.


posted by WeirdDave at
10:21 PM
|
Access Comments