« Thread below the Gardening Thread: Nov. 5, 1916 [KT]
|
Main
|
Open Thread Below The Pet Thread [OregonMuse] »
November 05, 2016
Saturday Gardening Thread: Pressing forward [KT]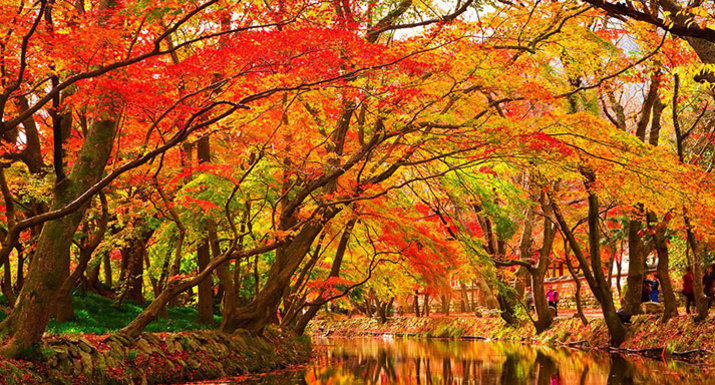 7 uses for autumn leaves
Make that six uses. I guess "for a hedgehog house" doesn't count in the USA.
Leaves have just started to turn here in the San Joaquin Valley. Are you currently dealing with fallen leaves? Any exasperation out there? Tips?
As Thanksgiving approaches and summer fruits disappear, I start to think about apples. This year, I have been thinking about . . .
Cider Presses
My experience with juicing apples is limited to using one of those veggie/fruit juicers with sweet, dessert-quality apples. I liked to put a little lemon juice in the bottom of the glass that would catch the juice to avoid oxidation. I liked a little fresh ginger in the juice. That's not very cider-like.
If I ever make a cider press, it will probably consist mostly of a bucket and cheesecloth. But I have been impressed by members of The Horde who have made their own cider presses, and those who are thinking about making a cider press. We have discussed home-brewed cider before, but making your own press is a step beyond what most home brewers do, I think. Perhaps we could aggregate some tips for prospective press-builders today. I imagine that a press could also be used for grapes if you are not into trampling out the vintage.
Here are some tips for low-cost home cider production. That Scrumpy Cider sounds Moron-adaptable.
Some "experts" say use only cider apples, others mainly dessert and others mainly cooking but in reality most home cider makers use whatever apples that they have at hand, even a proportion of crab apples is fine.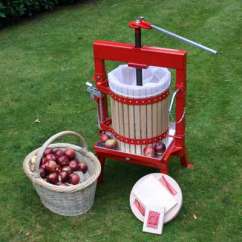 Small cider press
Gardening and the Chicago Cubs
A garden is always a series of losses set against a few triumphs, like life itself. - May Sarton
You have to be a pretty philosophical gardener to struggle with a series of losses for 108 years before a garden triumph. But Mesa, Arizona, where the Cubbies do spring training, provides some truly historical perspective to gardening. Mesa was once home to the Hohokam tribe.
The Hohokams developed sophisticated techniques to turn this desert valley into an agricultural jewel. Their most remarkable construct was a massive network of irrigation canals that carried water from the Salt and Gila rivers into cultivated fields- as far west as Buckeye and as far south as Casa Grande. Some of the original engineering is still in place, and the redevelopment of the original Hohokam excavations is what gave form to the Phoenix canal network and the agricultural history of Phoenix and it's surrounding cities.
I understand that it rained in the low desert at about the time of the Cubbies' triumph. November is generally a great time to visit even though there is no spring training then, and no spring wildflowers. There are pomegranates and citrus. You can see examples of (dry) Hohokam canals in Mesa at the Park of the Canals. Mesa Grande is an active archeological site, but an Interpretive Trail can be toured on some dates.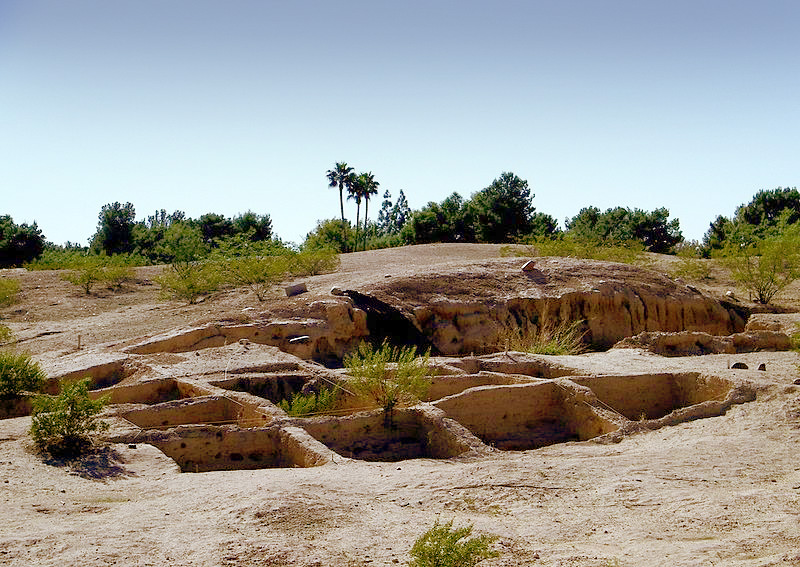 Mesa Grande
If you're in a more celebratory mood, you can go see some garden sculpture at the Desert Botanical Garden in Phoenix.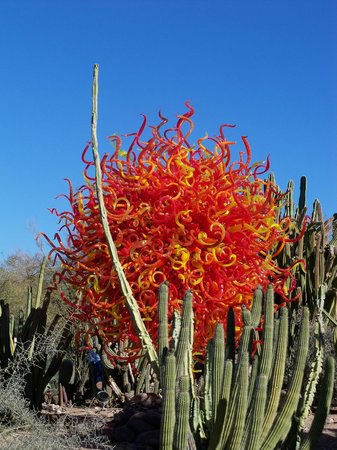 Gardens of The Horde
Anything going on in your garden? Have you taken a fall foliage tour? Made cider? Have a great weekend.
To close up, here's some outdoor-friendly music from the O'Connor Band. The vocalist is Mark and Maggie's daughter-in-law.

posted by Open Blogger at
12:45 PM
|
Access Comments