« College Football Thread
|
Main
|
Fundamental Concepts - Chesterton's Fence [WeirdDave] »
November 08, 2014
Saturday Gardening Thread: Celebrate! [Y-not, WeirdDave, and KT]
Greetings gardeners!
First off, in honor of Tuesday's wonderful outcome, let's all celebrate and have a good time with Kool and the Gang:
I assume most of you enjoyed some adult beverages while watching the election returns last week, so in honor of that fact today's thread will give you gardeners some fun facts about beers and ciders. Perhaps today's thread will inspire you to get planting - and planning!
To get us started, from Bon Appetit, here's a little bit about the etymology of hard cider:
In Hebrew, cider's root went by "shekhar," which is itself derived from the Akkadian (Ancient Babylonian) word for barley beer, "sikkaru." There's some contention in the historical biblical libation community on whether the Hebrew "shekhar" meant something more like ancient beer or ancient liquor, but it's generally translated in modern Bibles as "strong drink."

By the time the Old Testament made its way from Hebrew to Greek to popular Latin, "shekhar" had morphed into "sicera," which eventually ended up being the Old French "cisdre," and, finally, "cidre."
And here's a brief history of hard cider in the U.S. courtesy of Serious Eats:
America's love affair with hard cider stretches back to the first English settlers. Upon finding only inedible crabapples upon arrival, the colonists quickly requested apple seeds from England and began cultivating orchards. Grafting wood to produce proper cider apples arrived soon after and American cider production was well under way.

While apple trees had little trouble taking to the New England soil, it was trickier to cultivate the barley and other grains required for the production of beer. So cider became the beverage of choice on the early American dinner table. Even the children drank Ciderkin, a weaker alcoholic drink made from soaking apple pomace in water.

By the turn of the eighteenth century, New England was producing over 300,000 gallons of cider a year, and by midcentury, the average Massachusetts resident was consuming 35 gallons of cider a year. John Adams supposedly drank a tankard of cider every morning to settle his stomach.
So what happened?

Cider's popularity began to wane in the early 1900s. Huge numbers of German and Eastern European immigrants brought with them a penchant for beer over cider. Plus, the soil in the Midwest was more barley-friendly, so beer production was easier than it had been.
And then there was Prohibition and the Volstead Act.
As it turns out, hard cider is making a comeback. But there's a problem, according to Modern Farmer, there are not enough of the right kinds of apples:
In recent years, however, cider's seen a dramatic resurrection, aided by the gluten-free craze. "It's incredible how fast the growth has been," says Sherrye Wyatt, the executive director of the Washington-based Northwest Cider Association. Among the regional trade group's 44 cidery members, stories such as Bull Run's are not uncommon, Wyatt says. "They're not doubling or tripling sales -- it's thousands-of-percent increases." This spring, two beverage giants, Anheuser-Busch and MillerCoors, forayed into the U.S. cider market (with Johnny Appleseed and Smith & Forge, respectively).

'Hard cider' -- as pretty much only Yanks call it -- was actually America's original drink of choice. (Little-known fact: Johnny Appleseed's apples were for cidermaking, not eating, as the alcoholic beverage was safer to drink than water.)

Trouble is, cider apples haven't kept pace with cider. Many of these fruits are heirloom varieties -- distinctively flavored, colorfully named cultivars such as Kingston Black, Yarlington Mill, and Porter's Perfection -- that went nearly extinct on American soil during Prohibition and haven't been cultivated on a large scale since. Walking through the dwarf-sized, just-budding trees of Bull Run's orchard, where more than 60 apple varieties are represented, cidery co-owner Galen Williams explains that for the time being, most cidermakers are making do with widely available cooking and dessert varieties, such as Red Delicious, along with whatever traditional cider varieties they can lay hands on. (Most ciders are made from a blend of apple types.)

"The hard-cider industry is essentially developing without a true raw material," says the 32-year-old, Carhartt-clad cider wonk. "Cidermakers are using everything they can to make interesting, good-tasting ciders without actual cider fruit."

Given the economics of the apple market, it's unlikely that major growers will provide a solution anytime soon, says Jim Allen, the New York Apple Association's executive director.

"You've got to remember: the lowest-valued apple is the apple that's crushed up and made into juice; the highest-valued apple is the apple that ends up at Trader Joe's," he says. "Nobody's planting apples to do anything but try to put them into that high-value category."
So maybe you'll want to grow your own apples. This site provides some suggestions of varieties of apples (and pears) best-suited for cider-making. And here's another handy reference in chart form.
Once you've got your apples, you might want to check out these instructions on cider-making from Mother Earth News.
Now, here's KT with some tidbits about Beer and Gardening: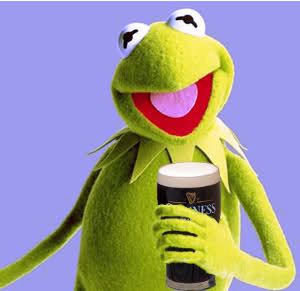 You might not think that beer is a gardening topic, but where do people most famously drink beer? In a beer garden, of course. Garden trivia: those big "Munchen bier" German Beer Radishes you see sliced thin (or spiral-cut) to eat with beer will form edible seedpods if you let them bolt. They are milder than the longer "Rat tail" radish seedpods from Asia.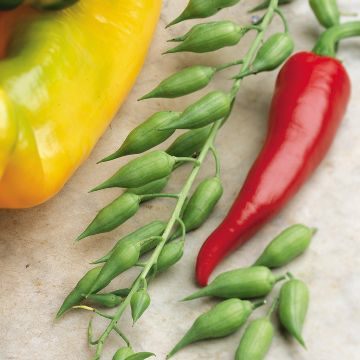 Radish seed pods with chile
Making beer generally starts with sprouting some seeds - also the first step in growing plants. After sprouting, a grain such as barley is toasted, crushed or ground to activate enzymes that change the starch in grains to sugars (often, malt sugar). That's about all I know about beer making, but a catalog I like, Nichols Garden Nursery in Oregon, sells beer and wine making supplies, in case you want to do a little home brewing. I have bought the citric acid (used in winemaking) to keep fruit salads from browning and for canning (along with Vitamin C crystals from Trader Joe's).
If you're in a suitable climate, you can also buy roots to grow hops. They're on the page with the Strawberry Plants and Oca Tubers. Speaking of roots, Nichols also sells the wonderful summer turnip "Oasis". They also feature melons that sweeten in cool-summer climates. Mine doesn't qualify. But it's always fun to visit their "new and unusual" page.
And now, pull up a chair and crack open a beer (or cider) while we hear from the incomparable WeirdDave:
So this past week on November 2nd I had an interesting experience. I got a call from a Mr. Morningstar who claimed to be familiar with my work here at AoS.
Anyhow, he represents the Iblis Gardening Corporation. I think they're in Louisiana by the area code, although it's antiquated. * shrug * Things don't change very fast down there.
Mr. Morningstar wanted to provide me with samples of their new holistic garden products to test out, as long as I reported on them here. Apparently these products help with plant root formation, allowing the plant roots to go much deeper, "down to the Stygian depths". "How much?" I asked. Free! What could go wrong with taking something free from Mr. Morningstar? I asked him if there were any strings attached, and he said "Hell no". I think I can trust him. Besides, he told me to call him by his nickname, Luce. "Why me?" I asked. He didn't really answer, just said "Ace of spades. Ace. Of. Spades." I asked him if he ever posted, and he said no, he wasn't a blog type person, just an average Joe.
So Luce was in town for the Bar Association convention. I asked if he was a lawyer and he laughed "No, I'm just here as a professional courtesy". He was in a hurry to get on the road before dawn, but he had me meet him at the Crossroads Diner up the street. He had a memorandum outlining the deal: He would give me the gardening supplies and instructions, I would post about my experience here, and then after next year's growing season he would return and "take soul possession of what remained". I pointed out the typo and he promised to have his secretary fix it. He let me use his favorite pen to sign the memorandum, it was an old fashioned fountain pen with what looked to be a bone shaft. It had a lighter incorporated into it too! When you pushed down on the tip a little flame sprang from the top to light your cigar. Way cool. It needed to be polished or something, as I signed a spur nicked my thumb. I was apologetic because I dripped a spot of blood down the nib which caused the ink to smear, but he said not to worry about it.
Se we went out to load the gardening stuff into my car. Luce had a bitchin' 1971 Dodge Dart Demon, apple red with flames down the side. I wanted to hear the 340 roar, so he cranked the engine over, turned down the Styx that was blaring on the radio, and revved it up. Man, I tell you, the ground shook like the hounds of hell were about to be released! Way, way cool.
He took a big box out of the trunk and put it in my trunk. We shook on the deal, and went our separate ways. I stored the box in the shed, I'll let y'all know all about it in the spring when I open it. I can't wait to see how it goes, if what he said is any indication, it'll be life changing.
Thanks, WeirdDave! And... good luck... with that "business" deal!
To wrap things up in honor of the apple, how about a little bit about William Tell?
In the center of the town square those many years ago, bailiff Gessler, agent of the Hapsburg duke of Austria, placed a Hapsburg hat on a pole and, to the blare of trumpets, announced that all passersby must uncover their heads before it. But William Tell of Uri kept his hat on his head. He was promptly dragged before Gessler, who ordered an apple placed on the head of Tell's son and told the farmer that if he failed to shoot it off with a single arrow at a distance of 120 paces, both he and the boy would be put to death.

Tell paced off the distance, loaded and aimed his crossbow, shot his arrow, and the apple fell. "Your life is now safe," Gessler said to him, "but kindly tell me why I saw you putting a second arrow inside your jacket?"

"If my first arrow had killed my son," Tell answered, "I would have shot the second at you, and I would not have missed."

Enraged, Gessler ordered Tell bound, carried down to Lake Lucerne and thrown on a boat that would take him to a dungeon in the grim castle of Kussnacht. There, he declared, "You will never more see sun or moon."

[snip]

There is just one small problem: many historians doubt that Tell ever made those two famous arrow shots in 1307, and many are convinced that no such person as William Tell ever existed.
And here's a familiar song:

What's going on in your gardens this week?


posted by Open Blogger at
01:00 PM
|
Access Comments