« Thread below the Gardening Thread
|
Main
|
Ace of Spades Pet Thread [Mis. Hum.] »
October 29, 2016
Saturday Gardening Thread: Happy Halloween [KT]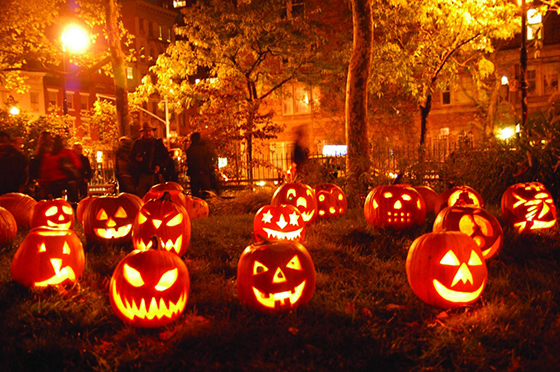 Even if you are using
Energy Efficient Halloween Lighting,
it is important to remember the
effects of night-time lighting on wildlife.
Especially
spiders
on this one night of the year.
And what you gonna do with all those pumpkins after Halloween?

Toss them in the mulch pile? Could be the best choice.
Did you pick "pie pumkins" to carve up? If so, they could be worth eating. Though there are probably tastier pumpkins and squashes than those, too.
While we generally grow a few big pumpkins for Halloween, we generally don't plan to eat them. There are much better flavored pumpkins out there.
Some members of The Horde have been contemplating growing squash on trellises next year. The link above has some directions and observations. It also discusses how to tell when winter squashes are ripe, and when they will be ready to eat.
Even for pumpkins with poor fruit quality, you could Roast Pumpkin and Squash Seeds.
Local pumpkin patches are open, every business in the world seems to be selling selling pumpkin flavored coffees, soups, sweets and baked goods! Jack-o-lantern enthusiasts are honing their knives skills and preparing for this years architecture. What comes with all that, is a great addition to our urban gardening culinary repertoire. I actually look forward to fall season just so I can also fresh roast squash seeds -- an a annual tradition in our home.
Instructions call for brining the unshelled seeds overnight, then roasting with a selection of flavorful coatings. I have not been real keen on roasting unshelled squash seeds. Do the seed coats really become crunchy? I have shelled and eaten the seeds raw. And I like the hull-less ones you can buy at the grocery store.
For next year's garden, you might consider one of the "hull-less seeded" pumpkins. These do have a hull, but it is just a thin membrane. Once upon a time, the striped Styrian Pumpkin was the main "naked-seeded pumpkin". Instructions for preparing the seeds here.
It is from Styria, the Green Heart of Austria, from whence came a certain former governor of California. Styria had quite a tumultuous history even before it was divided between two countries after WWII. Imagine one of your former rules being known as Duke Frederick II, The Quarrelsome.
A refined form of the Styrian Pumpkin was named Lady Godiva, after the legendary medieval tax protest.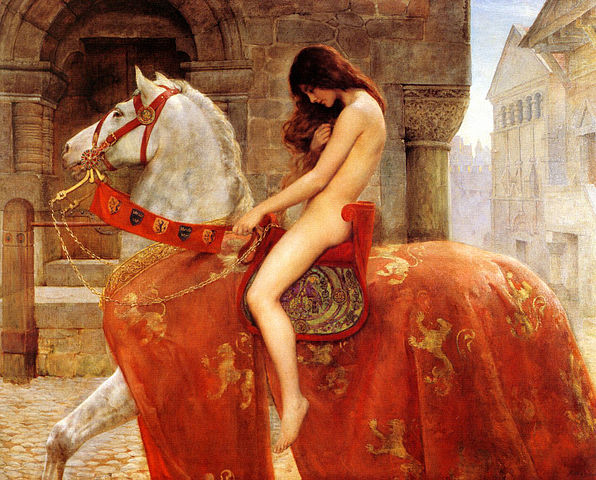 Lady Godiva, Patron Saint of Engineers
These are seeds from Lady Godiva, the pumpkin. Note that the usual cream-colored hull is missing. So they look like "little legless green beetles".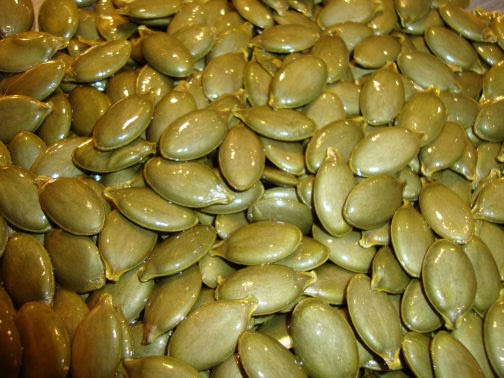 In the 1980s. Dr. J. Brent Loy from the New Hampshire Experimental Station released 'Snack Jack', with Jack-o-Lantern type fruits that have hull-less seeds. The flesh is suitable for pies, though there are better choices. Dr. Loy developed a lot of good short-season veggies. Since then, several multiple-use hybrid pumpkins have been released, including Snack Jack, Triple Treat, Snack Face and Baby Bear. There's also Streaker or Jack Streaker, which is supposed to have a high yield of seeds.
Container Planting for Fall
The Worm Monger, somewhere in the UK, describes how to get results with 6 kick-ass veggies for your fall container garden. "I was brave enough to get experimental and I learnt that the range of vegetables that will thrive in a container during the cooler months is much more varied and exciting than I'd anticipated."
Of course, when the "cooler months" start and how "cool" they get depends on where you live. In our relatively mild-winter climate, I would start the fall green beans in August. Some cultivars turn leathery in cool fall weather, so the one you choose can make a difference. Beets go in during September, with turnips. They have not done well for me in cold, wet ground from a late October planting. Back when we had rain in winter. Rainbow Chard is related, so I would plant it in September, too.
Kale, Rocket (Arugula) and Broccoli (which I would choose rather than cauliflower) can go in here in September or October. Starting with plants in the case of broccoli. Plants or seeds are both OK for the others.
If you want to try cauliflower in a container, choose a cultivar meant for containers if possible. Give the plant lots of room. Cauliflower is more persnickety than broccoli about growing conditions, and you typically only get one harvest. No side-shoots. Some kinds of broccoli only produce one head, too
What are your favorite veggies for fall planting? In addition to the ones noted above, I like to do lettuce in containers and turnips. I prefer Siberian Kale, which is from a different species than regular kale.
Mix those containers up! Veggies, herbs, flowers.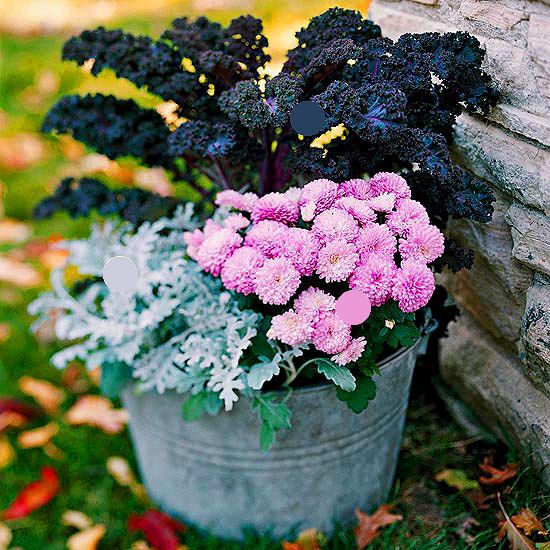 Perlite vs. Vermiculite
Are you mixing your own planting medium for containers? Are you maybe wondering why the Square Foot Gardening Guy is so big on vermiculite? Here is a discussion of differences between perlite and vermiculite.
Bottom line: they are both useful, but for different gardening needs.
Other Fall Activities
Have you considered canning with friends? Worth some thought, in the age of socializing in front of a TV set. And here are Fifteen ways to preserve your harvest.
Doing fall clean-up? Don't toss those old tomato cages. Yes, they mean those stupid, flimsy ones from the big box store.
Of the five new uses discussed at the link, I like the idea of placing the cages over bush squashes the best. Though it probably works best with cultivars bred to produce small plants. "No more 5 pound zucchinis hiding under leaves! Although those 5 pounders do make a killer zucchini bread! . . . "
Or, you can turn them into lovely sculptures for your deck. Not so sure I'm ready for a tomato cage wedding angel, though.
News and Views
If Monsanto loses its name, activists are gonna have to come up with a whole new set of epithets, slogans and songs.
Gardens of The Horde
IT RAINED! Hallelujah. Today we have fog. Bought some parsley to add to containers. What's going on in your yard or garden?
Fall Foliage
Here are some gorgeous aerial views of Groton, Vermont.
Have a great weekend.

posted by Open Blogger at
12:40 PM
|
Access Comments