« Dump Joe Buck! [CBD]
|
Main
|
Saturday Gardening Thread: Happy Halloween [KT] »
October 29, 2016
Thread below the Gardening Thread
Serving your mid-day open thread needs
Death twitches my ear; "Live," he says... "I'm coming." -- Virgil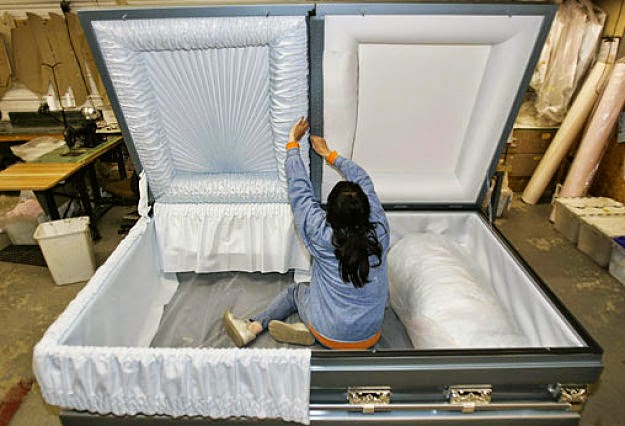 Double-wide and other unusual caskets
What did the one casket say to the other casket?
Is that you, coffin?
That's a little on-the-job humor from our town's undertaker, a gentle, considerate, competent old man. He managed to remain cheerful most of the time despite of, or maybe because of, his profession. He was kinda fun to be around.
Virgil's thought could prompt dramatically different goals, depending upon the person who decides to take it seriously. One of Stephen R. Covey's Seven Habits of Highly Effective People was to "Begin with the end in mind". He proposed an interesting thought experiment: imagining yourself at your own funeral. What would you want the people you interact with, especially the people you love, to remember about you?
Have you ever tried that?
What was the first thing you thought of when you read the Virgil quote?
Have a nice Halloween weekend. Sports thread below.

posted by Open Blogger at
12:03 PM
|
Access Comments