« On the Run: Bomb Blows Up On Pathway of 5K Run for Marine and Sailor Charity; No Injuries
|
Main
|
Ace of Spades Pet Thread [Mis. Hum.] »
September 17, 2016
Saturday Gardening Thread: Summer Rules [KT]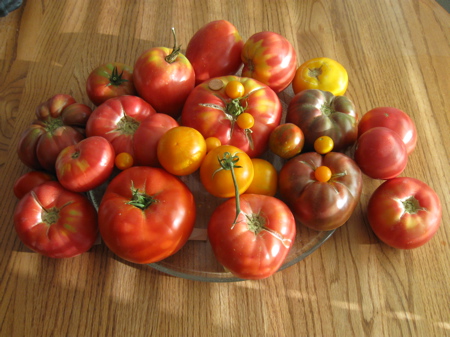 BLT, burger or straight-up tomato?
Hello, Horde! Well, we got a surprise post from The Big Guy this morning, so we're a little late getting to this thread. Some events need timely attention. Same is true in the garden. Which is one reason for the sad state of my garden right now.
One thing gardening does is make us aware on a frequent, personal basis of how things change with time. Next Saturday, we will have entered Official Autumn. There are members of The Horde who are already preserving tasty garden produce for the coming winter, but how about we take some time to celebrate veggies, particularly tomatoes, that are so wonderfully fresh in summer, one last time? Which are your favorites?
There are exceptions (such as the desert) but in most parts of the country. cutting gardens are at their best in summer, too. And today's post features a cutting garden favorite from Australia, where gardeners are preparing to enter Official Spring. This plant happens to be a good flower for seasonal transitions.

Summer Tomato Review and Preview
The tomatoes in the photo above are from my garden, but not from this year. My garden this summer left a lot to be desired. But I did try one new determinate tomato, a bush version of one of the "Boy" series of tomatoes. It is not outstanding, but it still has two tomatoes on it even though it is a determinate tomato. I planted it in a 5-gallon pot in afternoon shade. The shade seems to have made a difference. It is next to a Sungold (cherry) tomato which is also still bearing.
I thought it would be appropriate to quickly review the topic of determinate tomatoes at the end of summer. Determinate tomatoes bear fruit near the ends of branches, which then quit growing. Some determinate tomatoes ripen all at once, like the commercial tomatoes that fill trucks around here during the summer.
Others ripen over a fairly long season. Many of the most adaptable hybrid tomatoes, like Celebrity, are determinate. Some are short and some are bigger, but they are usually bushier than the more vine-like indeterminates. Some short-season growers only plant determinates.
There are also some open-pollinated determinates like the old Burpee's Quarter Century, recommended for containers in the desert; Moravsky Div (Wonder of Moravia), a determinate or semi-determinate version of Stupice, called the best early slicer; and Fish Lake, a determinate oxheart for short seasons.

My favorite determinate tomato remains Sweet Tangerine Hybrid from Burpee. Golden Girl Hybrid, sold by Pinetree, tastes almost as good. Both are disease-resistant. They seem to alternate bearing over a long season. I hope to plant them next year. Along with some big pink heirlooms like Stump of the World and Dr. Lyle, for pure luxury. And some workhorse tomatoes. Maybe a new-to-me oxheart, too.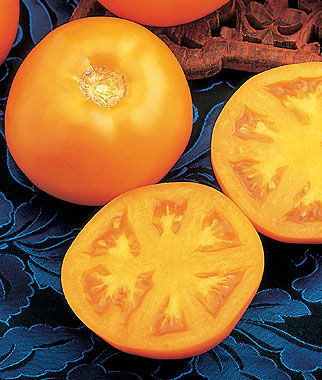 Sweet Tangerine
Did you have any notable results with a particular tomato this year? Planning on a new kind for next year?
Cutting Gardens
Why not give someone you like the surprise of a summer mixed bouquet. "Filled to the brim with garden goodness. Zinnia, strawflower, Black-eyed Susan, snapdragon, chocolate lace flower, Queen Anne's lace, butterfly bush, butterfly weed, amaranth, calaminth, baptisia foliage, love in a puff vine, scabiosa, lemon verbena, and dahlia. Summer rules."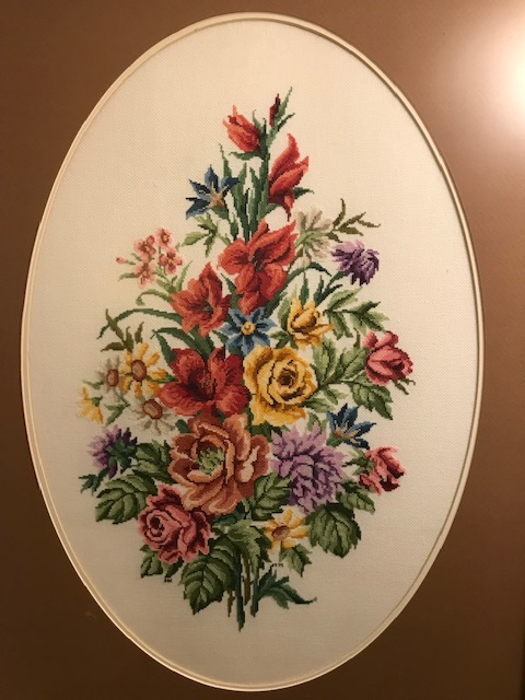 If you can incorporate lovely design elements into your cutting garden, more power to you.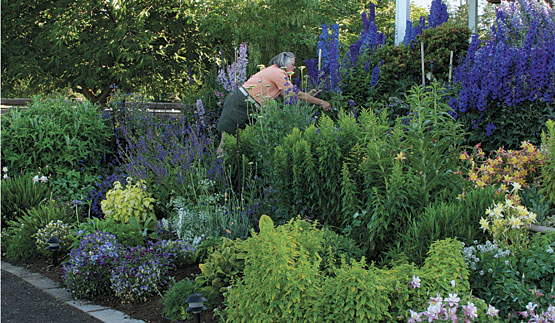 A well-designed cutting garden
But a cutting garden can also be utilitarian. You can think of the flowers as a crop and lay the cutting garden out just like a vegetable garden plot. Or cutting garden plants can be included in the veggie garden. Many attract beneficial insects. Some of your more fancy-schmancy vegetable seed catalogs include several kinds of flowers for cutting, but not many flowers for bedding. Some flowers for cutting bloom on gangly or unattractive plants. Do you have a cutting garden? What do you grow there?
Strawflowers
Strawflowers (Paper Daisies) are common denizens of the cutting garden. The annual ones tend to develop dry leaves at the bottom of the plant, so they may not be the ideal choice for front yard display. But they are extremely useful as cut flowers, either fresh in summer or dried in fall or winter. We have discussed other easily dried "everlastings", such as celosia and statice in previous threads.
I generally like the double annual strawflowers best before they are fully opened, when the petals (well, bracts) are still curved over the large central golden-yellow disc in the center of the flower. There are some kinds with smaller central discs, though. I think the flowers look more balanced.
Below is my favorite fully-opened strawflower. I think the yellow "collar" is fun. I could only find a wholesale seed source, and they typically don't provide much information on the plants they sell. They are into personal relationships with their customers. But I think it may be marketed by Proven Winners as Sundaze Flame. It and Sundaze Blaze are dwarfs, only 10 to 14 inches tall. There is a video with growing instructions for professionals. Sounds like these outback-friendly flowers REALLY like to be kept dry. Best watered by drip, or from below if in containers. These dwarfs are promoted as "living bouquets" for the garden.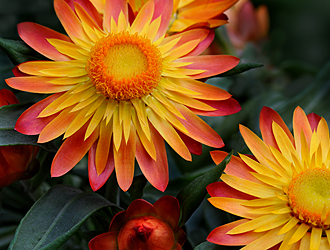 Sundaze Flame?
Proven Winners sells the 'Sundaze' series as annuals, but Sunset says they are perennial in dry, mild-winter climates, including mine. There are other perennial "choice shrubs and subshrubs", popular in Australia and New Zealand. 'Diamond Head' is only about 3 inches tall and spreads into a mat. 'Dagan Hill Monarch' and 'Cockaoo' are about 2 1/2 feet tall and 3 or 4 feet wide.
These plants were once known as Helichrysum bracteatum. But plant taxonomists have been hard at work, and I am really not sure which scientific name to use for some strawflowers now. These perennials are now known either as 'Bracteantha bracteata' or 'Xerochrysum bracteatum'.
More suited to the cutting garden than the refined "shrubs and subshrubs" above are the more common 2 to 3 foot annual specimens and the "giant" strawflowers, with plants measuring 3 to 4 feet in height. I kind of like this red one. Seeds are available from Annie's Annuals and Perennials. .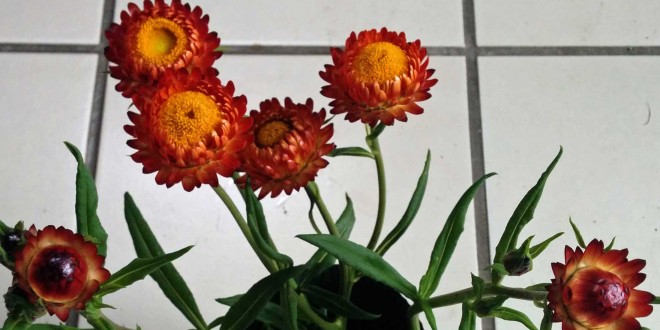 Monster Fireball Red

I could go for an Apricot/Peach Mix, too. Annual strawflowers from Australia are now known (by most botanists) as Xerochrysum bracteatum, but may still be found in the trade as Helichrysum bracteatum. They may have been cross-bred with multi-colored Helichrysum species from South Africa by a German plant breeder near Erfurt. They became popular across Europe in the 1850s. They can be sown indoors 6 to 8 weeks before last frost, or sown in place at the same time you sow zinnias.
Around the disc is an involucre of modified leaves, the bracts, . . petal-like, stiff, and papery. Arranged in rows, these bracts curl over and enclose the florets, shielding them before flowering. . . These bracts are papery and dry, or 'scarious', with a low water content, unlike leaves or flower parts of other plants.
There is an alpine Xerochrysum that resents drying (unlike its cousins) and seems not to do well at low elevations. Note that many plants from Australia prefer low phosphorus levels in soil.
There are still lots of non-Australian plants classified as 'Helichrysum'. One is licorice plant, useful among other plants in a hanging basket plant or tumbling over the edge of a retaining wall. The species has silvery leaves. There are chartreuse and variegated cultivars. This plant is perennial in mild climates and has become a pest in Northern California.
Curry Plant is a grey-leaved little plant that sort of resembles lavender or sagebrush before it blooms. "The taste of the flowers has been likened to blue cheese". The clusters of small, fluffy flowers attract hoverflies and other beneficial insects. They are easy to dry for arrangements. Curry plant is perennial in mild climates.
A few leaves can be added to a salad or meat dish for an interesting flavor. The aroma of the essential oil distilled from the blossoms is "popular in fragrance for its unique scent, best described as a mixture of burnt sugar and ham." (???) It is also used medicinally.
Australian Cultural Notes
Last week's Garden Thread featured clarinets made from carrots, played by an Australian guy. I thought the two-carrot clarinet really sounded a lot like a . . clarinet. You can skip to 1:35 to hear it. However, Mr. Curly, made from a garden hose, sounds kind of didgeridoo-ish to me. In honor of the Australian origin of strawflowers, here is a real didgeridoo, played in a rather non-traditional manner.
Shameless cultural appropriation
They say that the circular breathing involved in advanced didgeridoo playing is useful for treatment of obstructive sleep apnea. Circular breathing involves breathing in through your nose while blowing out with air stored in your cheeks, making the player look, at some moments, sort of like a chipmunk transporting nuts. I haven't figured out how to do it yet. Are there any didgeridoo players in The Horde?
Have you been sprangled lately?
I feel kind of culturally illiterate because last week was the first time I remember encountering the word, "Sprangled". It described the roots of wild carrots.
There is a "Sprangled" website that includes this definition: "To spread in different directions, branch out".
Seems to fit the wild carrot roots.
The Free Dictionary says "Sprangle" the verb means:
to struggle or sprawl with limbs spread out wide
The Urban Dictionary says "Sprangled" means:
A state of utter drunkenness in which the person inflicted is off their face, yet happy and usually sprawled in a horizontal position
Are you aware of other definitions?
There are several grasses known as 'Sprangletop". They seem to prefer moist to wet soil, including alkaline or salty soils. Tough plants.
People seem to know what "Sprangled" means in India. There is a strawflower mixture called 'Sprangle'.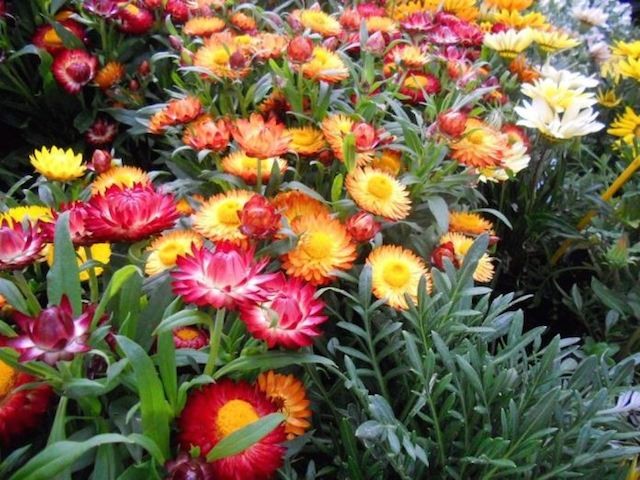 Strawflower 'Sprangle Mix'
If you can figure out why this mixture was given that name, let me know.
Anyway. have a great week. Have fun in the garden. And don't let your best friend get sprangled on homemade cider.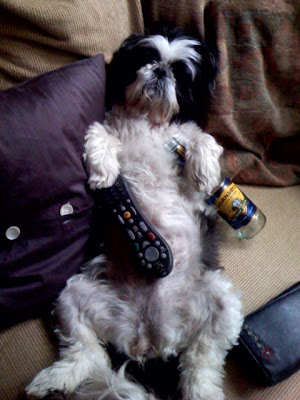 This dog needs a job chasing a squirrel, not more cider.

posted by Open Blogger at
01:05 PM
|
Access Comments