« Colleje Football Thread: Week 11 [CBD]
|
Main
|
Just A Thought...[CBD] »
November 28, 2015
Saturday Gardening Thread: What is your Statice? [Y-not and KT]
Y-not: Good afternoon, gardeners!
This week the incomparable KT asks "What is your Statice?"
When I went to do my own "status assessment" it went something like Kryten's in this classic Red Dwarf episode:
What with the move and our new routine (including college football or basketball games to attend several times each week), I'm currently at Condition Marigold...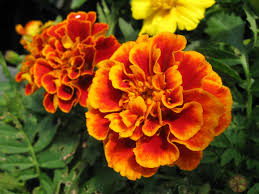 ...and headed to Condition Heliotrope.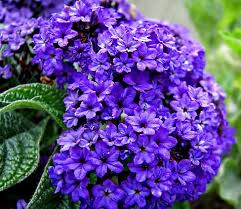 So no contribution from me this week. My apologies!
Fortunately, KT, brought the content:
What is your Statice?
I recently decided that I needed to pay a little more attention to making good memories, for myself and those I care about. Statice is a good plant choice for memory-making. The Front Yard Foodie wrote:
This thought is related to many, many, many memories of my mother. Her garden. And a flower called statice. . . .

Though I don't think my mom considers herself very crafty, I remember her picking flowers and hanging them in bunches with twine or yarn on nails along the sunroom windows to dry. . . . I have these idyllic visions of her cutting her flowers from large plants saturated in golden sunlight with butterflies and bees lazily coming off the plants and hanging in the air about her, a small smile resting on her face. It was her world, her space, her project and she loved it.
There are more kinds of statice than I thought there were. The flowers known to gardeners and florists as "statice" are mostly from the genus Limonium, which contains 120 species or more, depending on your source of information. There are a couple of garden-worthy species from related genera. Do you have any in your garden? All garden varieties of statice form a basal rosette of leaves, with flowering stems rising above them.
You can use statice to make a lasting country bridal bouquet.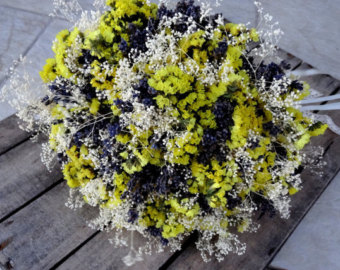 Bouquet of Annual and German Statice
I do not know if limonium species are edible, but who cares? Nobody wants to eat papery flowers. They are on the "safe" list of garden plants. So if you want to decorate a wedding cake with Statice "Emile" (a hybrid cultivar for florists), Singapore Orchids, Phlox and Wax Flowers, go ahead. I once decorated a wedding cake for a low-budget wedding with silk flowers, since I am too klutzy to do those frosting decorations. I think statice would be almost as easy to use, for example, on those trendy naked wedding cakes, which despite their name, are classier than this wedding cake: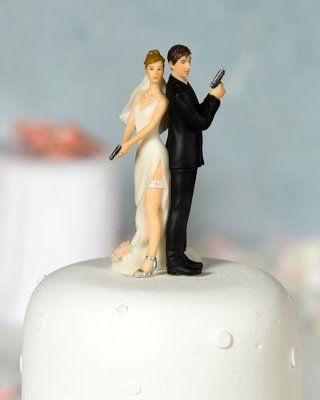 James Bond Theme Wedding Cake
STATICE GROWN AS ANNUALS
The annual statice most commonly used by florists is Limonium sinuatum. I once had a delightful elderly neighbor who grew it. The plant is kind of gawky. She always planted it in a hot location, against the garage facing west into the alley. Sometimes a few plants lived over the winter. She loved to make dried arrangements for her friends.
In my 1988 edition of the Sunset Western Garden Book, the only colors listed for this Mediterranean species were blue, lavender or rose with a white corolla. A similar species, L. bonduellii, was described as having yellow flowers with a tiny deep yellow corolla. I found a little information about this species on the intertubes, mostly in French, but it is rarely mentioned in terms of gardening today. It has been re-classified as a subspecies of L. sinuatum. Cross-breeding the blue to rose forms with the yellow form has given us new colors of S. sinuatum, such as most of those in the Sunset Strain. The flower colors in this strain harmonize nicely with fall colors in bouquets and with crafts in "antique" colors, as well as with tannish flowers preserved with glycerin.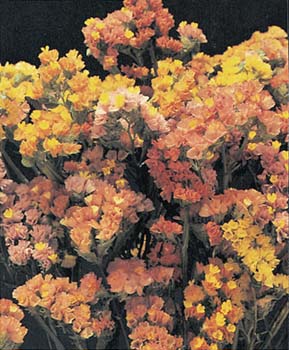 Annual Statice, Sunset Strain
There are wild forms of L. s. bonduellii in the Sahara desert and in Morocco. Seeds are still available from a company in Malta. The flowers look nice, but the plant form of the Saharan strain is probably not one you would choose for your garden. There is a word for this plant in the Tuareg language. Some of our lefty friends consider the Tuareg culture to be "progressive" even though they are slave traders, their culture is based on a fairly rigid caste system and they consider themselves to be superior to others. Sex and the Saharah. Striking photos. The short video included may give us a clue to where twerking came from.
I am grateful that I do not live in or near the Sahara desert. This 2010 Journey to Timbuktu by NBC News seems so long ago. . . .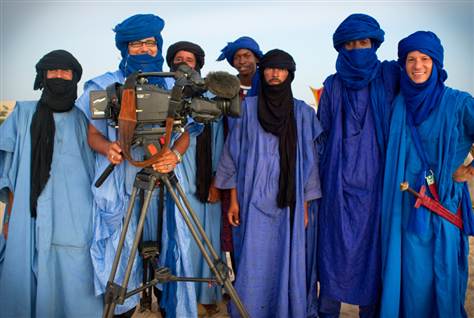 News crew pretending to be Tuareg tribesmen
I get the impression that garden and greenhouse forms of L. sinuatum were floppier back in the 1980s than they are today. Not as floppy as the ones in the Sahara, though. You can now buy refined strains for the florist trade in single colors or in mixtures with a very wide range of colors. If you want to try making a little money growing your own, Stokes Seeds has directions for various parts of the country.
The USDA has issued guidelines for florists wishing to improve the quality and lasting power of cut flowers including German statice, annual statice and new hybrids for florists, propagated by tissue culture. Statices known in the trade as Sea Foam, Latifolia, and Caspia are also mentioned.
Many statice species can be dried and used for years in permanent flower arrangements. Yet when used as a fresh flower, they may last only a few days before leaf yellowing (on statice only, not German statice) or Botrytis infestation occurs.
Even if the leaves yellow, you may still be able to use annual statice flowers from bouquets in wreaths where the stems do not show.
Russian Statice, or Pink Pokers, is very easy to use in both fresh and dried arrangements. According to Sunset, Psylliostachys suworowii hails from Iran, Afghanistan and Central Asia. It prefers average soil and water. Its slender spikes of lavender pink flowers may be branched or unbranched, with the latter resembling "furry rat tails". It may grow better in coastal Alaska than in some parts of the country.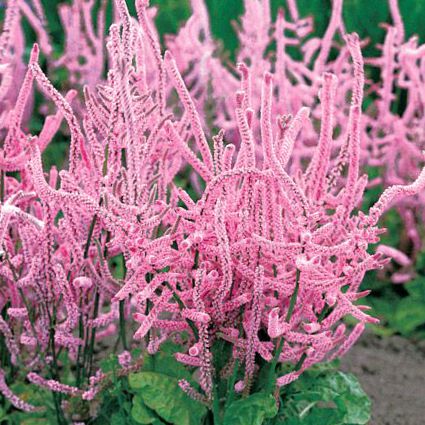 Pink Pokers
GERMAN STATICE
Goniolimon tataricum (sometimes still sold as Limonium tataricum) is a favorite for making wreaths. It has tiny rose to purple true flowers that fall off after blooming, leaving white or silvery-blue star-shaped calyxes. Though the plant is not very tall, it has been described as having "architectural presence". It looks white from a distance and gives an effect in bouquets similar to babys breath. Sunset notes that the entire 1 1/2 foot high and wide dome of flowers can be cut and dried for winter arrangements. It is hardy to USDA Zone 4 and can be seen at the Denver Botanic Gardens. It does best where summers are hot and dry.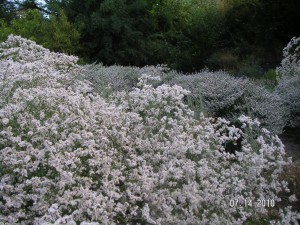 German Statice in the Steppe Garden, PlantAsia
LIMONIUM PEREZII AND NATIVE SPECIES
All of the remaining types of statice below are from the genus Limonium. This genus is known for plants that tolerate heat and poor soil, including salty or alkaline soils. They all need good drainage. They tend to be tap-rooted and do not transplant easily once established. Some may not tolerate humidity or continuously moist soil. Flowers are typically made up of two parts, an inner corolla and a surrounding calyx. Often, these are different colors. The flowers attract butterflies.

Limonium perezii, from the Canary Islands, is the showiest species of statice for the garden. Its individual flowers resemble those of L. sinuatum above, though they only come in lavender blue. The flower heads are large and it has a long bloom period. It is a favorite in California, and will grow in the low deserts of Arizona with afternoon shade. It can be fire retardant. Sadly, it is only hardy to 25 degrees.
Garden designers in California have used Limonium perezii with other plants even in the "hell strip" between the street and the sidewalk. Other ideas for this difficult planting situation here.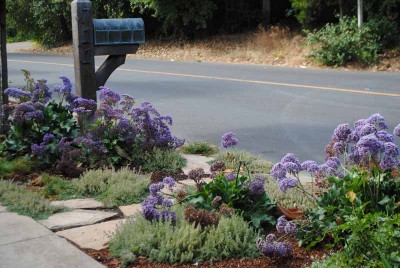 Because it naturalizes near the beach in Southern California, people sometimes confuse it with native Limonium californium, a salt marsh plant. L. californium can excrete salt from its leaves.
The two other native species are also salt-tolerant. Transpecos sea-lavender flourishes in the salty, often alkaline soils near cienegas in the Southwest.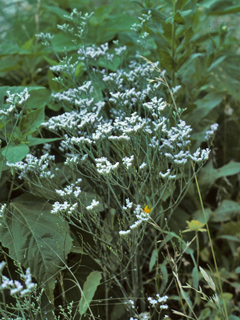 Transpecos sea-lavender
Carolina sea-lavender is the only native statice in the East. It is hardy in USDA zones 5 - 8. Flower stems are gathered from the wild to make wreaths, worrying some ecologically-minded people.
Popular with floral arrangers, this coastal native grows in the dunes just above the high tide line. Wide leathery evergreen leaves form a ground hugging rosette from which rises the foot tall, broccoli- shaped heads of tiny purple flowers. En masse, these flowers appear as a purple haze. Very tolerant of salt, as it grows in marshes, yet easy to grow in the garden, provided it has moist, very well drained conditions in full sun.
Speaking of crafts, they love Carolina sea-lavender at
Marsh Radio Island, where in 2013, they invited people to
:
Come to "Stitching the Shore" a collaborative crochet session to stitch floating salt marsh islands before they are deployed in the Boston Harbor. This workshop - for veteran and inexperienced crochet stitchers alike, will result in community crocheted connective tissue between our prototype salt marsh modules.
If you understand how this helped protect the shoreline, let us know.
HARDY GARDEN STATICES
Sea lavender, Limonium platyphyllum (AKA L. latifolium), is listed as suitable for USDA Zones 3 - 9. Sunset does not list it for the desert, but does list it for parts of Hawaii. It grows at the edge of the water at The Battery, a waterfront part at the tip of Manhattan. "Tiny blue-lavender flowers arranged in basketball-size masses above sprawling basal rosette of dark green 6-12" leathery oval leaves. Foliage turns rich purple and red in autumn." Note: Fall foliage color may not be reliable in all climates.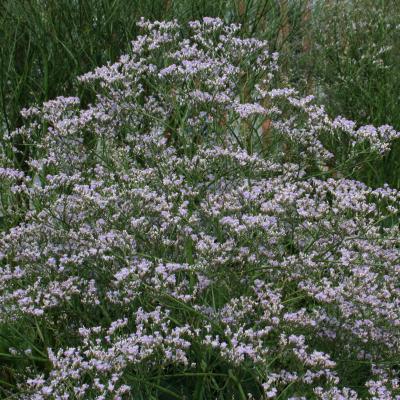 Sunset says that there are also pure white and pink forms. Some people call it broad-leafed statice. Grows 2 to 2 1/2 feet tall. It has a frothy, see-through quality. Excellent for fresh or dried flower arrangements.

Siberian statice, Limoniium gmelinii, is a little shorter and more compact than the species above. It has widely-branching clusters of blue flowers in mid- to late summer. Some sources list it as hardy only to Zone 4. Hawaiians are out of luck with this one.
Common or Mediterranean Sea Lavender is native from the British Isles through Southern Europe, North Africa and the Azores. It sometimes turns large swaths of ground near the shore lavender when in bloom. It only grows a foot or two tall. It is hardy to about 15 degrees.
Go ahead. Get some statice. There are many possibilities. Maybe you could make a wreath.

Y-not: Thanks, KT!
To close things up, here's the Heliotrope Bouquet:

What's happening in YOUR gardens this week?


posted by Open Blogger at
02:45 PM
|
Access Comments