« Sunday Morning Book Thread 11-15-2015: Tempête De Feu [OregonMuse]
|
Main
|
Football Sunday in America! - [Niedermeyer's Dead Horse] »
November 15, 2015
Saturday Gardening Thread: Sunday Edition [Y-not and KT]
Y-not: Welcome, Gardeners! Today's delayed edition of the Saturday Gardening Thread is brought to you by Geoffrey Chaucer:
Related: I thought this was fun...
Name that tree
Last week's tree, the tulip poplar, was easily identified by all of you. They're very popular around here, being the State Tree of Tennessee. Here are some fun facts about this tree, including its importance to Daniel Boone (who is a BFD in these parts).
This week's challenge are small trees with bright red berries that I spotted on Main Street in Franklin, Tennessee last weekend yesterday:
Here's a closeup of the fruit and leaves:

Can you name that tree?
Thanksgiving Centerpieces
There's still time to put the fruits of your gardening labors to use in your Thanksgiving decor. Here are a few more ideas from Midwest Living. I liked this one: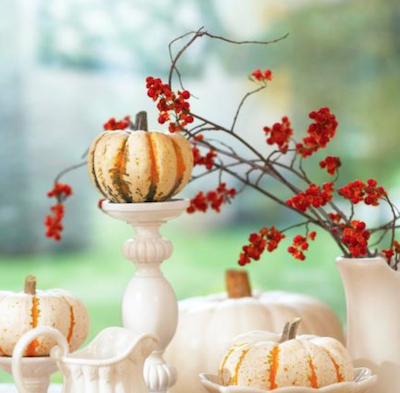 "For a simple tabletop arrangement, place mini white or orange-stripe pumpkins on white candlesticks and dishware. A bittersweet branch in a vase adds a punch of bright color. Fill in with gourds to complete the elegant display. (The little orange-stripe gourds are called 'Lil' Pump-Ke-Mon'.)"
In this one, a pumpkin is used as a vase: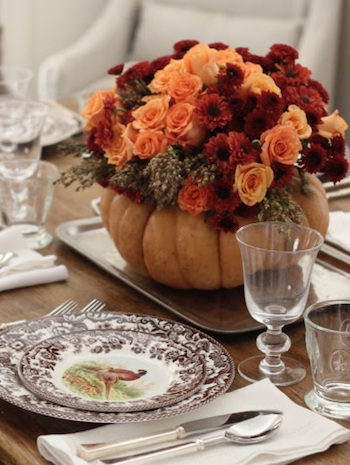 (Follow the link for more ideas from Country Living.
Finally, this table setting from Better Homes and Gardens uses plant materials many of you may have in your gardens (plum branches, coleus, and dahlias).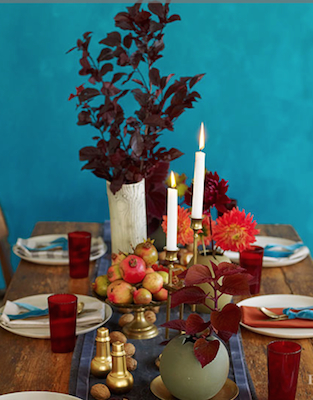 I'd still love to see the table arrangements that you make using materials from your gardens. Send them to me at my g m a i l account, bailesworth, and I'll feature them in a future gardening thread.

Now, here's KT with a gardening report, as well as some more great ideas for Fall arrangements:
Hello, Horde. Here is a little local garden report. I hope your reports are more exciting, but only in good ways. There is not much going on in my garden right now. The nights are getting cold and the notorious Tule Fog is starting up after our little rainstorms. Our watering schedule has been reduced to once a week for the cool season. We have only had around 3 inches of rain so far this year. Ready for El Nino.
My most notable effort toward improving the appearance of the yard was buying a six-pack of crimson snapdragons. We have a few turnips that should be ready to pick soon and maybe some kohlrabi later. The broccoli plants are doing better than I expected. I have a surprise: a tiny pickling cucumber. The squash plants did not make it.
We seem to have acquired a duck. Not sure how. We will probably need to relocate it.
The few little bean plants I put out in September have struggled and the ones that lived are just now blossoming. Any beans they produce will likely be tough due to the cold night temperatures. Maybe it is time to turn my attention to some garden topics that may involve indoor activities.
Last week, Y-not posted a striking photo and a link with more striking photos of floral centerpieces. She invited all of us to send in photos of ours. Winter is coming (already here for some), so I thought it might be interesting to discuss some plants that florists use for dried as well as fresh arrangements.
Here is an idea:
When the annual flowers in the containers on your porch freeze, combine dried or preserved flowers with branches, interesting seed heads, etc. from the garden or from the wild. Dried flowers are generally not the best choice for containers exposed to precipitation, but you could fill those with branches, evergreen boughs, pinecones and other durable plant materials.
The plants below make easy, colorful dried flowers for indoors or for wreaths in somewhat protected locations. They do well in home gardens, too. It could be nice to have some dried flowers from the garden next fall.
Celosia: For flower arranging, landscaping, butterflies or lunch?
In an earlier thread, Y-not posted photos of some of the easiest flowers to use in dried or fresh arrangements: celosias in flamboyantly dissimilar forms and colors. She had bought some at a farmers market. I thought that these plants deserved a little more in-depth discussion. All of the flower forms and colors are believed to have come from a single species. Remarkable.
Y-not noted that some people in her neck of the woods compared crested celosias to squirrel brains. Here is an example of a tall crested celosia for cutting, Cramers Burgundy: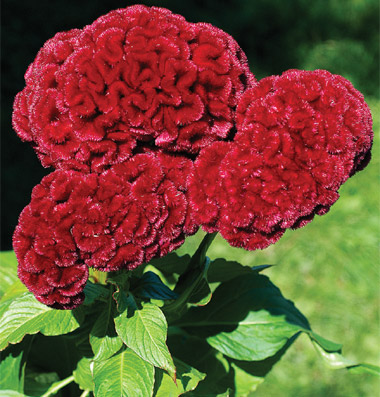 Squirrel brains, Y-not?
There are also fan-shaped crested celosias like Bombay Pink. The simpler predecessors to this type inspired the common name "Cockscomb".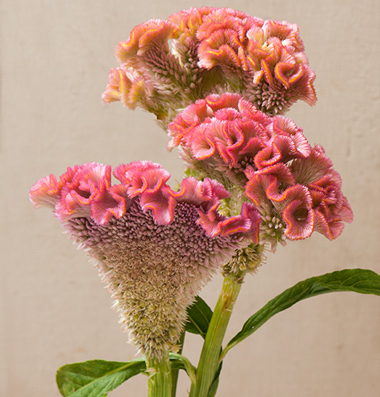 The brilliant orange blooms Y-not took home were one of the plume forms of celosia, often called Prince of Wales Feather. Apparently, some people think they resemble the ostrich feathers in the Heraldic Badge of the Prince of Wales. A few other plants go by this common name, including a relative of celosia, Amaranthus hypochondriacs. It can also be used in fresh or dried flower arrangements. But the amaranths are a topic for another day, unless you have some in your garden or plan on doing a little wild crafting with weeds you find on nature walks.
Plume celosias with flowers that look sort of like tangled yarn are called "wool flowers". There is also a form called "spike" or "wheat" celosia. Y-not bought some, in a more intense lavender to purple than is typical for this type. I think that "wheat celosia" is closer to the original wild plant than the other flower forms. It could stand in for some of the more invasive ornamental grasses in the garden. Below is a "wheat celosia" called Flamingo Feather in a garden in Central Texas, in chilly November or December weather.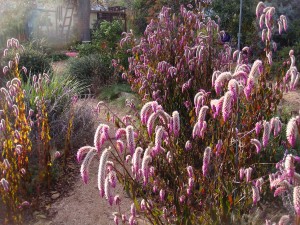 Flamingo Feather really resembles the kind of celosia grown commercially for food In Nigeria, known as Quail Grass or Lagos Spinach. Celosia is widely grown for food in Africa, India and Indonesia. In Nigeria, its name means, "make husbands fat and happy". I wonder: if adopted in the USA, how many ways could that name for a vegetable be denounced?
They say that the shoots, leaves and young flowers taste like tender spinach, with no bitterness. But like many leafy greens, celosia can accumulate nitrates, especially if grown on nitrate-rich soil. Boil young shoots and older leaves for 5 minutes. Discard the cooking water to get rid of excess oxalates and nitrates, and to preserve the color of the leaves. Do not steam. See the featured plants for June for growing and cooking instructions by an actual gardener.
Lagos Spinach grows to 6 feet in Florida if not pinched back. There are some other really tall celosias grown in the tropics, too. But even cutting varieties here are generally 3 feet tall or less. If you are thinking about growing some in the cutting garden, here is a video about drying celosia, from Oklahoma. In more humid conditions, you would want to remove foliage and hang the stems separately.
There are some cultivars of celosia for bedding and containers that measure under a foot in height. The Sunset Western Garden Book notes, "Although attractive in cut arrangements with other flowers, in gardens celosias are most effective by themselves."
I do not think this rule necessarily applies to bold foliage plants. "New Look Red", from the famous German seed house Benary, is the bomb with Dusty Miller.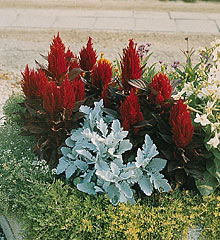 I usually do not care for beds of celosia in mixed colors. But the Kimono series, from the famous Japanese seed house Sakata, might change my mind. It includes some pastels to temper the more vibrant colors.
Celosia is adaptable to many soils and does well in hot weather. It is highly recommended for gardeners in Texas. It will also grow in the low deserts of Arizona. In recognition of their heat tolerance, 2006 was the National Year of Celosia and Chili Peppers. How do I always miss these important commemorations?
Celosia is susceptible to root knot nematodes. It does not have a lot of insect pests in the USA. However, it is a larval host for the Common Sootywing Butterfly. The low-flying sootywings were among my favorite butterflies when I was a child.
The Common (or not so common) Sootywing
Like its relatives the amaranths and certain types of lambsquarters, celosia can nurture the caterpillars of the little Common Sootywing butterfly. They are fun in the garden. These butterflies live in much of the United States -- not in the coldest regions or places like peninsular Florida.
Unfortunately, their populations have been collapsing in parts of California (including the San Joaquin Valley where I live). Biologists do not know why. Maybe I should grow some celosia, just in case it might help.
Life is full of danger for a butterfly. Below is a photo of a Common Sootywing being eaten by a crab spider while another sootywing sips nectar, in North Carolina.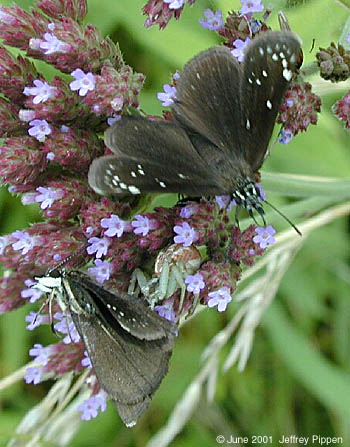 The nectar plant looks like one of the perennial species of statice from Eastern Europe, just coming into bloom. But it could be the East Coast native Limonium carolinianum. All kinds of statice are good butterfly nectar flowers. Several are interesting garden flowers and good cut flowers, fresh or dry.
Come back next week if you are wondering, "What is my statice"?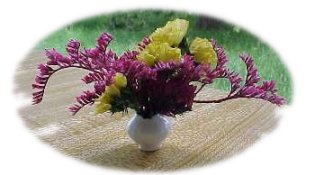 Dried Flower Crafts

Y-not: Thanks, KT! To close things up, how about a little history?
What's happening in YOUR gardens this week?
**CORRECTION: That link is an older version. here's the October 2015 Gardening Thread Archive post.**


posted by Open Blogger at
11:00 AM
|
Access Comments