« College Football Thread...Week Three [CBD]
|
Main
|
Because Selling Fetal Body Parts Isn't The Only Vile Thing Planned Parenthood Does....[CBD] »
September 19, 2015
Saturday Gardening Thread: Phoenix Edition [Y-not and KT]
Good afternoon, gardeners!
I finally have internet access after (over) #twoweeks, but content from Yours Truly will be another matter as I am still getting settled into our new digs*.
We did go to a farmer's market this morning, where we saw these beautiful flowers: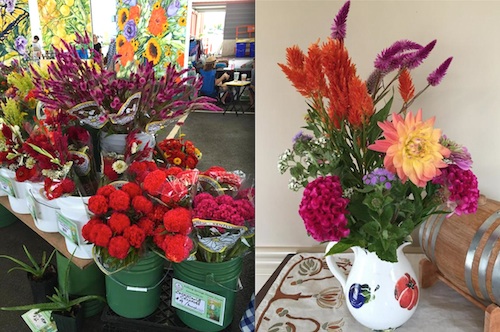 According to the grower, the fascinating, roundish bright fuchsia flowers (that some around here say look like squirrel brains) are related to the orange and pink spiky flowers. All are members of the Celosia family. They are also called Cockscomb. Pretty cool. I don't think I've ever seen them before.
Fortunately, KT is bringing it again this week:
Hooray for Hollywood
Back when I started writing this segment, the VMA Awards had just been inflicted upon the world and Y-not was mostly reduced to intermittent communications via Phone-Twitter. Seems like a long time ago.
Thinking about the words to the fine old song, I have been kind of hoping that Hollywood reached Peak Daffy Duck with that awards program, but I doubt it. Somebody who is more in touch with the Hollywood scene will have to let me know if there has been anything daffier emanating from the shining stars of Hollywood since then.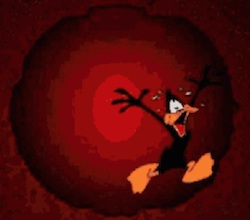 Ready to leave the building with me?
I thought it might be refreshing to turn our attention outdoors, toward a different sort of Hollywood denizen. There are plants living in Hollywood that are dramatic in their own way. There were some flamboyant flowers in the Bird of Paradise Bush discussion
back in August.
They can thrive in Hollywood. But I did not include a different sort of Bird of Paradise flower, the downright theatrical Strelitzias. They grow all over Hollywood. Strelitzia reginae, from South Africa, is also the
official floral emblem of the City of Los Angeles
. It is controversial, naturally.
Los Angeles is divided into two kinds of people: those who love birds of paradise (Strelitzia reginae) and those who loathe them. "Familiarity breeds contempt" is a cliche that applies to birds of paradise. Walk into a flower shop in Manhattan or Chicago and you can easily pay $5 for a single bird of paradise flower. Here, the flowers pop up with weedy abandon.

Those who grow up in Southern California tend to see birds of paradise as unruly clumps of paddle-shaped leaves with gaudy and scentless blooms. Those who came here from somewhere else, on the other hand, typically see birds of paradise as exotic wonders of the botanical world whose orange, blue and white blooms evoke spectacular tropical birds.
See any resemblance to the flower?
The genus to which the flower above belongs is named after the duchy of Mecklenburg-Strelitz, birthplace of
Queen Charlotte of the United Kingdom
. She was an amateur botanist, in addition to having 15 children. Strelitzia reginae was named after her. The famous
Kew gardens
are at her long-time residence to this day.
This Bird of Paradise plant does very well in large containers, blooming best when its roots are sort of crowded. It is useful near swimming pools. Where the temperature goes a little lower than 28 degrees, it requires some protection, such as a location under an overhang. Sounds like a Southern California kind of plant to me. But you can also grow it outdoors in the low deserts of Arizona with protection.

There is a narrow-leafed Strelitzia that is sometimes called the African Desert Banana. The flowers resemble those of S. reginae. It is more drought tolerant and somewhat hardier to cold than the familiar canna-leaved S. reginae. It blooms mostly from fall to spring.
Giant Bird of Paradise is grown primarily for its dramatic foliage, with leaves 5 to 10 feet long. The flowers are larger than those of S. reginae, but not as showy. S. Nicolai was named after Czar Nicholas I of Russia. I wonder if he was related to Queen Charlotte?
Giant Bird of Paradise resembles a banana plant and grows to 30 feet or more. It recovers slowly from frost damage, so where frost occurs, as in the low desert, it benefits from placement under an overhang, like S. reginae. You need a taller building to provide an overhang for this plant, though.
When I lived in Southern California, one of my neighbors had a Giant Bird of Paradise which had grown into a massive clump several feet across at the base. It visually overwhelmed their small house and the other plants in the yard. Keep proportion in mind when planting this one, particularly if planting it in the ground: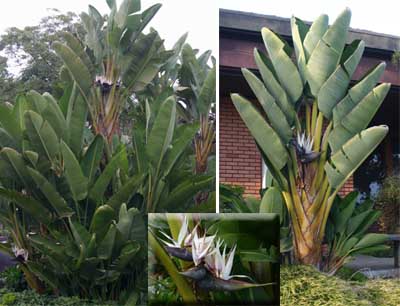 Need a 30 foot privacy screen?
Both the Giant Bird of Paradise and the more common S. reginae can be used as houseplants. A lower-growing variegated form of S. nicolai (or maybe it is S. alba) has very striking foliage. Not everyone has a place to accommodate these plants indoors. You may see them in commercial venues, though.
For most gardeners in their outdoor range, near the pool would be a better location. Once established in the landscape, all of these plants are hard to dig up. This is one reason for its "weedy" reputation in Southern California. When in doubt, keep them in containers even outdoors.
To me, the flowers of S. Nicolai show why Strelitzia is called the "Crane Flower" in South Africa, although its petals tend to be somewhat less orderly than the crown of a Crowned Crane.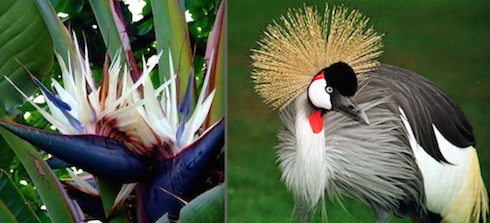 Giant Bird of Paradise Flower and Crowned Crane
You can grow exotic Strelitzia plants from seed or from divisions. Division is the best choice if you want a particular selection, such as a dwarf plant. There are also forms with other flower colors, some of which may be inter-species hybrids. The
seeds are somewhat toxic
. See cultural directions here, and scroll down for a photo of the black seeds in their feathery orange Hollywood-worthy jackets.
Click to enlarge.
Strelitzia flowers produce no wind-borne pollen. Allergy sufferers rejoice! They are pollinated in South Africa by long-beaked Sunbirds that look something like hummingbirds. These birds come in a variety of striking colors and patterns, though the females are often plain-looking.
The birds perch to sip nectar from flowers rather than hover like a hummingbird. When the bird sits on the spathe (the beak-like sheath) of a Bird of Paradise flower, the weight of the bird opens up the bract and releases pollen right onto the feet of the little bird. The pollen is then transferred to the next flower the bird visits. There is sometimes so much nectar in the spathe that it looks like the Bird of Paradise is crying. Just another theatrical feature of these plants.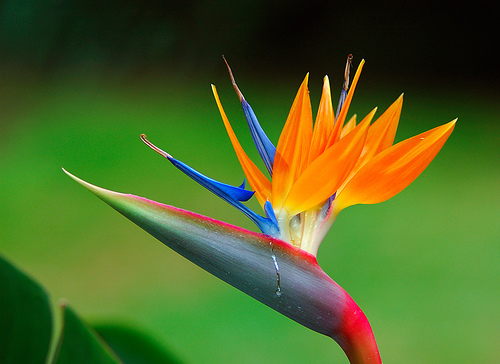 Strelitzia reginae waiting tearfully for a sunbird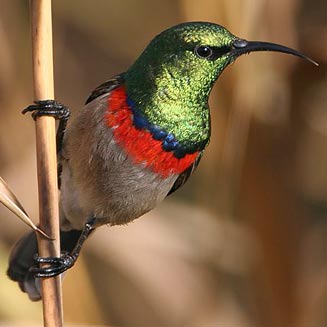 Southern double-collared sunbird

Choosing a Small Fruit Tree for Coastal California
Three weeks ago, rhomboid asked for tree suggestions. The lucky tree will be growing in Sunset Zone 23/24. Zone 23 includes Hollywood. Zone 24 runs in an uninterrupted strip of varying width along the coast from north of Santa Barbara to the Mexican border. These are the mildest climate zones in Southern California. The tree will have a northeastern exposure (walls to the south and west), so it will be in the shade part of the time, at least in winter.
I saw some good suggestions in the comments. I have come up with one easy-care suggestion, but I would like to see other suggestions and comments from The Horde. Food production, an interesting shape and non-invasive roots are desired characteristics.
I really like this index of fruit and nut trees for Florida. The site was developed by two friends as a project for their old age, according to their description. A nice idea. The index includes a lot of valuable information at the link for each type of tree, often including details such as whether or not the roots are invasive. I am not familiar with many of the trees on this list. I would enjoy learning about some of the tropical ones. Has anybody grown or tasted one of these? Not all of them would be suitable in Southern California, but many would be.
My easy-care suggestion for rhomboid is Feijoa sellowiana (Acca sellowiana), the Pineapple Guava. It is a relative of true guavas. The plant does well even in the desert, but fruit may not set there. Fruit quality is generally best in cooler-summer areas. It is grown commercially in the San Francisco Bay area. It is the hardiest of the "subtropical" fruits. Sunset rates it as adapted to Sunset Zone 7 (including parts of the Rogue River Valley in Oregon) and as marginal in Zone 6. The Portland area seems to be the safest part of Zone 6 for this plant. It is described as deer-resistant.
Feijoa takes sun or part shade. It can be pruned to almost any shape, including espaliers, tall hedges or short foundation plants. Fruit can be harvested by shaking the tree and picking up the fallen fruit. But be careful about gathering fruit from under a feijoa hedge to make Roasted Feijoa Chutney, or this could happen to you, too: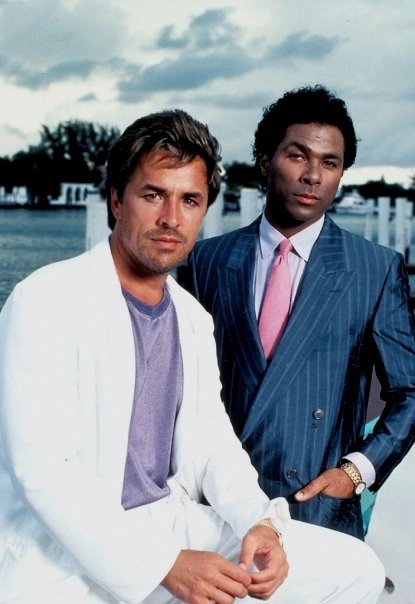 Feijoa hedges can be dangerous
In our hot-summer valley, feijoa plants are most commonly used as short foundation shrubs that look good all year. The Master Gardeners of even hotter Pima County, Arizona suggest that this use generally involves over-pruning. They are probably mostly correct, though I think that there are some small-leaved cultivars or strains developed just for this landscape use. I seldom see fruit on the plants around here. Temperatures above 90 degrees can reportedly interfere with fruit set, and our temperatures sometimes go above 100 degrees in May.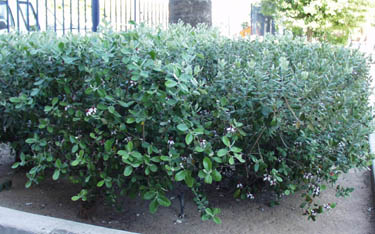 Typical "over-pruned" feijoas
Pineapple guavas will naturally grow into a very large shrub if not pruned at all. They are easily trained into a small tree somewhat resembling an olive. The photo below is from New Zealand, where people seem to really love feijoas. It shows both single-trunked and multiple-trunked trees.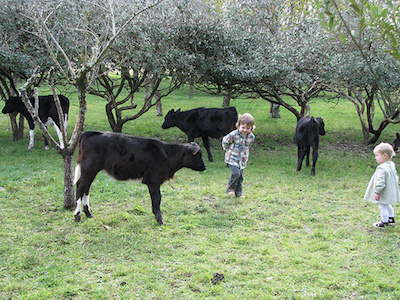 Small feijoa trees, calves and children
Here is another photo of a handsome tree, in Berkeley.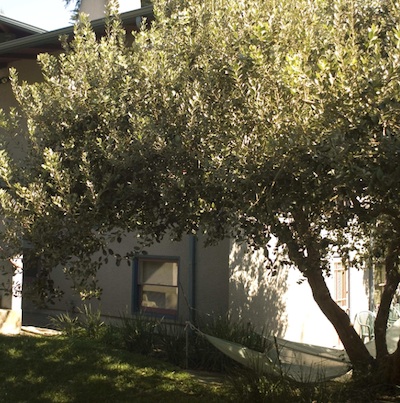 It was posted by a company that makes gelato and also Feijoa Sorbetto. "This might be the best sorbetto flavor we make all year."

Fruit flavor brings us to cultivar selection. For best fruit production and quality, named cultivars should be chosen, even though seedlings are often sold for landscape use. California Rare Fruit Growers has descriptions of many desirable cultivars. The Florida site linked earlier includes some additional choices on their feijoa cultivar page. Some of the best require cross-pollination. These cultivars are not always easy to find. I am linking an LA Times article that includes some plant sources, even though the article seems to conflate feijoas with true guavas. CRFG members are another possible source for plant starts of the rarer cultivars in California.

Relatively large-fruited Nazemetz and Trask, along with small-fruited Pineapple Gem, are recommended for warm-summer climates. This probably does not mean "hot-summer climates." One clue to climate adaptability is to note where a cultivar was developed or discovered.
There seems to be a wider choice of recommended cultivars for cool-summer areas. With careful selection, some gardeners in coastal California can have fruit from early autumn through January. One way to get cross-pollination and more fruit is to plant two or three compatible cultivars in the same large planting hole, then train them to resemble a multiple-trunked tree.
I have had fruit from a pineapple guava tree grown on an east wall in the Salinas Valley, where summers are cool and windy. I do not know which cultivar it was, or if it was a seedling. The flesh just inside the peel was grainy, like a firm, granular pear. The pulp in the center was translucent and honey-colored. The flavor reminded me of SweetTart candies, with pineapple, strawberry and passion fruit overtones. Fun to eat.
The Wikipedia entry does not agree with me about the flavor of the fruit. It is uncharacteristically amusing, particularly the part about how to eat a feijoa. After describing two ways to tear one apart with your teeth if you have gone out to harvest them without a spoon, it says:
Peeling a small fruit and eating whole is a particularly sensual way of eating a feijoa and is called a "feijoa bomb".
I have also munched on slightly sweet feijoa flower petals in Southern California. I think they have kind of a perfume-y flavor, but the wiki says "cinnamon". In areas where fruit does not form, you might still be able to enjoy some flower petals in a fruit salad.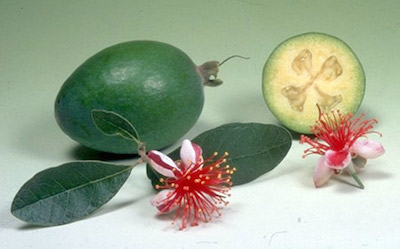 How to get fruit from pineapple guava flowers (pollination)

Helping Young Plants Grow Faster
One drawback of the pineapple guava (if you want a tree) is that it grows slowly. Landscapers have started using vertical sections of perforated drainage pipe to increase air and water to the roots of young trees. This speeds up their growth rate, as in the illustration below for deep-watering a tomato plant. Landscapers also use the fabric sleeves made for these pipes, because the pipes will stay in the ground for a long time. Drain caps are available to keep debris and small animals out of the pipes. Or you can gather the fabric sleeve together at the top of each pipe and fasten it closed, stuffing the excess inside the pipe.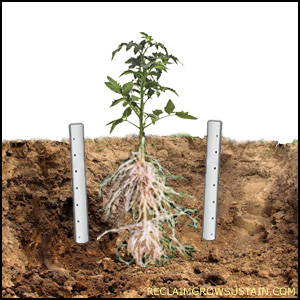 Some plant enthusiasts make their own perforations on smaller-gauge pipe with a drill and make their own fabric sleeves from landscaping fabric or non-woven row cover and fabric glue. They may even use smaller perforated pipes in a container, sometimes joining two verticals with a horizontal section positioned to run directly under the plant.
These perforated pipes are worth considering if you want better performance from your potted plants, or if the soil in your garden is very heavy and you are planting something you would like to leave in place for several years. I have grown and killed some plants which might have benefited from extra air and more even water distribution around the roots.
Y-not: Thanks KT!
To wrap things up, can you believe Fall is coming?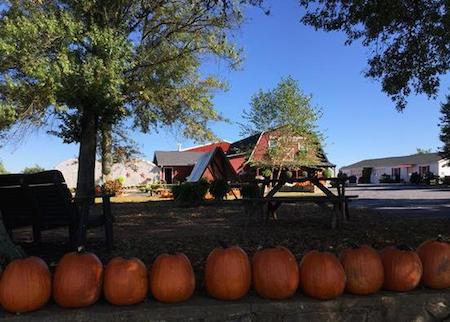 Well it is in my neck of the woods, anyway.
The above scene reminds me of this song:

What's happening in YOUR gardens these days?

*There is a pretty big hint about my new locale in the picture.


posted by Open Blogger at
01:20 PM
|
Access Comments